Staff Stories - October 25, 2022
Supporting Spiritual Care at Goodwin Living
Caring for Those of All Faiths and No Faith Traditions
By Amanda Ranowsky
At Goodwin Living™, caring for the people we serve goes beyond supporting their physical health. We subscribe to a holistic approach to wellness that nurtures dimensions such as emotional, social and spiritual health.
In the past, we've shared stories of team members who support these dimensions of wellness: nurses and therapists caring for the physical health of our residents and patients, social workers monitoring the emotional health of residents and life enrichment team members who nurture the social health of residents.
Today, as we recognize Clergy and Chaplain Appreciation Month and Spiritual Care Week, we'll meet the team members who support the spiritual health of residents in our Communities. We'll also meet the leader of our education program for prospective chaplains – one of nine Clinical Pastoral Education (CPE) programs offered in a senior living setting nationwide.
Meet Our Chaplains and CPE Director
Liz Pomerleau serves as Director of Clinical Pastoral Education at Goodwin Living. Reverends Kathy Howell, Theresa Brion and J. Bruce Stewart are the chaplains serving The View Alexandria (TVA), Goodwin House Bailey's Crossroads (GHBC) and Goodwin House Alexandria (GHA), the three Goodwin Living communities.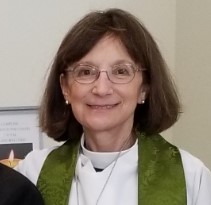 Theresa Brion's path to chaplaincy was a winding one. She spent time as a schoolteacher, an employee benefits tax lawyer and legal editor before pivoting to ministry.
"I was always drawn to chaplaincy," she said. "I took both of my CPE programs before I even went to seminary. I wasn't sure I would make it through the ordination process. But I still was interested in chaplaincy, so I thought I would do the CPE and get the education for chaplaincy, even if I didn't end up an ordained pastor."
Theresa did graduate from seminary and served part-time as a vicar for two churches in addition to a role as bishop's deputy for the Diocese of Western Maryland. Finally, she joined Goodwin House Bailey's Crossroads as chaplain in 2016.
Kathy Howell came to TVA (formerly Hermitage Northern Virginia) in 2010. Like Theresa, ministry is her second career; she worked as a registered nurse for 25 years before attending seminary and serving as a United Methodist pastor in Louisiana.
"When I moved here for another nursing job," she continued, "I became affiliated for my own personal worship with a local Methodist church. It turned out that the Associate Pastor of that church was also a part-time chaplain here. She was getting ready to move to a full-time position elsewhere and suggested that I apply for this position. I felt an enormous nudge from the Holy Spirit that I ought to take a good look at this opportunity. So I did, and it has turned out to be excellent on a lot of levels and met a lot of other needs."
A connection to the previous chaplain also brought J. Bruce Stewart to Goodwin House Alexandria. Bruce was ordained as an Episcopal priest in 1979 and served as a parish priest before stepping away in 1981 to found and run the Center for Liturgy and the Arts, which provides churches with resources and services for using the arts in areas such as worship, education, community building, outreach and recreation. "People were requesting me to come and do music for their Bible school, drama workshops for conferences and dances for their Lenten series, and that seemed to be what I was being called to do," he said.
Then, one of his classmates from seminary asked for his help. "Tom McCusker was the chaplain here at GHA," Bruce said, "and he asked if I'd fill in while he took his vacation for the whole month of January in 2006." Bruce filled in again when Tom took another vacation in January 2007.
"When he came back from that one," Bruce said, "he announced his retirement. GHA came after me and said, we want you here, will you consider this?" Today, Bruce continues his work with the Center for Liturgy and the Arts alongside his duties as GHA chaplain. "I'm in my 42nd year with the Center for Liturgy and the Arts and my 16th year here at Goodwin House Alexandria," he said proudly.
Liz Pomerleau's passion has always been chaplaincy. "I went to Harvard Divinity School," she said, "not knowing what I was going to do for a job. I knew I wasn't going to be a pastor of a church or sort of that traditional religious leadership in a religious community setting. I knew I felt drawn to how people live their spiritual lives and make sense of their lives and God."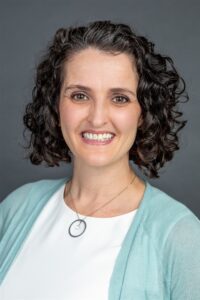 After graduating, Liz went straight into a CPE residency. "I did my first CPE residency at Washington Hospital Center," she said, "and I realized chaplaincy is where so many of my passions come together in terms of helping people through crisis and walking with people as they are trying to make sense of their spiritual lives. I never knew what a chaplain was growing up so I never would have like thought of myself in that position."
Liz did her second CPE residency with Goodwin Hospice in 2012. Following her residency, she worked with another hospice as their chaplain for three years before returning to Goodwin Living in 2015, training to become an educator. She was promoted to lead the Clinical Pastoral Education program in 2019.
While Liz and the chaplains are strongly rooted in their own faith traditions, their service extends to people of all faiths and none. "The goal of professional chaplains is that you have your own faith community, but you're also able to go outside of that," Liz said. "You're able to meet people who are different from you and accompany them on their spiritual journey."
Spiritual Services for Those of All Faiths and No Faith Tradition
The misconception that chaplains are there to convert people to their religion is one that Liz seeks to correct. "Chaplaincy is interfaith, meaning that we welcome and want to get to know people of all religions and no religion on their journey," she said.
This philosophy is borne out in the CPE program, where people from all faith traditions are welcomed to participate. "We've welcomed and educated American Indians, Jews, Muslims and Buddhists in our CPE program," said Liz. "We seek to create as diverse a group as possible in each session when it comes to faith and non-faith traditions."
In their practice of chaplaincy, Bruce, Theresa and Kathy continue this openness to all faiths and spiritual needs.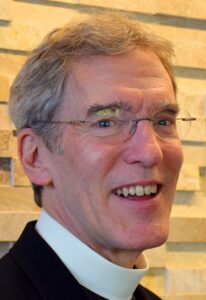 "I consider myself chaplain to everybody," said Bruce. "When I'm meeting someone for the first time, I don't know what their tradition is. They might say, 'I'm not Christian' or, 'I'm not Episcopal'. And I say, 'That's ok. I'm still your chaplain and I'll be coming around to see you.'"
"I'm open to where people are, what they are and whatever fills them and drives them," said Theresa. "I want to respect that. We just have different approaches to life. I'm always learning the differences between faith traditions and why certain things might offend one or might attract another. It's a constant learning experience, trying to be approachable and present for everybody."
"I assure them that I am here to help them on their spiritual journey as they interpret it and how they perceive it," said Kathy. "I try to listen openly to what their perceptions are and what they feel they need."
This openness and eagerness to support all spiritual journeys drives the chaplains in their everyday work.
Chaplaincy in Senior Living
Day to day, chaplains visit with residents and facilitate worship services of all religions on campus. They also work to ensure team members are spiritually supported.
Kathy's effort to support team members includes working with Josh Bagley, Interim Executive Director at The View Alexandria, to create a meditation space solely for team members to use.
"I feel strongly that team members should have a meditation space where, on their personal time, they can go to meditate or worship," she said. "We're faith-based – we should promote spirituality and support the spirituality of our team members and residents. We don't dictate what that spirituality should be. But we should support it."
Supporting the spirituality of those on our campuses rewards the chaplains in return.
"It's relational – you really get to know the people authentically," said Theresa.
"We get to know these amazing lives and my life expands as a result of that," Bruce agreed.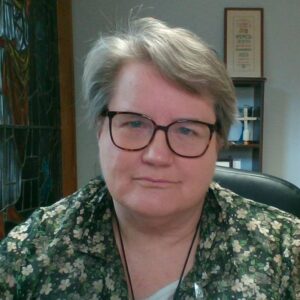 "I love the people, I love their stories and I love that they have so much to share and to give," said Kathy. "They've all brought a rich life experience. To have the privilege of supporting them, walking alongside them, learning from them and sharing with them is really a beautiful thing."
CPE students benefit from their time at Goodwin Living, too. "All that learning, students take into wherever they go next," said Liz. "It's often into pastoral care situations or in the churches or mosques or temples that they bring that learning about how to be with people without needing to get the right answer. Having emotional awareness matters in the real world."
Theresa is transitioning away from her role at GHBC, answering the call to be a pastor at an Episcopal church in West Point, Virginia. "I'm glad to share what I – and my successor – do," she said. "I've really enjoyed my time here."
Across the three Goodwin Living campuses, our chaplains and CPE students care for around 3,000 residents and more than 900 team members. The students who graduate from our CPE program – of whom there have been more than 350 since the program's inception in 1998 – go on to support countless more. We thank Theresa, Kathy, Bruce and Liz for the important work they do to support the spiritual wellbeing of all those in the Goodwin Living community and beyond.
______________
As Marketing & Communications Specialist, Amanda Ranowsky partners with colleagues throughout Goodwin Living to tell our stories and raise brand awareness. From printed collateral to digital marketing, Amanda covers many bases. Before joining GHI, Amanda worked for a small, family-owned business where she gained experience in content marketing. Amanda's creative expression extends beyond the office. She is an active member of community theater and chorus groups.