Our Story
The story of Goodwin Living is still being written. Since 1967, we've been supporting, honoring and uplifting the lives of older adults and those who care for them as a faith-based, not-for-profit senior living and health care services organization. Today, the Goodwin Living family includes more than 1,100 employees, nearly 2,500 older adults we serve in the National Capital Region (Northern Virginia, Washington, DC, and Maryland) and more than 10,000 older adults across the nation who participate in our brain health programs.
Together, we continue to write the story of Goodwin Living, building on the pioneering spirit of those who came before us and striving for ever higher levels of excellence and innovation today and into the future.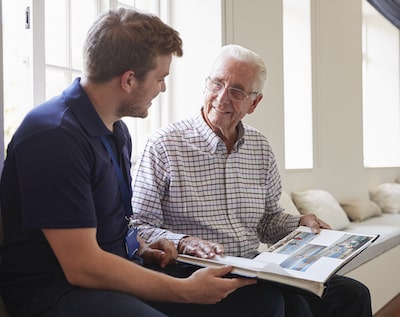 Goodwin Living Beginnings
In the 1950s, the Episcopal Church in the Diocese of Virginia acquired its first retirement home for older adults in Richmond. Inspired by this, Allen Adams (a layman serving on the home's management committee) sought to create a similar, innovative community in Northern Virginia.
With a generous donation of land in West Alexandria from Benjamin M. Smith in 1963, the plans to build the first Goodwin Living campus were underway. When Goodwin House Alexandria opened in 1967, it was one of the first purpose-built continuing care communities in the country and the first in Northern Virginia. Twenty years later, following the success of Goodwin House Alexandria, a second community opened in Bailey's Crossroads, a growing suburban neighborhood in Falls Church, Virginia.
Goodwin Living Today
Thanks to our incredible history serving older adults in two Life Plan Communities, we have found ways to reach even more adults by extending our trusted care and services beyond our campuses.
Today, we offer a range of senior living and healthcare options, including our innovative Goodwin Living At Home program that empowers and enables older adults ages 55+ to remain in their homes for as long as they wish. We also offer Hospice, Home Health and Rehabilitation services to individuals throughout Northern Virginia, ensuring that anyone can thrive as they age in the places and ways they choose. In August 2022, we welcomed The View Alexandria by Goodwin Living (formerly Hermitage Northern Virginia) to our range of services.
We're proud of this legacy of leadership and innovation as we continue to reimagine and redefine aging, both within our communities and beyond their walls. We do this by focusing on the future and expanding the places and ways we serve and engage older adults.
I put our mission and values into action every day during interactions with residents and staff. Focusing on how I can raise them up and create a culture of mutual respect has a positive impact on all of us.
– Karen Doyle, Administrator of Health Services Goodwin House Bailey's Crossroads
---