Live with Purpose - October 31, 2022
A Culture of Wellness at Goodwin Living
By Timaeus Reed
Countless books, sermons and mantras promote how to live a good life. To pursue wellness is to pursue our potential in whatever methods our mind, body and spirit most respond to. At Goodwin Living, we believe in the value of this pursuit. Everyone should be able to thrive and pursue purpose wherever they live and at every stage of life. We also put intentionality into this belief by affirming it in the Goodwin Living Strategic Plan, which created a Wellness Advance Team.
During active aging week, we launched our own wellness initiative for residents at our life plan communities. Featuring activities, events and services we already organize on our campuses, we now organize them by how they might lend to various elements of wellness. Residents now have a new language to examine their wellness and identify how their daily living can improve.
What is Wellness?
Many people use "physical fitness" and "wellness interchangeably". Though physical health can have a great impact on our overall wellness, there's much more to it. The International Council on Active Aging (ICAA) defines wellness as the "ability to understand, accept and act upon our capacity to lead a purpose-filled and engaged life…to pursue and optimize life's possibilities."
In short, wellness is a holistic assessment of how we are thriving in our lives. Many organizations like the ICAA have identified different categories or "dimensions" of wellness; however, no one defines wellness in exactly the same way. Discussions around wellness often focus on specific contexts in order to help a particular audience in their particular setting.
At Goodwin Living, we've identified six dimensions of wellness most relevant to the people we support, honor and uplift. We selected these six dimensions based on resident feedback and research from the Wellness Advance Team, a multi-disciplinary group of subject matter experts at Goodwin Living who lead the wellness initiative of our Strategic Plan.
Six Dimensions of Wellness at Goodwin Living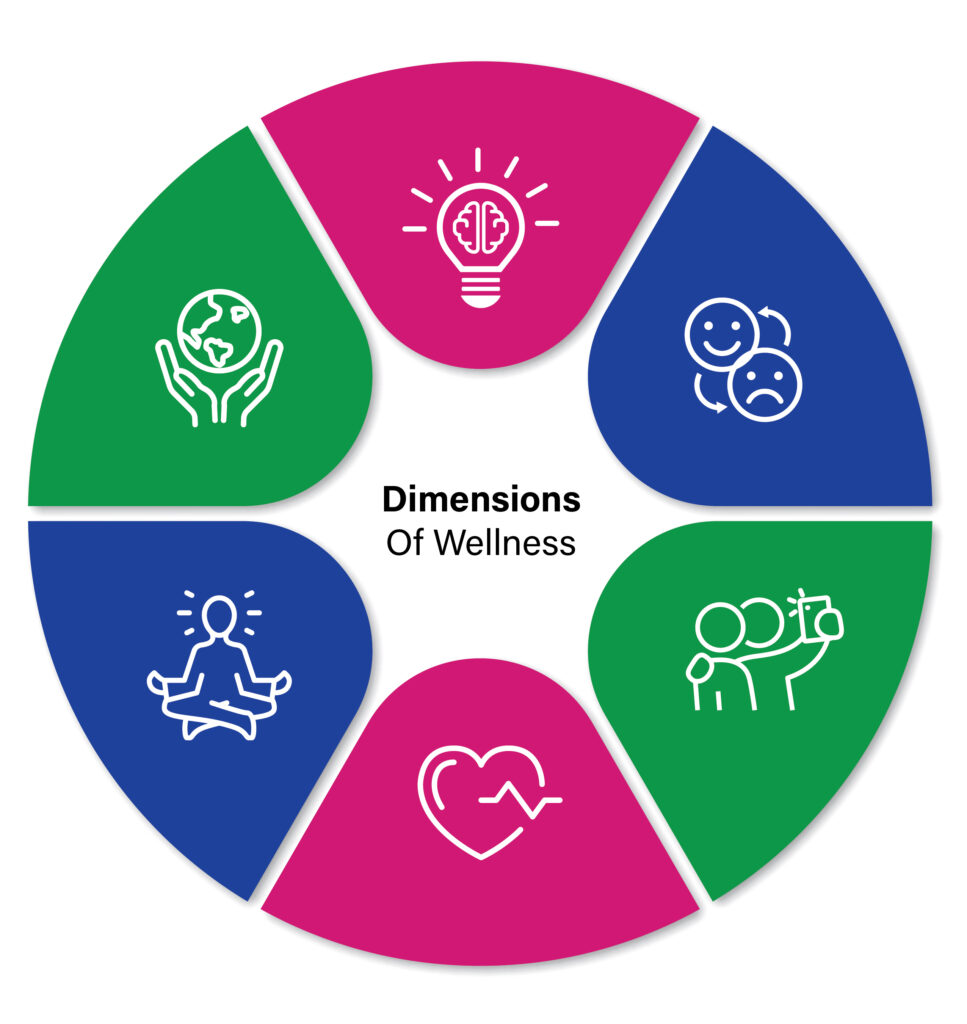 We present the dimensions in a numbered list here, though the numbers do not intend to indicate a priority order. We recognize that each dimension is important in its own right.
Spiritual Wellness: Finding meaning in faith and/or feeling connected to something higher than ourselves. Demonstrating individual purpose and values through behaviors and compassion towards others. Appreciating beauty, nature, and life.
Communal Wellness: Mindfulness of our connection with and our impact on our local and global environment and community. Making the world a better place.
Emotional Wellness: Maintaining a positive approach to life. Recognizing and expressing feelings. Managing stress and solving problems in constructive ways.
Social Wellness: Creating and maintaining healthy relationships. Cultivating personal interests through meaningful social engagement and activities. Learning new skills with others and developing new hobbies.
Intellectual Wellness: Openness to new ideas, thinking critically and engaging in new challenges. Being creative and curious to expand your knowledge and brain health.
Physical Wellness: Engaging in regular physical activity to enhance cardiovascular endurance, muscular strength, physical balance and flexibility. Following healthy lifestyle habits.
Wellness at Goodwin Living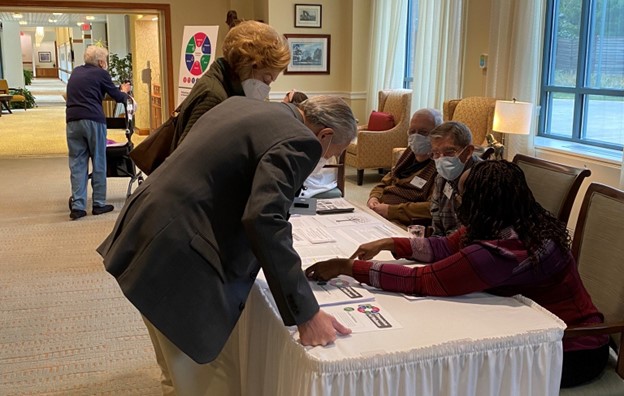 When we launched the wellness program, team members and resident ambassadors of the Wellness Advance team offered information events at both life plan communities. They provided residents with quick fact sheets and other resources to sharpen their understanding of wellness. Residents who took a keen interest were invited to become wellness ambassadors themselves.
"I thought it was a beautiful idea," one resident ambassador shared. "The wellness framing is a new way to look at yourself and your needs. Everyone could use something like that."
Though the launch of our Wellness Program is new, this effort has been a part of the Goodwin Living Strategic Plan for some time. Consisting of leaders from various fields and departments, the Goodwin Living Wellness Advance Team took time to research wellness programs before introducing ours.
Culinary Innovation and Advancement Chef Brian Patterson is the co-leader of the Wellness Advance Team. Brian actively researched wellness programs at other senior living and healthcare organizations, met with their wellness directors and helped develop a plan to promote a culture of wellness at Goodwin Living. Through his collaborative efforts, Brian made a powerful discovery about the nature of wellness.
"It's all interconnected," Brian said. "You might assume food relates to your physical wellness, but cooking can be more about spiritual wellness for someone else."
As the Wellness Advance Team works to promote wellness, we incorporate visual representations of the different dimensions into our programming at Goodwin Living. Though we plan to host events focused on the concept of wellness, our daily campus programming already benefits the wellness of residents in numerous ways. The wellness initiative labels each daily campus activity with the dimensions of wellness that apply.  Whether it's Clinical Pastoral Education, Fitness Classes or fun excursions in the city—residents learn the impact each activity has on their wellness. Residents also take self-assessments about their wellness. They touch base with this tool throughout the year to move toward their wellness goals .
Since our information events that introduced Wellness Program to the communities, interest in wellness has spiked—even amongst our team members. All of Goodwin Living, including Goodwin Living At Home members and team members, will be invited to adopt a wellness culture into our daily lives. We plan to host more events that promote wellness and advance opportunities for people to pursue their goals.
_____________________________________
Timaeus Reed is a Marketing and Communications Specialist at Goodwin Living. He plans, writes and designs for internal and external campaigns that support all areas of the organization. He relocated from the Midwest to D.C. to join the team in the summer of 2021. When he isn't getting lost in traffic, Timaeus loves listening to live Go-Go music and stand-up comedy.