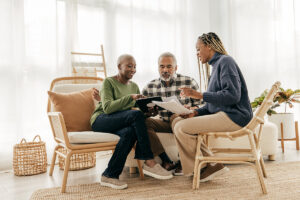 Personal Services Offered by Goodwin Living At Home
As life moves on, unforeseen changes in our health can throw us off course. No one wants to be left with limited care options, and that's why Goodwin Living At Home exists. We want to help reduce your risks. Goodwin Living At Home gives you a sense of comfort by allowing you to plan and pay for future care now.
We are the only program of our kind in Northern Virginia. Goodwin Living At Home combines the benefits of long-term care insurance with care coordination and personalized plans. When you become a member, you'll have an experienced partner empowering you to stay in charge and at home as long as you wish. We'll architect the ins and outs of your support systems as your needs evolve.
Member Services Facilitator
From the moment you choose Goodwin Living at Home, you'll be connected with the team of member services facilitators who will ensure that you remain safe and comfortable in your home and that your wishes are carried out. We check in often, making sure that you have what you need when you need it.
Included Services & Benefits
Goodwin Living At Home provides five plans to choose from, helping ensure you can stay in your own home with your assets protected from unpredictable expenses. You can continue to live the way you want to, enjoying the activities you love and knowing that your monthly fees will not increase if your care needs change. Whether you previously chose to forgo long-term care insurance or you need to fill gaps in an existing policy, Goodwin Living At Home plans provide extensive coverage.
Whether you require in-home health care, we coordinate your services and care with vetted, trustworthy professionals.
---