Staff Stories - March 22, 2022
Staff Stories | Social Workers in Senior Living
The Time is Right to Celebrate Logan Wallace and Aaron Zajdel for Social Work Month
By Timaeus Reed
If you know a social worker, chances are you know someone who is selfless and caring enough to make a career out of helping others when they need thoughtful support. You might also hear them share how powerful and rewarding their work can be. At Goodwin Living Inc. (GHI), we recognize the growing need for social workers and their expertise. Our team of social work professionals throughout the organization always rises to meet the needs of older adults with an open heart and a friendly smile.
Every March, we join the National Association of Social Work in celebrating social workers. To get an insider's look inside this profession, we reached out to two of our own experts, Logan Wallace and Aaron Zajdel. We asked these two highly trained and caring social workers about their work and how vital their profession can be for anyone needing support.
Logan Wallace, MSW LCSW Health Care Center Social Worker
Logan has been with Goodwin Living for nearly six years. He started as a seasonal receptionist, working during breaks while completing his undergraduate studies out of state. After completing an internship with Goodwin, Logan now serves as a Health Care Center Social Worker at Goodwin House Alexandria (GHA).
What is your educational background and training?
I graduated from the University of Kentucky with my bachelor's degree in Social Work in 2018. (Go CATS!) I completed two practicums in that program: The first was in a skilled nursing facility, and the other was a part of the Lexington, Kentucky, Public Housing Authority. Afterward, I came back to the D.C. area and graduated from the University of Maryland, Baltimore with a master's degree in social work. During that time, I was fortunate to complete my year-long practicum with the social work department at GHA. Currently, I am a Licensed Master Social Worker (LMSW) and am in the process of obtaining my clinical licensure.
How did you hear about Goodwin Living? What was your internship like?
My mother (Director of Supply Chain Lisa Wallace) happens to work here, so I have known about Goodwin Living for a good portion of my life. My internship was very interesting and informative. I learned more about some of the residents and staff I used to greet at the reception desk when I worked during my college breaks. The nature of social work at a senior living community slowly became clearer to me as I interacted with staff. Here at Goodwin Living, we have independent living, assisted living, memory support and a nursing facility. Social workers need to utilize various approaches with each level of living. Learning from the great social workers we have here helped me to develop my understanding of aligning approaches to different levels of living.
Did you expect to stay at Goodwin Living when you first started? Why or why not?
Not at all. I started working seasonally for some extra cash when I came back from school for breaks. I never expected Goodwin Living to play this vital role in my life.
What drew you to a career in social work?
As I grew up, the desire to help people has always been my main goal. After I left high school, my future profession was obvious to me: I wanted to be a doctor. One CHEM 105 class later, I knew that line of work was not for me. Luckily, I started a job during that summer at GHA. My mom told me how much she loved the wonderful social work department. Soon after that, I requested to shadow (my current boss) GHA Director of Social Work Monica Hutchins-Thomas, and my coworker, GHA Social Worker Barbara Bolin, and I fell in love with the profession.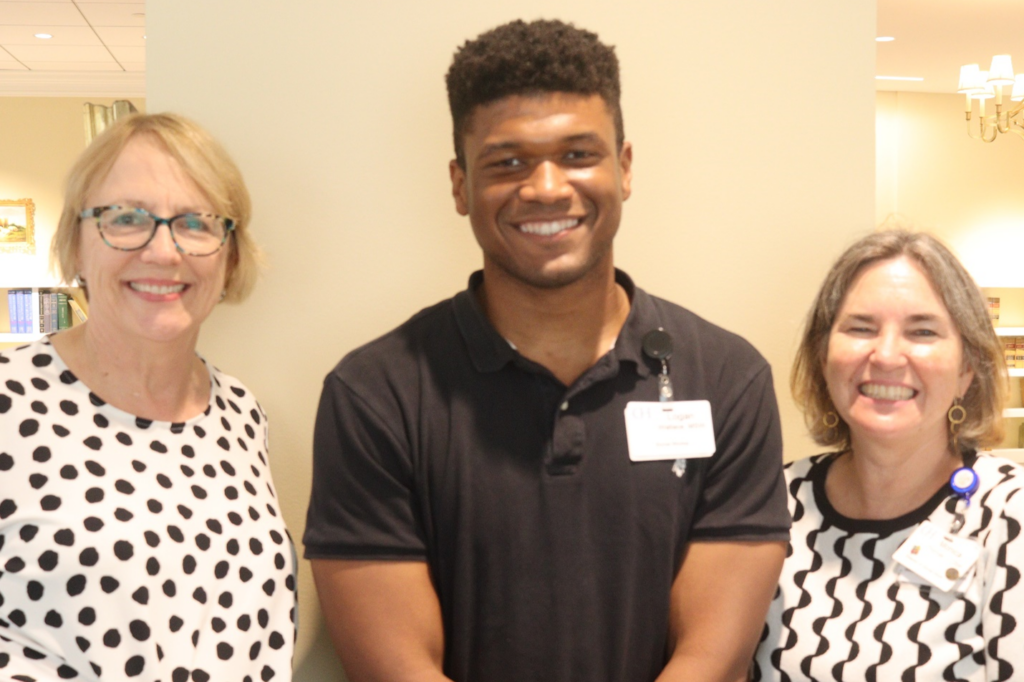 What should people know about social work?
There is a growing, general understanding of what a social worker can do for people. Everyone needs to know that social workers are trained to provide person-centered care. This is where the person's needs are brought to the front of the discussion and care is tailored to them rather than some standardized goal.
How did Goodwin Living help you on your career path?
Goodwin Living unknowingly sparked my interest in social work, trained me during my practicum and started me out with my first job in the field. I now have access to the supervision and resources I need to prepare myself for my clinical licensure.
What is your favorite part about working for Goodwin Living?
My favorite part of working for Goodwin Living is the closeness of the staff. Although Mondays will always be Mondays, I always look forward to seeing my coworkers each day.
The NASW gave Social Work Month the theme: The Time is Right for Social Work. What does that mean to you?
There are several ways I see it. Many mental health concerns have been brought to light since the pandemic began. I think more people understand the importance of taking care of themselves, both physically and mentally. COVID-19 has been hard on everyone. To (hopefully) get past it soon, we need to take care of our overall health. SELF-CARE!
I also see this as a call to action for people considering a career in social work. People need therapists, care coordinators, resources. Sometimes, we just need someone to talk to. A career in social work will prepare you to provide that and more.
Aaron Zajdel, LCSW, Manager of Care Connections
Aaron has worked with Goodwin Living Inc. for nearly five years. Before serving as the Manager of Care Connections, he spent three years as a Health Care Center Social Worker and two years as the Assisted Living social worker at Goodwin House Bailey's Crossroads (GHBC).
What is your educational background and training?
My bachelor's degree is in sociology from Canisius College. I received my master's degree in social work, with a concentration in social work for seniors, from Florida International University. I am trained in medical social work, social justice and equity, advanced care planning and evidence-based treatment frameworks. I am also a Licensed Clinical Social Worker (LCSW) in Virginia and the District of Columbia.
You recently changed roles from Assisted Living Social Worker at GHBC to Manager of Care Connections for Goodwin Living Palliative Care and Hospice. Can you tell us about this new role?
I am very excited to start as the Manager of Care Connections for this new program. Palliative Care at Goodwin Living once provided medical management for residents at both campuses. Care Connections will continue working with residents who have chronic diagnoses while focusing on care coordination and advanced care planning. Care Connections will also refer residents to the many medical and supportive services available at Goodwin Living and in the broader region around us.
What does it represent or mean that GHI has invested resources to create this role within the organization?
Establishing the Care Connections program reinforces the value of a palliative and advanced care planning approach for residents, especially those with chronic health diagnoses. The medical field can be very challenging to navigate when multiple providers and resources are involved. This new approach can really help older adults reclaim control of their own care and quality of life.
What is your favorite part about working for GHI?
I get to work with incredible, caring, dedicated and skilled staff across all departments. The social work teams rely on successful and thoughtful collaboration with every department. I am reminded every day of the extremely high caliber of our staff.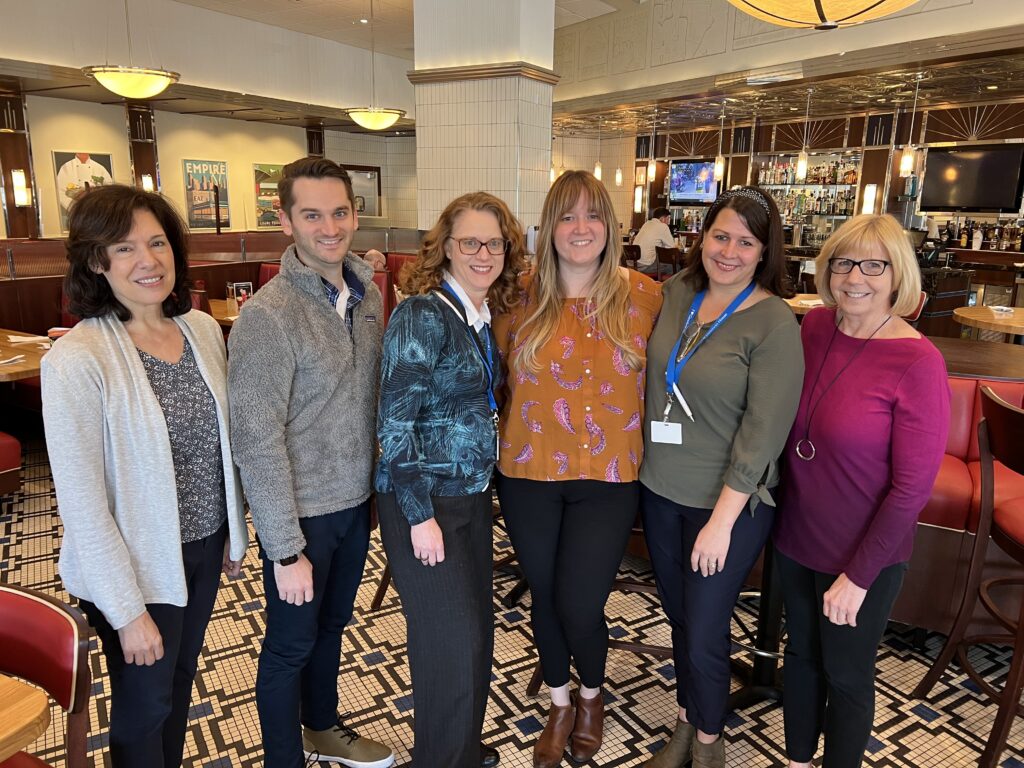 How did Goodwin Living help you on your career path?
Goodwin Living has collaborated with me to identify my strengths and passions within the field of social work and the context of our organization. I am grateful to have had opportunities to diversify my experience while focusing on my passions throughout my roles in social work at Goodwin Living.
What should people know about social work?
People often think of social work broadly as "helping people", and it certainly is about that. More specifically, social work is meant to meet people where they are. Social workers address what is most important to people; we support them, connect them to resources and advocate for individual, organizational and governmental change. The National Association of Social Workers has a comprehensive code of ethics that helps to guide these efforts.
The NASW gave Social Work Month the theme: The Time is Right for Social Work. What does that mean to you?
This theme applies to our multiple global and national challenges. It also applies directly to residents at Goodwin Living Life Plan Communities and Goodwin Living At Home members throughout all of the programs we offer. While we endure the COVID-19 pandemic, we continue to address the challenges and changes of aging, physical and cognitive diagnoses, grief and loss and countless other challenges. It is the right time to acknowledge the resiliency we are all capable of and address the social and emotional experiences of the residents and members we support through social work now more than ever.
The Time is Right for You at Goodwin Living
We thank the NASW for advocating for wonderful social workers like Logan and Aaron. Logan and Aaron have been life-changing advocates and resources for older adults. They exemplify the Goodwin Living mission in every way, and we look forward to seeing more of their work.
We also invite more social workers to join them in their efforts. If you are a social worker looking for a new workplace to utilize your skills and be celebrated, we invite you to review our available opportunities and apply at Goodwin Living!
__________________________________
Timaeus Reed is a Marketing and Communications Specialist at GHI. He plans, writes and designs for internal and external campaigns that support all areas of the organization. He relocated to D.C. to join the team in the summer of 2021. When he isn't getting lost in traffic, Timaeus loves listening to live Go-Go music and stand-up comedy.