Staff Stories - May 26, 2022
Let's Celebrate Lasting Careers in Senior Living & Healthcare
The Service Awards at Goodwin Living
By Timaeus Reed
Many who discover work at an organization such as Goodwin Living find themselves enjoying lasting careers in senior living. The work is rewarding, and special bonds develop among team members and the older adults on whom we focus our work.
For the last three years, Goodwin Living has been a Top Workplace. We have weathered a pandemic, expanded the number of lives we serve and remain diligent in our efforts to overcome the Great Resignation of 2021. These achievements are thanks to the employees who vote for us year after year in Energage employee surveys. We believe being a Top Workplace isn't just about our comprehensive benefits package or competitive salaries. Since we began service in 1967, we have been a workplace with strong values, where people discover purposeful work and form lasting bonds. Working at Goodwin Living means career development and achieving your lifelong goals. We are a culturally diverse environment of team members with various skillsets and representation from more than 60 different countries.
We believe that welcoming diversity and fostering work with purpose helps us thrive, even as many senior living and healthcare organizations struggle with high turnover rates. Amazingly, the average employee tenure at Goodwin Living is more than six years. When you remain a team member for that long, we delight at the chance to celebrate you. That's why the annual Service Awards is one of our favorite ways to acknowledge our team members.
What Are the Service Awards?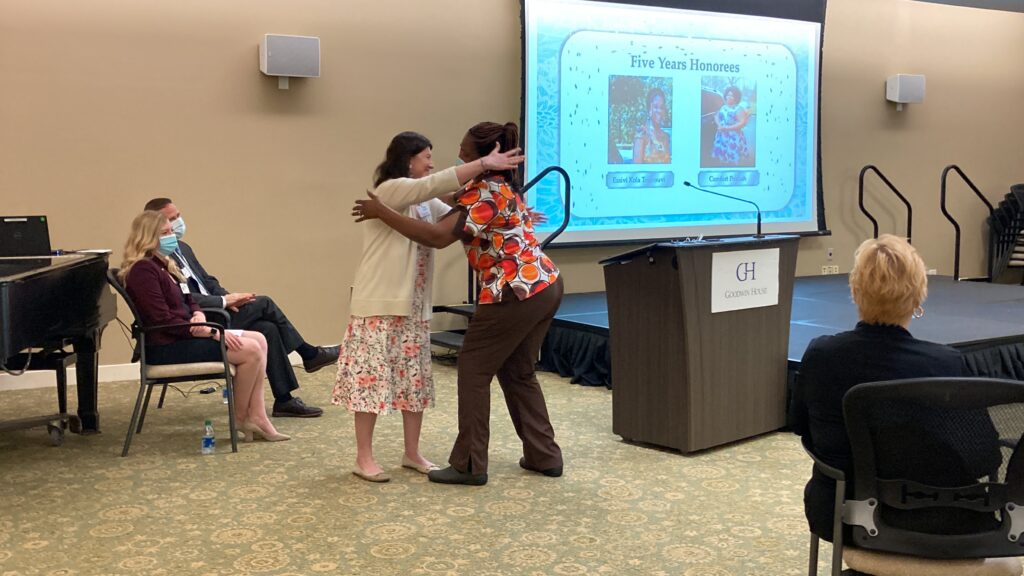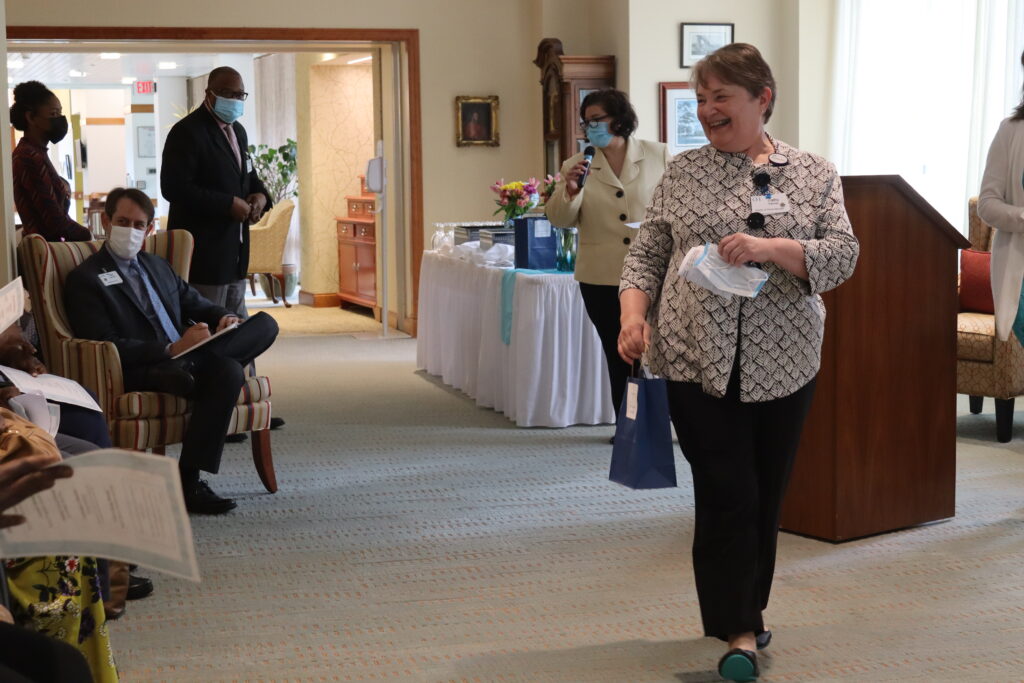 Each year, we host Service Awards at both Life Plan Communities to celebrate tenure milestones and thank our team members for their continued commitment to the Goodwin Living mission. The Service Awards give us an opportunity to look back on where we come from and anticipate the exciting future ahead of us.
New and experienced team members from all areas of the organization gather to speak in front of an audience of their peers to celebrate the awardees. We often laugh and perhaps even shed a tear or two as we hear all the stories of the impact we have on the older adults we serve and each other, and how we support one another. After each speech, awardees are invited to the podium to receive a gift of gratitude for their tenure. The Services Awards conclude with President and CEO Rob Liebreich overviewing the stories shared at the event. He offers words of appreciation and inspiring sentiments about our future as innovators in the senior living and healthcare industry.
This year, we celebrated 67 team members from our Life Plan Communities and Home and Community-Based Services (HCBS), some of whom have been with us for 30 years. Incredible!
Service Awards at Goodwin House Bailey's Crossroads (GHBC)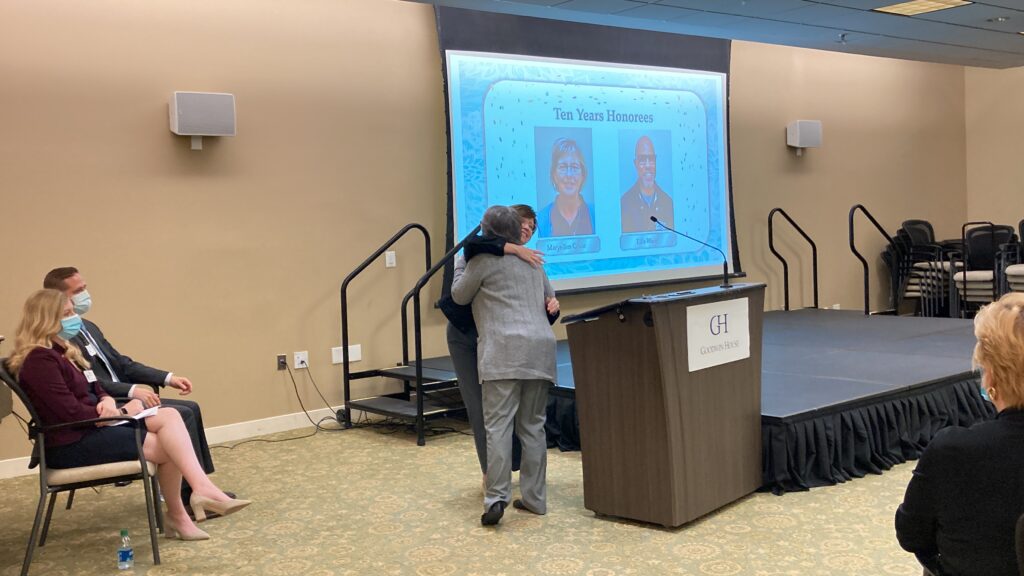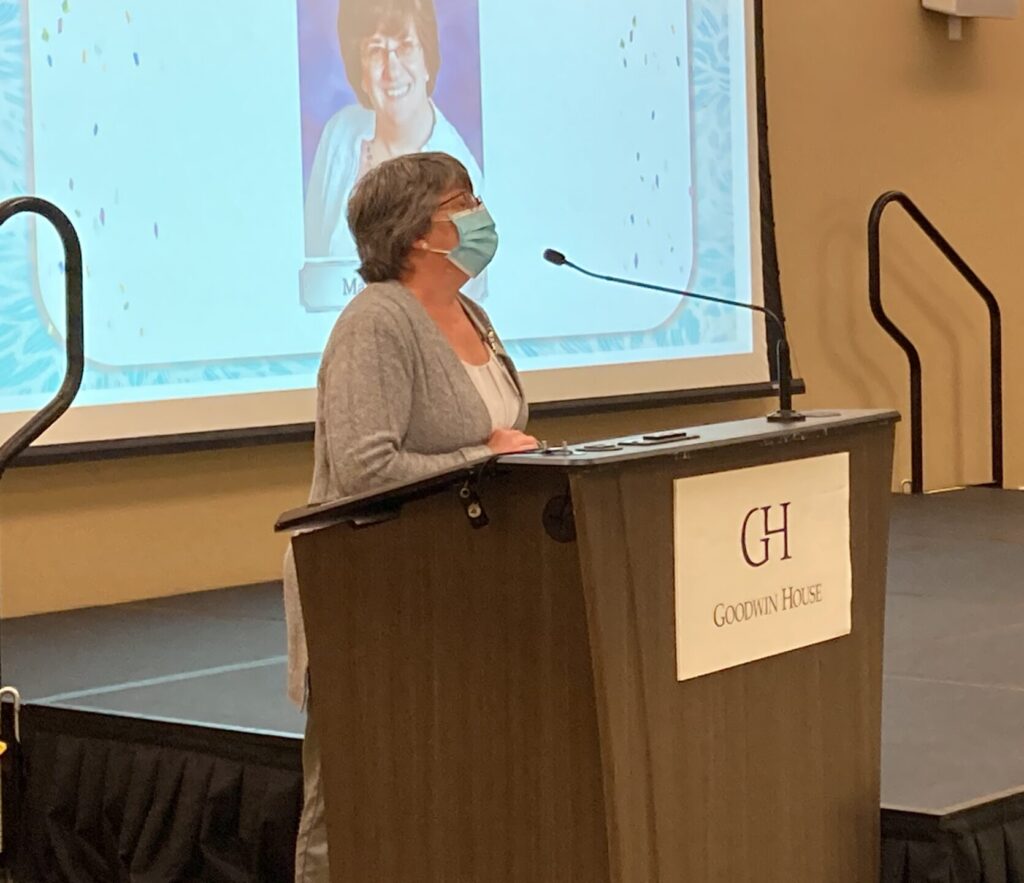 "As a move-in coordinator, you have to be a psychologist, a family therapist, a construction manager, an interior designer, a logistics specialist and a medical assistant, among other things. Mary Jo Kavjan is all those things and more."
– Corporate Director of Sales Susan Dolton
Senior Renovations and Move-in Coordinator Mary Jo Kavjan celebrated 20 years of service at this year's Service Awards. During her time with Goodwin Living, she has supported well over 500 residents as they transitioned to their new home at GHBC. But her relationship with residents doesn't stop when she moves them in. Many months and years afterward, residents call upon Mary Jo's expertise and history with our organization to help them with their needs. They ask about her day and her family, constantly glowing with love for her whenever they get the chance. We feel the same way because Mary Jo is one of our team members most responsible for changing lives for the better in our communities. That's what senior living and healthcare is all about – changing lives.
"I think the thing that makes you stay here 20 years is, at the end of the day, you know you've done something worthwhile," said Mary Jo. "Goodwin Living gives you that feeling. So, you keep coming in and keep doing your job. And you receive all the love and support of residents and staff. It really does make a difference."
Mary Jo announced her retirement at the end of May. It's bittersweet, though we know that the heart and soul Mary Jo put into her work will live on as part of the DNA of Goodwin Living and the work we do.
Service Awards at Goodwin House Alexandria (GHA)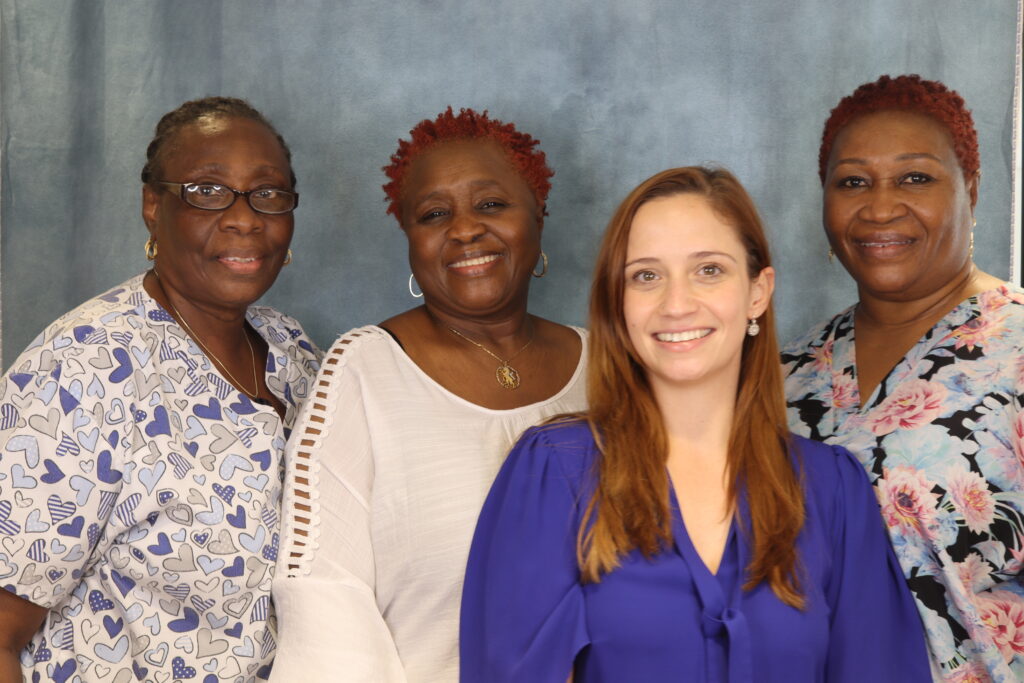 "Husai is a super grandma by day and a care partner by night."
"Comfort lifts everyone up. Thank you for your dedication and those 16-hour days."  
"Fanny is reliable, hardworking and puts a personal touch on everything she does."
– GHA Administrator of Assisted Living and Memory Care Jackie Barbarito
We celebrated Jackie's fifth anniversary at the GHA Service Awards. In her relatively short time with Goodwin Living, Jackie grew leaps and bounds in her career thanks to the relationships she made. She even met her husband here! That kind of magic awaits people in the senior living and healthcare industry.
Jackie spoke in appreciation for six other team members at the Service Awards, including three members celebrating 30 years of service with Goodwin Living: CNA Husainatu Brown, LPN Nursing Supervisor Comfort Johnson and CNA Fanny Williams.
These three incredible women have boundless warmth and kindness in their hearts. They guide and support team members and residents alike on their journeys, in and out of work hours, forever changing them the moment they meet. At the Service Awards, Jackie, GHA Assistant Nursing Director Charity Ampong and GHA Director of Clinical Services (also awarded for five years of service) spoke tearfully and lovingly about the impact these women have had on their lives.
Whether it's late-night emergency calls, calming nerves on a first day or a sudden change in a schedule – we honor Husai, Comfort and Fanny for approaching every situation with strength, leadership and reassurance. We took great pleasure in recognizing them at the Service Awards and punctuated our appreciation for these women with bouquets of flowers.
A Career at Goodwin Living | Work with Purpose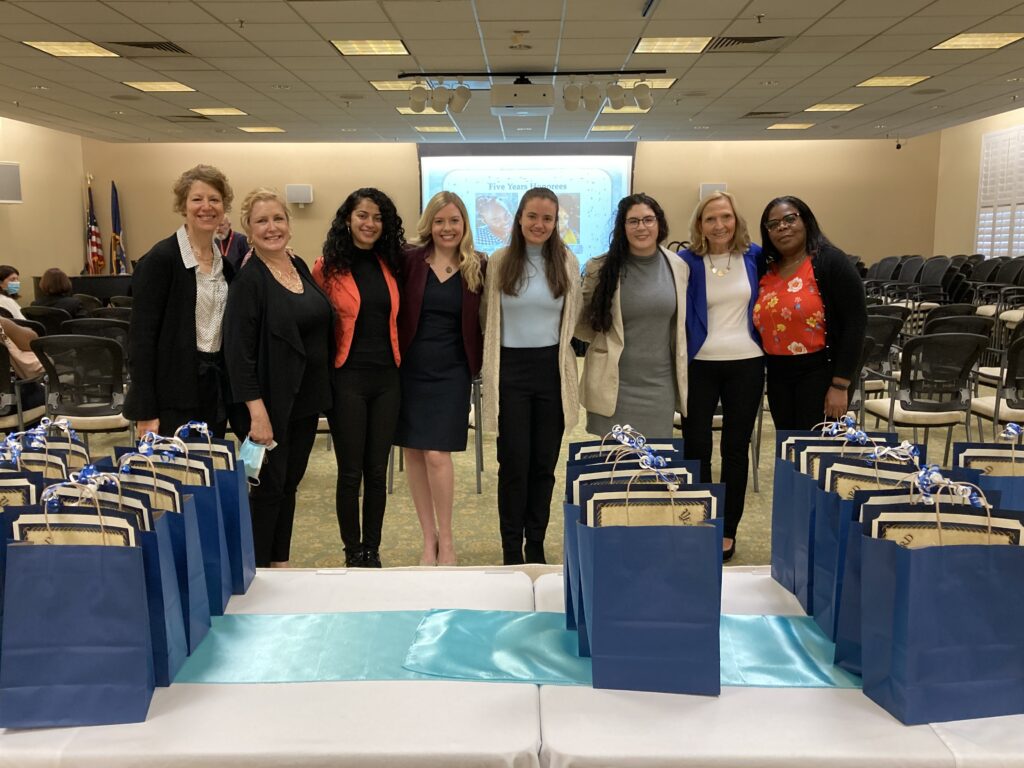 "For so many of us, Goodwin Living is more than a place to work. It's a family. I consider everyone here and everyone that's to come to be important people in my life. And I feel grateful to have gotten to know each of you."
– President and CEO Rob Liebreich
We appreciate the HR department for planning and hosting the Service Awards. Thanks to their efforts, we can keep track of all the stories of staff flourishing at Goodwin Living. The remarkable tenure listed below represents more than time spent at a job. These team members dedicate their lives to making Goodwin Living a home for hundreds and thousands of different kinds of people.
We will continue celebrating the wellspring of compassion in our organization and welcoming more people to add who believe in our mission. If you are looking for a new work home where your talents are acknowledged, celebrated and elevated, consider any of the open positions we have available!
________________________________________
Timaeus Reed is a Marketing and Communications Specialist at GHI. He plans, writes and designs for internal and external campaigns that support all areas of the organization. He relocated to D.C. to join the team in the summer of 2021. When he isn't getting lost in traffic, Timaeus loves listening to live Go-Go music and stand-up comedy.