Staff Stories - February 25, 2022
Staff Stories | Finding the Best Career Fit in Senior Living
By Timaeus Reed
Everyone's career path is unique. Though news coverage often refers to the "Great Resignation" taking place right now, few of us decide to make huge detours in our career paths, especially later in life. Leslie LaPlace found the courage to do it and discovered happiness and purpose through her work in senior living and health care.
As the Fitness Manager at Goodwin House Alexandria (GHA), Leslie works primarily with residents in our Life Plan Communities and encourages them to enjoy the restorative power of recreational exercise. Seeing the vibrance and passion Leslie brings to her job, you might never expect that she spent years working in software development. Thankfully, Leslie has found her work home at Goodwin Living and looks forward to spending the rest of her career helping older adults.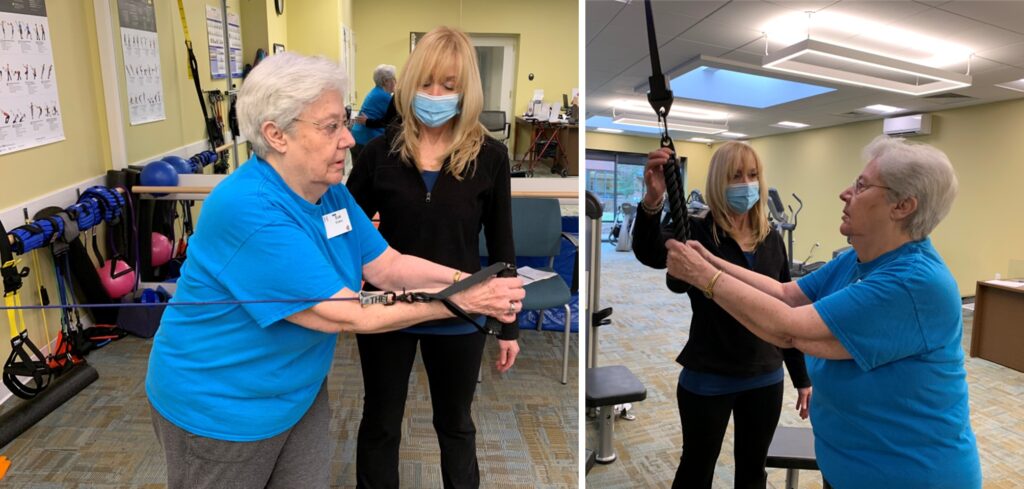 Leslie's high-energy personality fills the room as she instructs fun and lively land and aqua classes. She also provides personalized one-on-one training to residents seeking more individualized physical training, and she offers gentle guidance to those coming out of physical therapy seeking to regain strength and fitness levels. Regular readers might know Leslie has authored some of our most popular blog articles on healthy living, including her anatomy series.
In this installment of staff stories, we asked Leslie about the significant shift she chose to make in her career journey and what she enjoys about her current role.
What did you do before becoming a Fitness Manager? 
My career path has been very circuitous. I got into software implementation back in the late 1980s and did lots of software installs, training and support. I liked that I got to work directly and closely with clients. Eventually, I achieved certification as a project manager (PMP) and started managing IT software development projects. As PMP, I oversaw budgets, schedules and general IT-related problems. That role involved much less working in the trenches with the clients, which I missed.
My last IT job made me miserable, so I found an opportunity to pursue whatever I imagined to be my dream job. I knew immediately that I wanted to work in fitness, as I'd wanted to be a personal trainer for years. You get to work with people to stay healthy and strong. That's a pursuit that I strongly believe in.
Moving from IT Project Manager to Fitness Manager seems like a rather significant change in careers. What inspired you to pursue your current career?
It had been a dream for a very long time. Having always been active and having my own musculoskeletal issues, I knew what fitness and exercise could do to help one feel and move better. Since I was born at the tail end of the boomer generation, I naturally knew I wanted to work with older adults (I'm one too!)
What type of education training was required for you to make the switch? 
I had to get certified as a personal trainer. I've attended conferences and seminars to expand my knowledge, and I'm always interested in ways we can move better.
Do you have special certification or training specific to guiding fitness programs for older adults?
I am certified in Senior Fitness by the National Academy of Sports Medicine (NASM), and I have been attending conferences of the International Council on Active Aging since 2015. They have wonderful seminars on different movement patterns and ideas for older adults. The older adults who take my classes know to expect new challenges whenever I come back from one of the conferences.
What was your work life like before becoming a fitness manager? And how does it compare to your current work life in senior living?
Some of my previous positions required travel, which at times was fun. I had domestic and international travel in IT, but it can get tiring after being away from home constantly. When I switched to project management, I felt more removed from the purpose. At Goodwin Living, I can see how people improve their movement or strength every day. It's so rewarding when a resident, staff member or Goodwin Living At Home member tells you what they can do that they weren't able to before or how they do it better.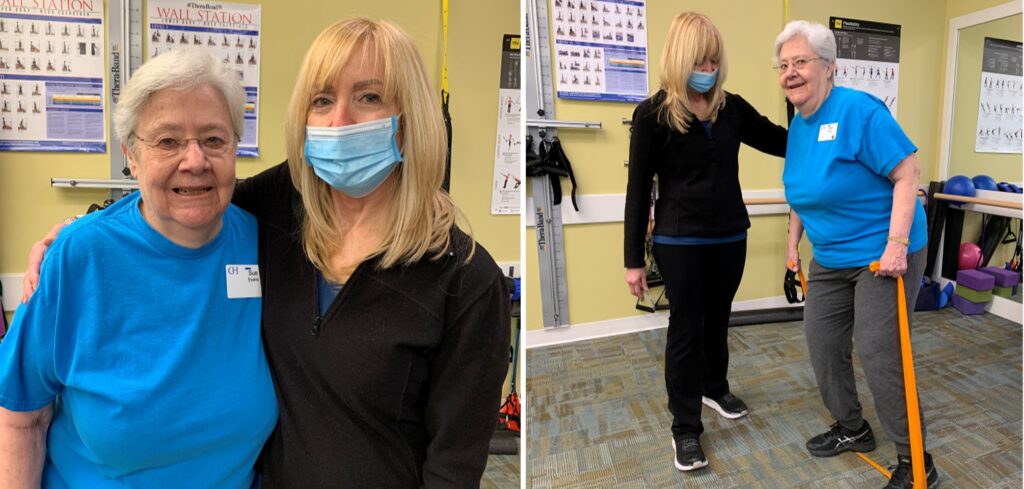 Did you expect to stay with Goodwin Living when you got here? Why or why not?
When I first started out in fitness, I did various contract jobs here and there. My first full-time gig was at Goodwin House Bailey's Crossroads (GHBC) as a Fitness Coordinator. I was there for two years and loved it.
In 2016, I left to pursue an opportunity that dropped in my lap, but then I came back to GHA in 2018 when the Fitness Manager position opened up, and I've not looked back since. I can't believe four years have gone by already, and I'm looking forward to more great years with Goodwin Living. There are so many opportunities here, so it definitely keeps me challenged.
What does Goodwin Living do to help you be successful in your role?
I've felt supported and encouraged to get involved in other areas. My managers have given me space to try different programs, attend conferences and continue to bring fresh ideas to Goodwin Living, which is important. The residents and members recognize that we try to change things up to keep them interested and challenged as well.
What is your favorite part about working for Goodwin Living?
Without a doubt, the people – residents and staff. I tell friends that I've never worked in an environment where you feel like you're making a difference every day.
Anything else you'd like to add or that you think we should know about a career in senior living?
These past few years have flown by, and I can't imagine what the coming years will bring.  Goodwin Living is growing, and there are so many more opportunities to extend what we in fitness are doing to get everyone moving!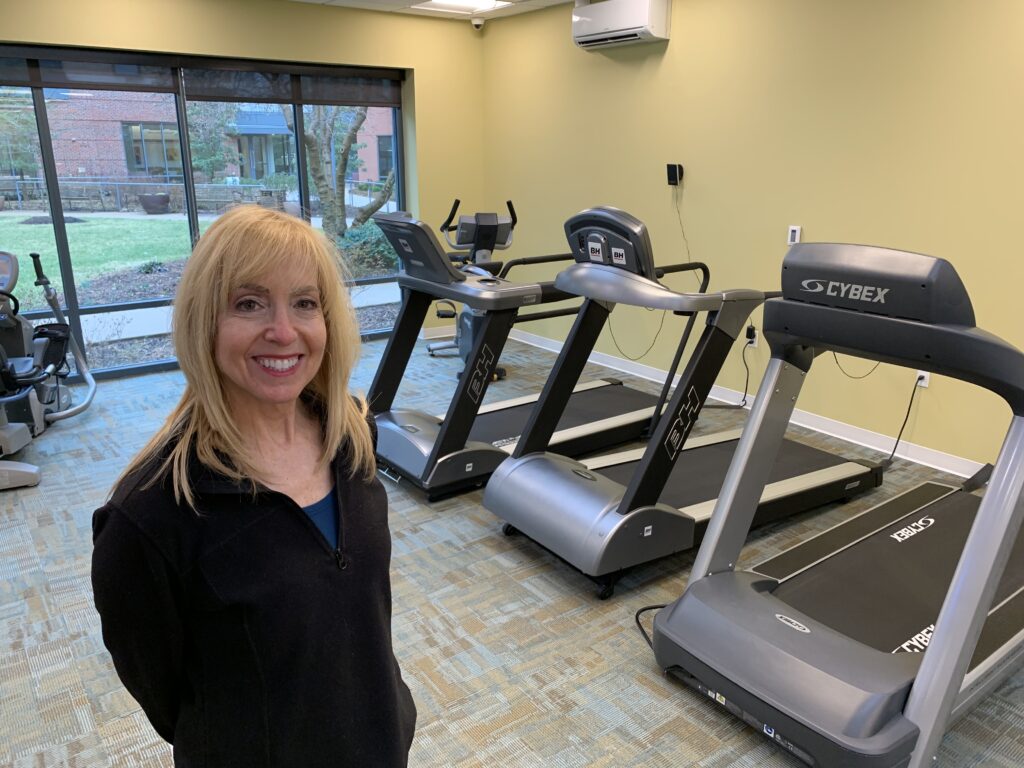 A Career in Senior Living | The Best Kept Secret
We're proud that Leslie has found her work home at Goodwin Living, and we look forward to seeing more of the great work she does each day. As Leslie's story illustrates, the senior living and healthcare industry is growing and becoming increasingly more dynamic every year.
The staff at Goodwin Living can pursue a great variety of career passions, from fitness and nutrition to dining and cosmetology, from accounting and information technology to health care and health administration.
Stories of growth and fulfillment like Leslie's are common at Goodwin Living. If you're looking for a fresh and dynamic work environment where the people around you help bring purpose to your work, check out these opportunities that might fit your passions today or those of someone you know!
__________________________________
Timaeus Reed is a Marketing and Communications Specialist at GHI. He plans, writes and designs for internal and external campaigns that support all areas of the organization. He relocated to D.C. to join the team in the summer of 2021. When he isn't getting lost in traffic, Timaeus loves listening to live Go-Go music and stand-up comedy.