Staff Stories - September 20, 2023
Pride, Quality, Excellence, and 35 Years in Environmental Services
by Kathie Miller
Pride. Quality. Excellence.
These three words express the theme for the 2023 International Environmental Services Week. They also apply to one of our longest tenured team members, Tinia McNeely. For nearly 35 years, Tinia has brought her commitment and passion to the Environmental Services Department at Goodwin House Bailey's Crossroads. She currently serves as Housekeeping Manager.
When I asked Tinia if she would agree to be the feature of a blog article, she immediately responded "Yes, if it's about my team!"
Lead by Example
Dedicated to her job and the 28 members on her team, Tinia arrives at work every weekday around 7 o'clock in the morning. "I like to jump start the morning with my early crew who come in to clean our common areas," Tinia shared. "Then most of my day is spent managing the work of the team – tending to emails, answering calls, responding to needs around the building. Reaching out to staff to be sure I can help them with anything they need."
"She leads her team with compassion and with love," said Chris Floyd. In his role as GHBC director of facilities management, Chris supervises Tinia. "I think the average tenure of her team is around 15 years. That says a lot about Goodwin Living and about their manager. That team, they're like family."
The environmental services team at each campus covers a lot of territory. They manage a 24/7 operation and maintain the cleanliness of all common areas and resident apartments. Throughout the day, you will see team members tidying restrooms, sweeping floors or moving from apartment to apartment to provide weekly cleaning services for residents. You will also see them doing room set-up. On any given day, a busy room such as the auditorium might go through nearly half a dozen set-up changes.
"Robert [Grant] has been with the organization for more than 25 years. He's an expert at what we do," says Tinia. "We have room layouts like maps that we use for room set up. Robert doesn't need those maps at all. He arrives in the room and has it set up in no time!"
Turning Childhood Passion into a Career
According to the Employee Tenure in 2022 report from the U.S. Bureau of Labor Statistics, the average tenure of an employee is 4.1 years. The average tenure of someone who works in environmental services is slightly lower, at 3.6 years. The tenure of the GHBC Environmental Services team and of Tinia personally clearly stand out for their years of commitment.
So what has kept Tinia in her job for nearly 35 years?
"My passion is cleaning," she said, without hesitation. "My mother had five girls. She said all of us had our own niche, and mine was not the cooking," Tinia continued, with a laugh. "My sisters took to the cooking, so my mom designated me to be the cleaner."
Tinia's mother cleaned houses for a living. When she noticed that Tinia had a knack for cleaning, she took her under her wing and helped her develop skills that still serve her well today.
"I tried other jobs," Tinia shared. "I worked as an operator. I worked in retail … it just wasn't good for me. It wasn't my niche."
Through the Years at Goodwin Living
Before joining the organization, Tinia was working in Ashland, Virginia. She was a housekeeper for a nursing home. A friend of her uncle's happened to be working as a nurse at Goodwin House Alexandria. She mentioned that there was a job opening, so Tinia applied and got it.
"I started as a housekeeper on the eighth floor of the original building," Tinia said, with a huge smile. "I consider that my alma mater!" she went on, as the smile turned to a quick laugh, a laugh that can't help but bring joy to anyone who hears it. "There's been a lot of growth," Tinia continued. "And I still love what I do!"
Tinia finds her drive in knowing that she's doing her part, and that her part is about keeping our work environment clean. She says that knowing this just makes her feel good.
"Knowing that I'm contributing to the community, and that my residents know I'm here for them round the clock – that's what I love about my job," she commented. "Residents are the grandparents that I never had. I never knew my grandparents, so I have a passion for residents."
Chris also sees how committed Tinia is to her job. "When she comes on site, her priority is the residents," he said, "and she knows what she wants before they even ask."
"We're a Family"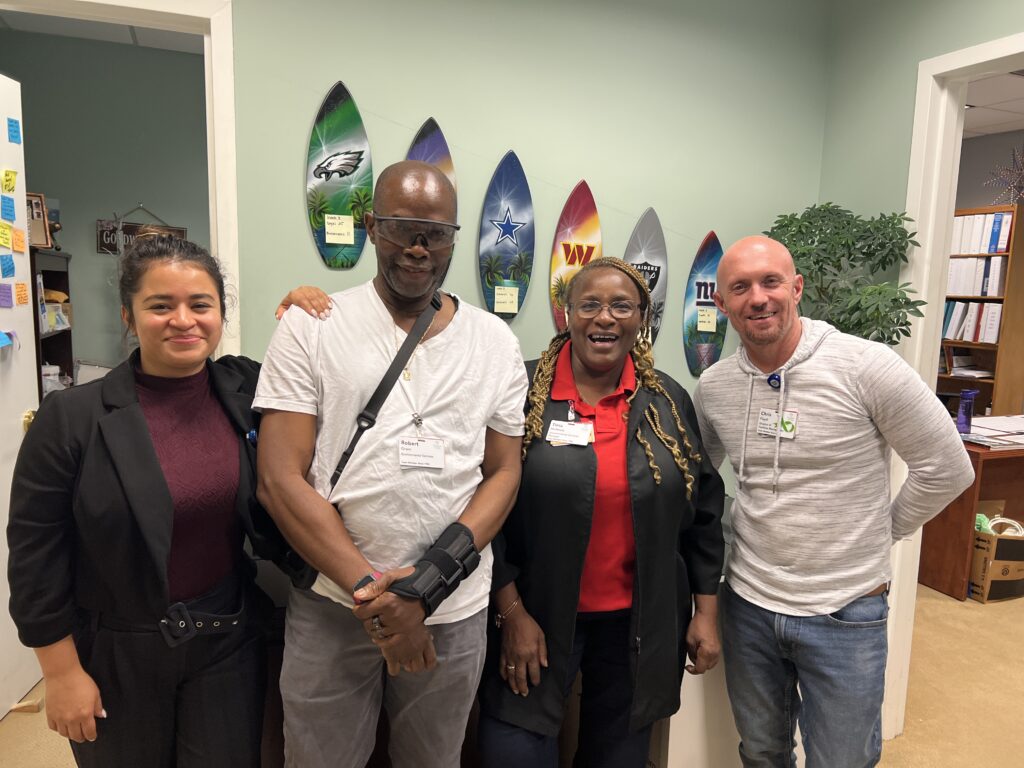 Anyone who observes Tinia at work can see her passion and dedication. She is unwavering in her commitment to being present for residents, her team members and other colleagues. When you talk with her coworkers, a theme becomes clear.
"She's hardworking," observed Estephanie Rubio, services coordinator for GHBC facilities management. "When she wants something done, she's there with the team, working alongside them."
Jose Jordan, GHBC facilities management manager, agreed. "She's hardworking, sometimes too much," Jose said. "That's not a defect, that's a quality. She goes beyond other team members and is the most trustworthy person I know at GHBC. I can rely on her for anything, not just work related, but personal support, too."
Most days, Tinia works on campus for 12 hours or more. At the end of the day, she picks up her radio and sends a call out to her team. One by one, they come back over the radio, wishing her good night. It's reminiscent of the closing scene from the 1970s TV Show "The Waltons."
"We are a family," Tinia said. "We truly are a family, and just like family, we go through struggles and hard things, but at the end of the day, we all love and respect one another. We are all in it together."