Staff Stories - April 19, 2022
Providing Meaning & Purpose Through Occupational Therapy
By Amanda Ranowsky
Many of us have most likely heard the term "Occupational therapy (OT)", but how many of us can actually describe what it is? April is Occupational Therapy Month, so we've partnered with occupational therapists at Goodwin Living to demystify their profession and shine a light on the services they provide that give back purpose and meaning to many every day.
As a matter of course in our daily lives, we engage in several activities. We make our beds, change our clothes, walk around our homes, write lists, eat meals, engage in hobbies and call friends. These activities come so naturally to most of us, that we take them for granted. Until an illness, health condition or injury suddenly makes them difficult to perform.
When that happens, an occupational therapist can step in to help us develop strategies and adapt our environment to make these activities easier to do.
We spoke with a few of the occupational therapists at Goodwin House Alexandria and Goodwin House Bailey's Crossroads to learn more about their profession and about how they use their skills to care for older adults. Frederick (Fred) Lusk, OTR/L (Occupational Therapist, Registered, Licensed) has worked at Goodwin House Alexandria for one and a half years and Jessica Feldman, OTR/L has worked for Goodwin House Bailey's Crossroads for two and a half years.
Why might someone need occupational therapy?
Fred: When most people hear "occupational therapy", they think it's about therapy that helps us recover from an injury to get back to our job. While we can work on vocational training for people with disabilities or those who are returning to work after an injury, the meaning of the word "occupational" in this instance has a different meaning. We help people with anything they do to "occupy" their time—the meaningful, daily activities that make up our lives. In a life plan community like Goodwin Living, we work with residents on everything from activities of basic self-care such as getting dressed and taking a shower to safety while cooking and improving handwriting.
Jessica: Someone might benefit from occupational therapy after an injury, a new illness or exacerbation of an existing health condition. OT can help them learn how to use adaptive equipment, or to access their environment in the least restrictive manner. The focus of OT is on activities of daily living (ADLs)—bathing, dressing, transferring (getting in and out of bed, sitting down and standing up), toileting and eating—or other activities such as home and financial management, grocery shopping, etc. Older adults specifically might need OT to help them regain function after a fall or a fracture, adapt to a change in their living situation or mitigate the effects of the progression of a condition such as dementia.
How does occupational therapy help people?
Jessica: An occupational therapist looks at all the components that make up a task, identifies which ones the person they are treating is struggling with and devises solutions to make it easier for the individual to complete the task. Sometimes, it's helping someone adapt a physical ability, other times it's a cognitive ability or an environmental restriction. Here at Goodwin Living, I provide training to residents, family members and staff, teaching them how to safely adapt tasks such as transfers or dressing using compensatory strategies or adaptive equipment.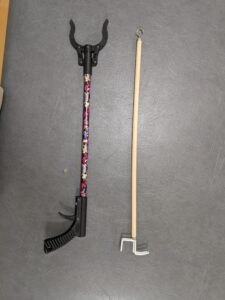 Fred: The thing that makes occupational therapy special is that we focus not only on what you need to do but how you need to do it. People are often surprised by how many muscles it takes just to stay standing up, and I've been amazed by how many ways there are to put on pants. As an occupational therapist, I work with each individual on the tasks that are important to them. We look at ways we can improve their performance, adapt the task or use tools or tricks to make the task safer and easier. OT is famous for having a lot of different gadgets to help with tasks, everything from a reacher or dressing stick to a raised toilet seat to modified garden tools.
How do you practice occupational therapy in a setting like Goodwin Living?
Fred: Goodwin Living offers the full continuum of care from independent living through nursing care. That means I work with residents at all levels of the care they need. One day I am helping someone who broke a hip get better and return to their independent living apartment. The next day I'm helping someone with Parkinson's so that they can stay in independent living. Another day I'm looking at ways to make someone in nursing care more comfortable and improve their quality of life. It definitely doesn't get boring!
Jessica: Goodwin Living is unique because our rehabilitation therapy department covers both inpatient and outpatient settings, so my day consists of both. Outpatients come to Goodwin Living for treatment and return home after their session or following a temporary stay in our skilled nursing facility. I work with these patients to make them as independent as possible with their ADLs. I also guide them in ordering adaptive equipment, and I can train their family members or caregivers, in addition to the patient. For residents who live at Goodwin Living, I also focus on maximizing their independence with ADLs. [Outpatient therapy is only available to Goodwin Living At Home members at this time.]
What do you love most about working at Goodwin Living?
Jessica: I love getting to work in a variety of settings through the rehab department. I also love getting to know the residents and being there as they transition from nursing care to assisted living and back to independent living after a hospital stay.
Fred: Goodwin Living puts the residents first and gives them what they need. In other places of work, I've had to beg to get what people needed, from delivering the therapy itself to wheelchairs to adaptive equipment to modifying the apartment. At Goodwin Living, if I ask for something to benefit a resident, I rarely get a no. It feels really good to be empowered to help people in the way they need and to see the difference we can make when given proper support. My coworkers, regardless of their department (but especially maintenance and nursing), are so supportive. We work together as a team to deliver the best care to residents.
What would you say to someone considering a career in occupational therapy?
Jessica: I would say be prepared to have a fast-paced career, and be prepared to advocate for yourself, your patients and your field. Keep your practice client-centered and remain compassionate. Do your best and know your own limits. We always push patients for energy conservation, so we must practice what we preach!
Fred: OT is a great field because you get to make a difference in the daily lives of others. My favorite thing is when someone comes into our building in a wheelchair or stretcher and then walks out on their own when they leave. It's also wonderful when a family member thanks me for making a real difference in their loved one's life.
________________
As Marketing & Communications Specialist, Amanda Ranowsky partners with colleagues throughout Goodwin Living to tell our stories and raise brand awareness. From printed collateral to digital marketing, Amanda covers many bases. Before joining GHI, Amanda worked for a small, family-owned business where she gained experience in content marketing. Amanda's creative expression extends beyond the office. She is an active member of community theater and chorus groups.