Staff Stories - May 31, 2023
Advancing a Nursing Career in Senior Living and Healthcare
by Timaeus Reed
Nursing professionals and care partners seek meaningful, heartfelt careers. Each time I meet with one of our nursing team members at Goodwin Living, they tell me that's what drew them to work with us. It's a beautiful pattern, especially in light of the nursing shortages across the country. Nurses who come to Goodwin Living stay, grow and thrive in a supportive environment that seeks to give back to them as much as they care for others.
Goodwin House Alexandria (GHA) [link] Advanced Care Partner Ayan Sharif is no different. A graduate of Northern Virginia Community College (NVCC) and a current student of George Mason University (GMU), Ayan spent the last five years at Goodwin Living falling in love with her work in senior living and healthcare, and passing on what she's learned to others.
I have had the privilege of hearing parts of Ayan's story at a few career and workforce panels. She speaks with such passion and compassion about her work experience, so I had to learn more, and Ayan gladly answered my questions.
How did you hear about Goodwin Living? What drew you to apply?
I found out about Goodwin Living through a Google search for CNA jobs. Even though I lived right across the street from GHA at the time, I didn't know what was inside the building. What drew me to apply was the job description, which talked about the small house model. I was very intrigued and curious to learn what it was. The staff-to-resident ratio of 2-to-10 was also another thing that drew me to apply.
What does "senior living and healthcare" mean to you?
There is such a huge stigma about getting older and having to live in a "nursing home". Goodwin Living really exemplifies what senior living and healthcare should be: helping older adults live their life to the fullest and with purpose and dignity till the very end. For me, it is particularly important to be an advocate for residents and to make sure that they have a say in their care.
What positions have you held at Goodwin Living? How did you hear about those opportunities, and what led you to pursue them?
I started as a CNA in 2017, then began working as an Advanced Care Partner in October of 2022. I first heard about the Advanced CNA program through my previous boss and current Executive Director at The View Alexandra, Josh Bagley. I pursued it because of the additional job responsibilities, such as onboarding new team members, participating in quality improvement and being a resource for peers to implement best practices. The curriculum was interesting to me, too, because it was different than the regular CNA program I attended. The Advanced CNA program focused on leadership, care of residents with cognitive impairment, restorative care and wound care.
What are your specific responsibilities within your current role?
I assist residents with their activities of daily living, which include dressing, bathing/grooming, toileting, meals, etc. I also onboard, mentor and train new care partners, participate in our annual skills fair and participate in quality improvement plans.
What kind of training does one need to be an Advanced Care Partner?
The Advanced CNA program was 140 hours. It included 80 hours of class time, 20 hours in skills labs and 40 hours in clinicals. After the final exam, you can submit your application to the Virginia Board of Nursing to become certified as an Advanced CNA.
Did Goodwin Living help you train you to be an Advanced Care Partner?
Goodwin Living partnered with NVCC to have team members go through their Advanced CNA Certification program. I've been fortunate to train several other care partners since then.
I also received tuition assistance from the Goodwin Living Foundation. It's such an incredible benefit that helped a lot in contributing to my studies. Not having to worry about the tuition costs" and knowing that Goodwin Living is there to support me when I need it is amazing.
Everyone at Goodwin Living has been a mentor to me in some manner. I am always asking questions, and everyone is always ready to answer. Goodwin Living is great at recognizing everyone's potential. They do their absolute best to make sure you strive to achieve what they know you can achieve, even if you don't see it in yourself yet.
What would you say is the best part of your job?
The residents. I love coming to work every day and look forward to seeing them. I help them be as independent as possible and reassure them that they can rely on me for assistance when needed. Coming to work doesn't feel like work. It feels like going to see and care for my additional grandparents. I appreciate all their stories and jokes and when they call out to me as "hey friend". Being a CNA is more than just providing care, you need to have compassion and care for their happiness as well as their entire well-being. Spending the time to really get to know the residents helps me provide the right care to them.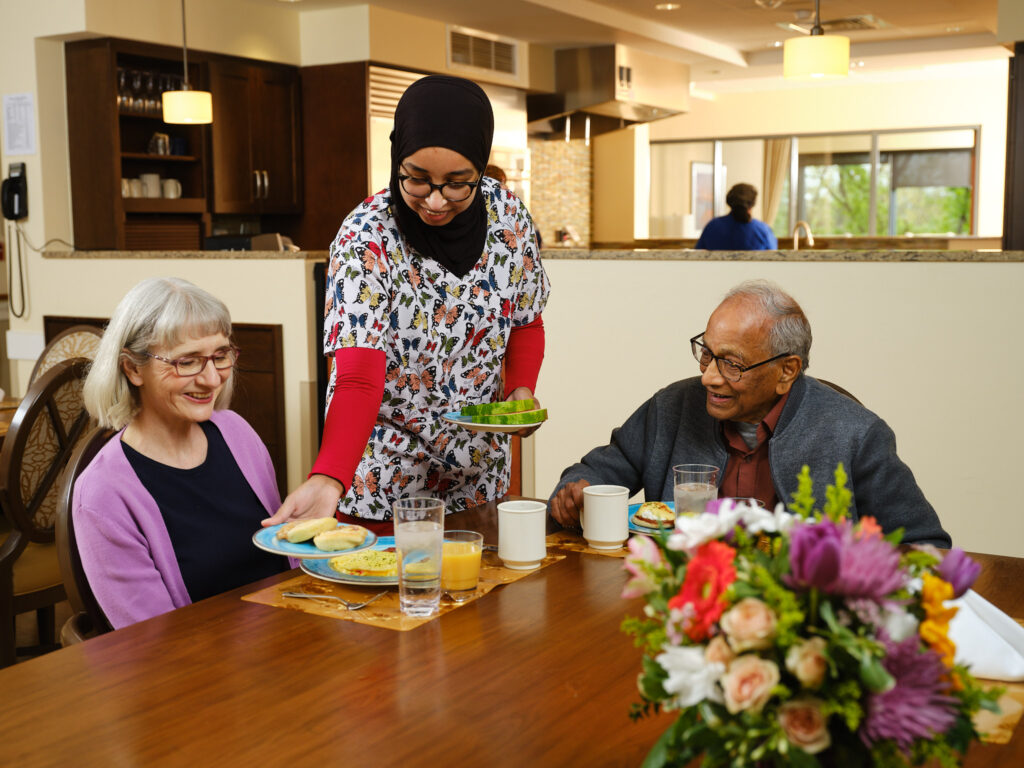 Is there anything else you'd like to add about you or your work?
If you want to work at a place that doesn't feel like work and is more like a family, come to Goodwin Living. That is what Goodwin Living is. Both of my sisters work at Goodwin House Bailey's Crossroads as dining services team members because I kept telling them how great of an environment we have. It's a nice, flexible opportunity that works for them, them since they are both college students like me.
I became a CNA to see if I would like and be good at nursing. I didn't know anything about caring for older adults or how large the population was. All I knew of was hospitals and doctor's offices. Since working here, I don't see myself working with any other population other than older adults. Some people may say that I am "spoiled" because I haven't had the "traditional nursing home" work experience. The way I see it, I started working in a place where things are done the right way. I have found a sense of purpose and direction during my time here and look forward to what I can achieve in the future.
Goodwin, Great Jobs
As I said, it's a beautiful pattern. Whether people switched careers later in life or started their career with us, the opportunities at Goodwin Living change lives for the better. Even the interns who never once considered working with older adults radically changed their perspective on senior living and healthcare.
Goodwin Living is growing, thanks to the compassionate efforts of team members like Ayan. Take it from her, join a team that cheers for you and sets you up for success. There are countless stories like Ayan's that should help paint the picture, and there are just as many opportunities available. We look forward to meeting you!
_________________________________________
Timaeus Reed is a Marketing and Communications Specialist at Goodwin Living. He plans, writes and designs for internal and external campaigns that support all areas of the organization. He relocated to D.C. to join the team in the summer of 2021. When he isn't getting lost in traffic, Timaeus loves listening to live Go-Go music and stand-up comedy.