Staff Stories - April 28, 2023
Internships in Senior Living and Healthcare
By Timaeus Reed
By 2050, researchers expect the number of older adults in the United States to grow from 45 million to 90 million. That's why the senior living and healthcare industry is growing, with millions of career opportunities available for this generation of emerging talent. Argentum reported that total employment in the industry is projected to reach 8.3 million by 2040. 18 million new and existing senior living and healthcare job openings will be open in just under a decade.
At Goodwin Living, we expose younger people from all backgrounds and skill sets to this vital line of work and its diverse career opportunities through our internship program.
Goodwin Living interns gain hands-on experience in social work, marketing, nursing, recreational therapy and more. Interns also receive mentorship from residents, senior leaders and outside advisors who conduct professional workshops that help the interns prepare for their careers.
We asked a few of our current interns to share what they have learned about senior living and healthcare.
Marketing and Communications Intern | Tessa Trosman
Senior at Marymount University studying Business Administration and Marketing
Raised in Aldie, Virginia, Marketing and Communications (MarComms) Intern Tessa Trosman enjoys traveling, photography, video games and fashion. Speaking of fashion, Tessa started her own business, offering curated and aesthetic fashion to a younger audience. Tessa is a creative project manager, a passionate writer and an enthusiastic entrepreneur. This is what she had to say about working with Goodwin Living.
"Working to improve the lives of older adults in any way is extremely rewarding," Tessa said. "The energy and environment here is unmatched as a workplace. I often go on tangents about my experience and how I was not expecting to enjoy my time as much as I did."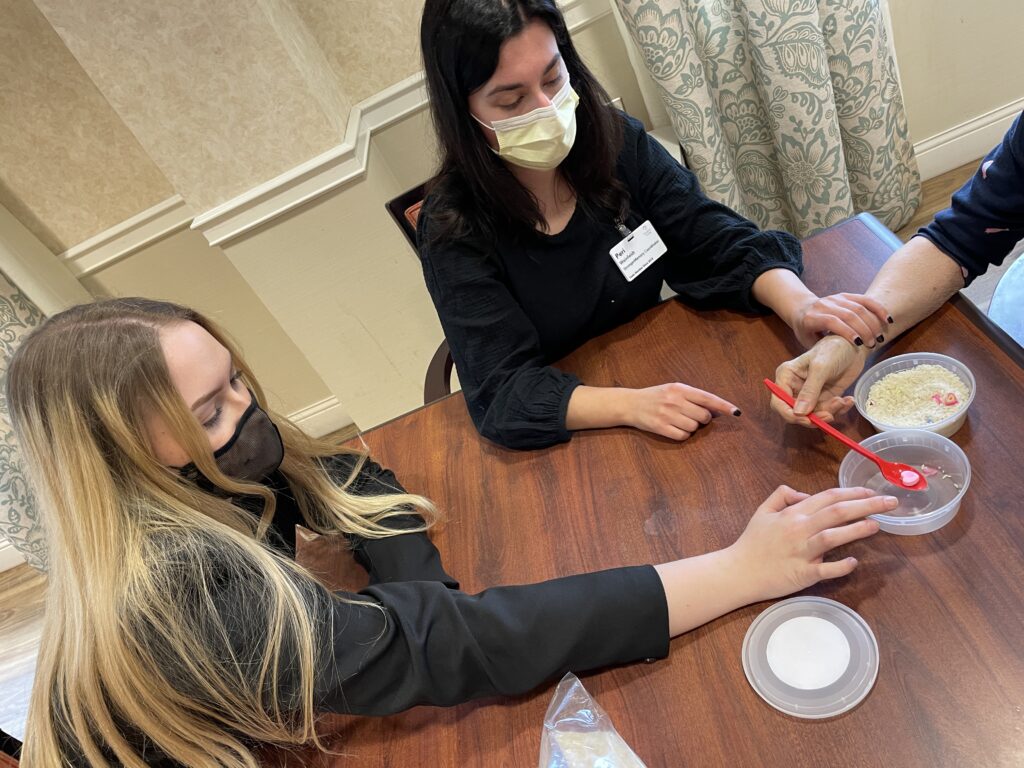 What new perspective, lessons and or skills have you gained from this internship? 
"This internship allowed me to work on more diverse skill sets, including graphic design, videography, photography, writing and interviewing. I gained a nuanced understanding of the senior living and healthcare industry and the confidence and skill set to excel in any other industry. I was pleasantly surprised by the warm and supportive work environment. Despite my lack of experience in senior living, my department was patient in imparting their knowledge and expertise. I was encouraged to contribute my ideas and suggestions. Notably, I suggested we move to launch a Goodwin Living Instagram. To my delight, the MarComms team entrusted me with leading this project."
Corporate Director of Marketing & Communications Kathie Miller supervised Tessa over the last few months. Though not her first time leading a group of interns, Kathie learns something new from each cohort. Kathie appreciates their thirst for new experiences. She considers working with interns a significant highlight of her job.
"We can learn a great deal from interns and the fresh perspectives they bring to our work," Kathie said. "We design our internships in MarComms to be as much about the opportunity for us to learn from them as it is for them to learn from us. This semester presented me with opportunities to gain new ideas for sharing Goodwin Living work life on social media and ways we might reach and engage prospective new team members."
Beyond the fresh work environment, Kathie most enjoyed getting to know the interns and her team on a personal level. She fondly remembers a night the marketing and communications team came together on an after-work adventure.
"The group of us attended a local theater production that featured our colleague Amanda Ranowsky in a starring role," Kathie said. "Seeing the team come together like that means a lot to me. We try to support each other personally and professionally. And I appreciate that Fatima and Tessa joined us, too. We really enjoy having them as part of the team."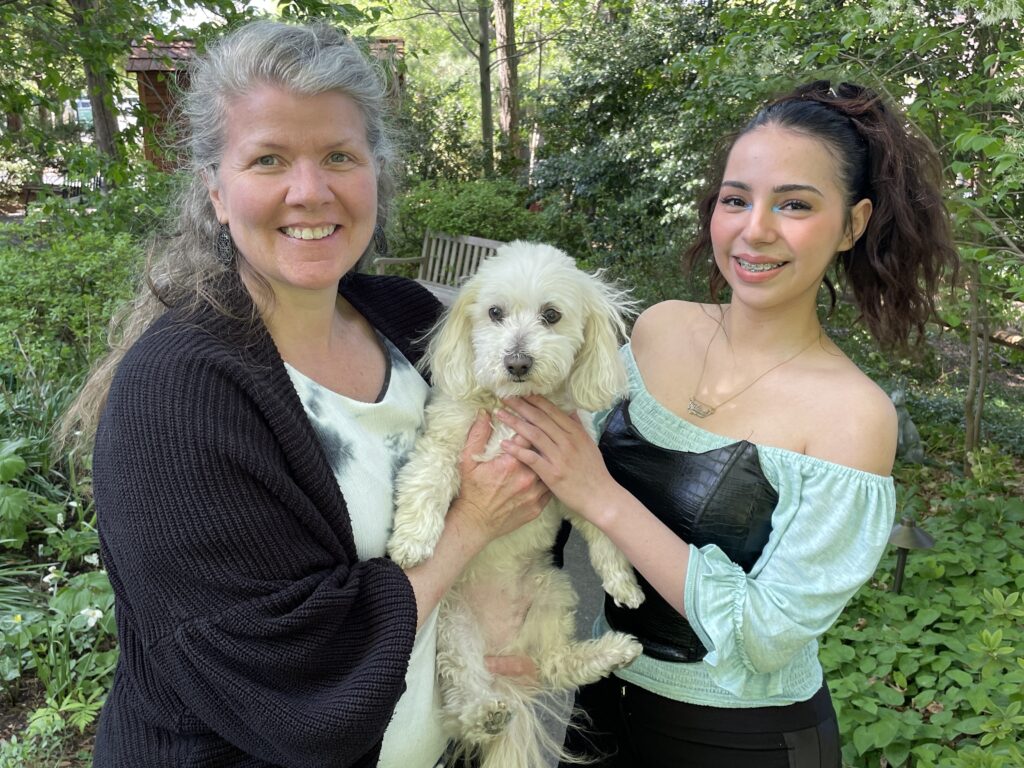 Kathie deeply believes in the value of internships, especially in senior living and healthcare environments. Interns enrich Goodwin Living as much as we hope to help them along their paths.
"Through our internship programs, Goodwin Living discovers new talent that joins our team and helps move us forward," Kathie said. "Many of the interns we work with might never have considered senior living and healthcare as a place they would find work. Seeing interns experience Goodwin Living directly, watching their impressions of the industry change in significant ways… that's priceless!"
Brain Health Intern | Sym Shackleford
Senior at Marymount University studying Forensic Psychology and I.T.
Raised in Woodbridge, Virginia, Brain Health Intern Sym Schackleford enjoys painting and basketball. Recently, Sym was part of a WBCA (Women's Basketball Coaches Association ) NCAA Division III All American team that won their conference championship. Sym was named an honorable mention MVP!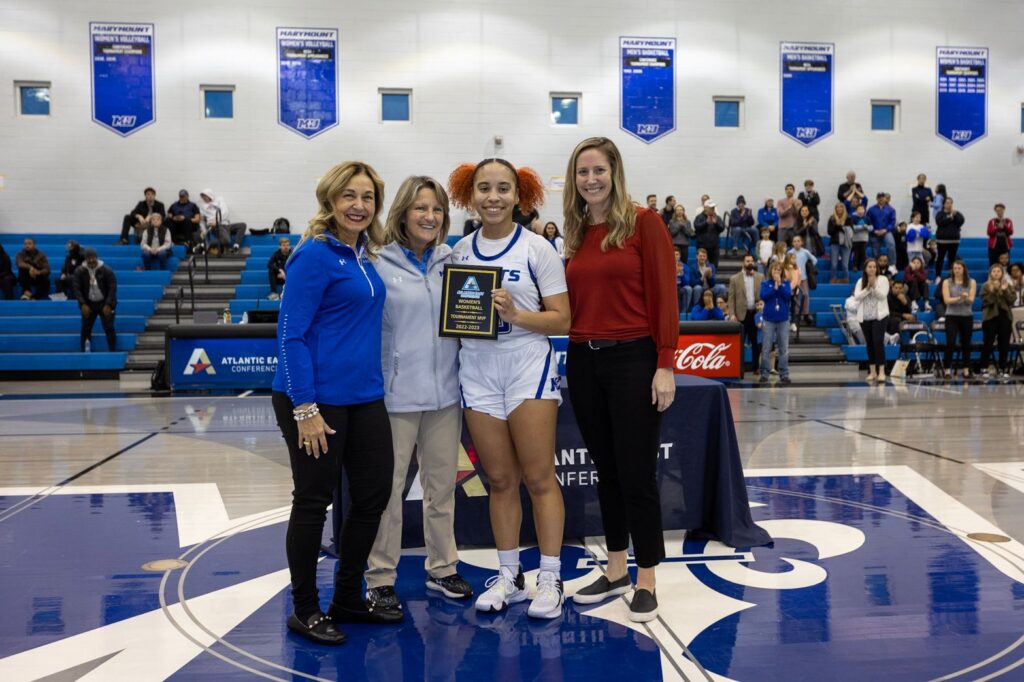 Outside of her incredible athleticism, Sym plans to earn a master's at Marymount in the fall to become a clinical mental health counselor. When she came to Goodwin Living, Sym was surprised by the warm welcome she received from everyone.
"There was so much collaboration, dedication and kindness here that I wasn't expecting," Sym said. "I am a bit nervous when it comes to speaking in front of large groups of people, but Jessica and the others inspired me and helped me feel comfortable."
What new perspective, lessons and or skills have you gained from this internship? 
"The experience is excellent. I have been learning a lot about cognitive issues, decline and skills to help you keep your brain healthy. I also learned how to be in a professional environment, interact with an older demographic and lead a group of residents through an activity. These experiences will help shape me into a better version of myself and give me hope for what I can accomplish in the future."
Social Work Intern | Ellie Pettoni, MSW
Master of Social Work Student at George Mason University
Born and raised in Northern Virginia, Social Work Intern Ellie Pettoni enjoys hiking and exploring new cities. After Ellie completes her master's program, she plans to continue working with older adults, especially those who live with dementia and other brain health changes. That's what made Goodwin Living such a great fit for her.
"I was very excited to join the team to see how I could improve the quality of lives for individuals with a dementia diagnosis," Ellie said. "I had numerous opportunities to sharpen and learn new skills."
During her internship, Ellie was entrusted with leading various StrongerMemory groups and recreational exercises with assisted living residents. Ellie flourished with other team members and on her own, a rare talent that makes a lasting impression on everyone she meets.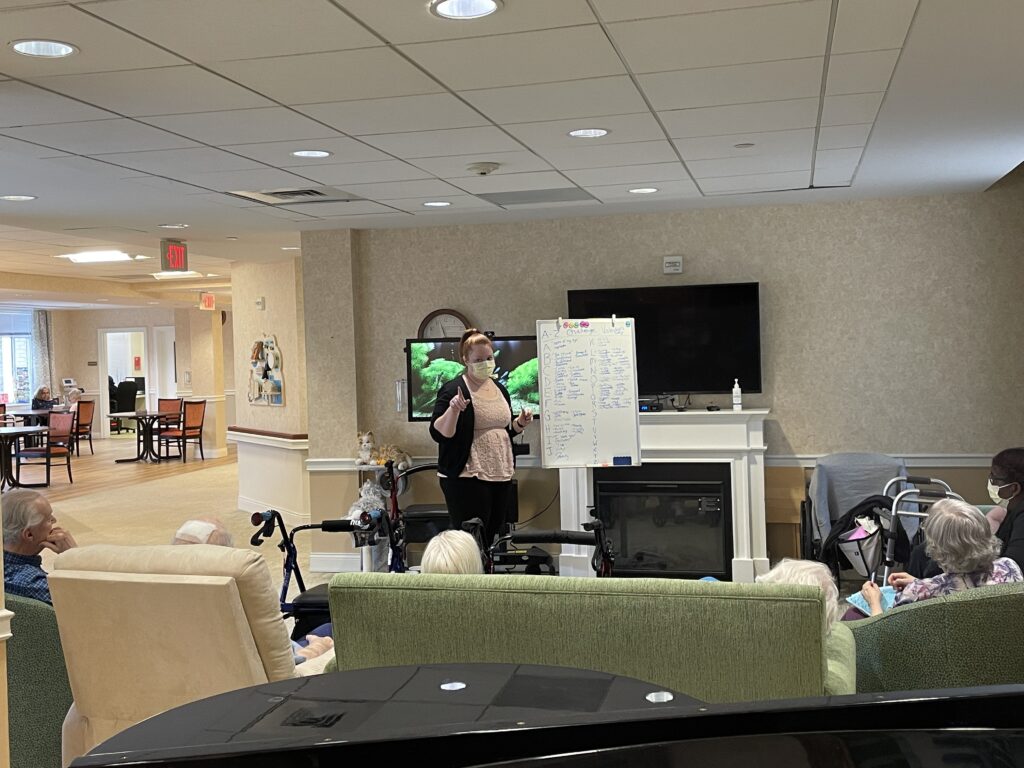 Director of Brain Health Jessica Fredericksen feels fortunate to supervise Sym, Ellie and other interns. Brain Health is a nuanced and complicated field, so Jessica appreciates seeing so many younger people interested and contributing their talents.
"I had several interns this spring, and they all taught me something different," Jessica said. "One taught me how to use Canva to create videos we could use in our training and social media. Another taught me about Namaste dementia programming, which involves all five senses. I once saw an intern experience a deep connection with her resident mentor, and it reminded me of the importance of taking the time to connect with the people around me."
The Future of Senior Living and Healthcare
Each intern makes a unique impact on Goodwin Living. We're always looking for new ways to shape the future of our organization. What better way than to look to the best, brightest and growing professionals around us? If our interns represent the future of senior living and healthcare, we feel confident that the next generation of older adults is in good hands. And you can join them!
If you or someone you know is interested in pursuing purposeful work, consider an internship or a full-time career with Goodwin Living. Our team members receive career and personal development benefits, including tuition assistance and citizenship application grants. You can read more of their stories here to get a sense of the incredible possibilities hidden within the senior living and healthcare industry!
_________________________________________
Timaeus Reed is a Marketing and Communications Specialist at Goodwin Living. He plans, writes and designs for internal and external campaigns that support all areas of the organization. He relocated to D.C. to join the team in the summer of 2021. When he isn't getting lost in traffic, Timaeus loves listening to live Go-Go music and stand-up comedy.