Staff Stories - January 31, 2022
How to Expand Your Workforce by Launching a U.S. Citizenship Program
by Kathie Miller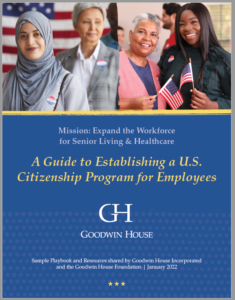 People from around the globe still have hopes of realizing the American dream, but the path to U.S. citizenship is not always smooth. For many, one of the biggest bumps in the road comes at the very start of their journey. The cost to simply apply for U.S. citizenship is above $700 per person.
This can be a significant sum of money to someone who is just starting out in a new country. This is especially true for someone who is supporting a family (sometimes here as well as back home) or pursuing an education in addition to working more than one job.
"I am the granddaughter of four people who emigrated from Ireland," shared Rita Siebenaler. "And they didn't have such a barrier."
This is why Rita, a resident of Goodwin House Bailey's Crossroads wanted to help.
Smoothing Out that First Bump in the Road to U.S. Citizenship
Back in 2018, Rita found herself wanting to do something to ease the way for Goodwin Living staff who wished to pursue U.S. citizenship but might not have the budget bandwidth to pay for it. We shared parts of Rita's story in an earlier blog post. She was the driving force that launched our U.S. Citizenship Program at Goodwin Living.
Funded through the Goodwin Living Foundation, the program provides staff with grants to cover the costs of the application fees; it also helps connect staff with residents who are willing to tutor them as they prepare for their citizenship exams. It's a win-win for everyone. Staff seeking U.S. citizenship have support to pursue it. Residents of the Goodwin Living Life Plan Communities find purpose in tutoring staff as they prepare for their citizenship exam.
In late 2021, the program garnered attention from The Washington Post and Voice of America (VOA). In the weeks following this media attention, we heard from individuals and organizations. From all around the country, people were reaching out to ask us more about the program and how they might start one of their own. This inspired us to put together a guide, or "playbook", for anyone who might be interested. You'll find a link to download our Citizenship Program Playbook below, though first we wish to share why we think this program is so important to us, and to the senior living and healthcare industry.
A Crucial Time for Senior Living & Healthcare
At Goodwin Living, we think there has never been a more crucial time for us to find ways to support our staff. The pandemic has placed an increased burden on senior living and healthcare workers, which added difficulties to our field's ability to recruit employees. Other challenges in attracting talent to senior living and healthcare are not new.
Back in 2007, LeadingAge commissioned a report that cited factors such as industry stereotyping, inadequate compensation and lack of proper training as barriers to recruiting and retaining employees. While significant progress has been made industry-wide to address these factors, more is needed. At the same time, new issues have emerged, including a fast increase in demand.
In 2018, the U.S. Census Bureau announced that older adults were projected to outnumber children for the first time in U.S. history. All baby boomers will be age 65 or better by 2030, resulting in a time when 1 of every 5 U.S. residents will be retirement age. In Maine, they have already reached this milestone, as reported by The Washington Post in an article that presented a harrowing outlook for the potential (and in Maine's case all too real) shortage of workers to care for older adults.
Workforce Problems Can Lead to Workforce Solutions
According to the U.S. Bureau of Labor Statistics, foreign-born workers made up 17.4% of the total U.S. workforce in 2019. The numbers are even higher within the fields of senior living and healthcare. According to McKnight's Senior Living, immigrants make up 25.7% of the workforce in long-term care, and according to the Migration Policy Institute, 38% of home health aides are immigrants. Also of note from the Bureau of Labor Statistics, foreign-born workers are higher in numbers than native-born workers for jobs that are classified as service (22.5% foreign-born to 16.0% native-born) and maintenance (13.4% to 8.2%).
We see this reflected among our staff at Goodwin Living. Our nearly 1,000 staff members come from more than 60 countries. Many of our foreign-born staff dream of acquiring U.S. citizenship and face the very barriers mentioned above. We are hoping we might change that, thanks to our Citizenship Program.
Solutions Are What Makes Us Different
Our citizenship program is one of the many benefits and career growth opportunities that we offer, though some see it as what sets us apart from other employers.
"I think the idea of having an intentionally diverse workforce that is proactive in things like the citizenship initiative attracts a different kind of person," shared Tom West, who serves as Vice Chair of the Goodwin Living Board of Trustees. "It also keeps a different kind of person. It orients employees to the organization's sets of priorities."
For Rita, there are other benefits as well. "I think the program gives not only our employees, but families hope," she commented. "It gives them a legal foothold here, and that can go further to let the whole family see that there is the American dream and it might possibly be achievable."
More Than Just Statistics
Nagla Badia was one of the first Goodwin Living staff to go through the program. "The fees are a lot," Nagla, who works in dining services, shared. "$725 is not easy for a person with six kids and family."
Originally from Yemen, Nagla came to the United States with her husband. "He came here to study, and we decided to stay," Nagla shared. "We built our family here. We see this as a good future for them, too, especially schools."
Among Nagla's six children, two have pursued master's degrees, one is an architect, another is pursuing a career in medicine, yet another is busy raising a young family of her own, and the youngest is still at home.
One goal in getting her U.S. citizenship was to be able to travel back to her home country. Nagla felt she would have greater security if she were to travel with a U.S. passport. Since acquiring her citizenship in 2019, Nagla has made the trip to Yemen, where she reunited with friends and family, including her mother, whom she hadn't seen in several years.
"Now I am a citizen, and I am so glad," Nagla exclaimed. "I'm happy. It changed my life a lot."
To date, more than 90 Goodwin Living employees have participated in our U.S. citizenship program. Some have only just begun; others have completed the process and now encourage coworkers to do the same.
We hope that you will consider establishing a U.S. citizenship program, one that supports the remarkable individuals who work for your organization. We also hope our playbook helps you on that journey.
Download Your Copy of Our Citizenship Playbook
We were delighted to be featured in international news media, but even more thrilled to hear from others who want to start similar programs in their own communities or at their own organizations. We hope that this playbook that we put together is useful. If you have feedback or questions, please contact the Foundation at giving@goodwinliving.org
Editor's Note: In the coming weeks, we will host a webinar that provides even more insights into our U.S. citizenship program. Those who download the Citizenship Playbook will receive an invitation to attend this webinar.
——————————————
As Corporate Director of Marketing & Communications, Kathie Miller provides strategic guidance and tactical support for all areas of Goodwin Living. She writes, edits and manages The Good Life blog and newsletter. Kathie joined GHI in 2014 after nearly 15 years at NPR, where she honed her skills in brand and reputation management, content marketing and internal communications. Originally from Pennsylvania, Kathie has slowly come to realize she's lived in Arlington for more than half her life and should call herself a Virginian. She enjoys the outdoors and brings her rescue dog, Remi, to work every day.