Staff Stories - December 19, 2022
Purposeful Work at Goodwin Living
Heba Sikander's 12-Year Career Path Unfolds
By Timaeus Reed
In 2010, Heba Sikander didn't plan for a long career in senior living and healthcare. She was out fresh out of high school and uncertain which path she might take. Like many college students, Heba needed a flexible, part-time job to help her pay her own way through college.
Heba joined the dining team at Goodwin House Alexandria (GHA) when she was 19 years old. Twelve years and five positions later, Heba recently accepted a new job at Goodwin Living. She is now the Director of Human Resources (HR) who oversees HR issues for The View Alexandria (TVA) by Goodwin Living and our Home and Community-Based Services (HCBS).
This is the story of Heba's remarkable career path.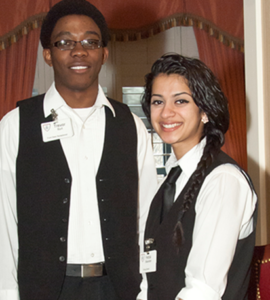 Dining Server | The Start of a Goodwin Living Career
Born and raised in Alexandria, Virginia, Heba has lived most of her life in a close-knit home of seven people. Though the youngest of five siblings, Heba strived to be the first in her family to receive an undergraduate degree. Her friend Septima Piedu referred her to a dining server position at GHA, and Heba began working part-time evening shifts while taking classes at Northern Virginia Community College (NVCC).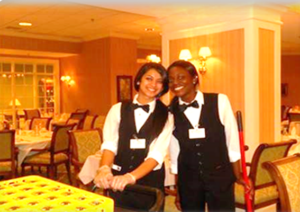 "After school, we were always hungry but never had the funds to grab food (Chipotle, to be exact)," Septima said. "I heard about Goodwin Living through a friend from school, and I mentioned it to Heba, and we both applied, and she got hired first. What are the odds? Three weeks after Heba got hired, I got a phone call about an interview, and the rest is history." Together, Heba and Septima continued their careers with Goodwin Living.
Whatever expectations Heba had about senior living and healthcare were immediately surpassed. Heba found a vibrant environment full of diverse coworkers and residents who supported them and truly cared. At GHA, Heba found a home away from home.
"I especially loved seeing the residents," Heba said. "They were invested in my educational journey and getting to know me."
Though Heba successfully juggled school and work at once, she soon found herself in need of taking a break from her classes so she could work full-time and help support her family. When one resident heard of this unexpected obstacle in Heba's path, she donated to the Goodwin Living Foundation. The Foundation supports team members in their lives and careers by offering tuition assistance and other benefits to those who apply. The resident donor sought to invest in the Foundation because she saw the incredible potential within Heba.
"She told me, 'I donate to this program for employees like you,'" Heba said. "That inspired me even more to make sure I went back to school someday."
Reaching Career Heights in Goodwin Living Dining Services
After a year and a half as a server, Heba was ready for a new challenge. She rose to the position of GHA Dining Supervisor in 2012 and forged even deeper bonds with her new colleagues within Goodwin Living leadership. They trusted Heba to lead many tasks and projects, which gave her a new sense of responsibility.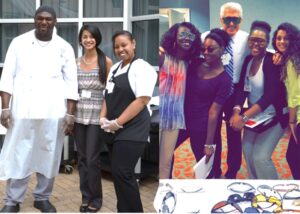 "I didn't always have much confidence in myself," Heba said. "But leadership at Goodwin Living recognized my skill set and gave me reassurance. I never felt alone, and I always had space to show what I can do."
Septima would also become Dining Supervisor in her own time. She and Heba leaned on one another for support, and their friendship grew in and out of work.
"We both have similar stories of starting from the bottom and rising to the top," Septima said. "Heba transitioned first into supervisory and managerial roles, and she was the one who taught me everything I knew before she transitioned into HR."
Heba soon left the supervisor role to refocus her trusted talents as catering manager in 2013. She remained in this role longest during her time in dining services. Shortly after becoming catering manager, Heba decided to apply for tuition assistance and resume her college education part-time. She opted to major in hospitality.
Catering presented Heba with unexpected challenges, and she met each of them with an innovative mind and a compassionate heart. As catering manager, Heba trained her coworkers on a new, streamlined ticketing system for the dining team.
When the Goodwin Living HR team found themselves needing someone in the role of HR generalist, Heba offered to help them with recruiting, reference-checks and onboarding new team members until they could find someone to fill the role. Heba consistently found ways forward that uplifted the people around her.
Her colleagues in HR saw her hard work and potential. Soon, they would make her an offer that would take Heba's career in an unexpected direction.
From Dining Services to Human Resources
In December 2015, Heba received an unexpected phone call on one of her days off. This is not unusual for someone in a leadership role, but Heba really wasn't expecting a call like this one. She received an offer for the HR generalist position.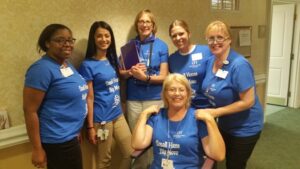 Heba knew many colleagues who moved to different departments, from dining to reception or reception to supply chain, though she didn't see a similar path for herself. She did not think she had hopes of moving into a new department until perhaps after she completed her education. When she first got that call, she thought there must have been a mistake.
"I didn't think I was qualified because I didn't have my bachelor's at the time," Heba said. "I was working 12-hour days in dining and trying to go to school part-time. Why would they want me in HR?"
HR Benefits Manager Jeanne Hobbs, who called Heba with the opportunity, assured her there was no mistake. Jeanne knew what Heba was capable of and wanted to build her skill set. Jeanne was determined to bring Heba into the HR fold, no matter what it took.
"I already saw her work ethic in her dining services career, so I was confident that she would catch on pretty quickly," Jeanne said. "I developed a detailed plan that ensured we covered all the topics in her training, provided she took the job."
As soon as she got off the phone, Heba felt a new air of hope and excitement. She immediately filled out the paperwork needed to accept the role. Later that same month, Heba started her new role as HR Generalist.
Transformation Within Human Resources
Though Heba felt pressure in her new role, she soon realized she was in good hands. It was Jeanne who trained Heba for the first few months. At Goodwin Living, the HR team has a saying. "If no one else knows it, Jeanne knows it." As promised, Jeanne prepared all manner of curricula and seminars for Heba to learn from. Jeanne even adjusted her teaching style to accommodate Heba, who is a visual learner.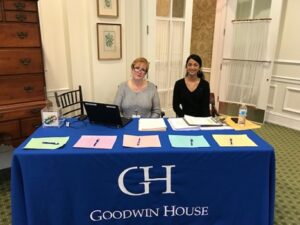 "She allowed me to make mistakes and guided me to solutions," Heba said. "The way she taught me made me feel so comfortable and confident."
The entire HR team came around Heba to support her growth. With their help, Heba enrolled in business writing courses, attended training conferences and is currently pursuing certification from the Society for Human Resources Management (SHRM) through George Mason University.
In 2016, Heba changed her major to business administration with a focus on human resources. And after years of staying committed to her part-time studies and full-time job, she became the first of her family to graduate with a bachelor's degree. Heba received her degree from the University of Maryland in 2020. She funded her educational endeavors with support from the Goodwin Living Foundation.
"You don't know what life circumstances can prevent someone from going to school," Heba said. "When I look back, I couldn't have gone to school without the people who donated to the Foundation. I thought the best way to show my appreciation was to actually get my degree."
Transformation Within Human Resources Continues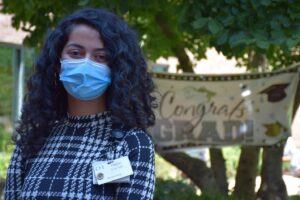 Heba was growing at a rate faster than she thought possible. After all the support she received over the years, she wanted to find a new way to give back to Goodwin Living. In September 2021, Heba became the HR business partner for the Goodwin Living HCBS, which includes Goodwin Hospice, Goodwin Home Health, Goodwin Living At Home and Goodwin Rehabilitation. She wanted to do more for team members who often don't have a campus presence.
"I was so excited to be an HCBS employee advocate," Heba said. "Every time I stepped into the room, I made sure the HCBS team members were included and felt included in our projects. Just because they're working outside the building doesn't mean they're not a part of Goodwin Living."
Heba advocated for HCBS team members to have their own Ceca awards. The Ceca awards program gives caregiving organizations, like those in senior living and healthcare, a platform to recognize individuals for their work. Goodwin Living used this program to recognize our team members at GHA and Goodwin House Bailey's Crossroads (GHBC) for years, and now we can recognize our HCBS team members in the same way ― thanks to Heba.
As the HR team worked through the challenges of COVID-19, Heba saw the Foundation and HR work together to find more ways to support team members. Heba helped organize vaccine clinics and connected team members to emergency fund applications and other resources. And as Goodwin Living grew, so did Heba's drive to support others.
Heba Grows Along with Goodwin Living
This year, Goodwin Living completed an organizational rebranding effort and acquired The View Alexandria. This acquisition of a third campus brought with it a significant need for organization and leadership. The HR team had much work to do, and with no surprise, Heba was chosen to be a lead changemaker. Despite losing a loved just months prior, Heba transitioned to TVA full-time and became its director of HR in October 2022.
"I always wanted to be in a director role, but I had just lost my dad over the summer and didn't know if the responsibility would be too much at the time," Heba said. "But I didn't want to hold myself back. That's not what my dad would want."
When Heba started at TVA, she brought new training and procedures to the campus, but the culture fit like a glove. Everyone greeted her with open arms, just as she had grown used to at Goodwin Living. These new team members and residents became a part of her work family. She believes all of them deserve to be recognized for the big and small things they do. That's why one of her first goals was to bring Ceca to TVA as well. TVA will celebrate its first Ceca awards in January 2023.
Heba Leads the Future of Goodwin Living
"Although I changed my major like four times, the thing that remained consistent is that I wanted to stay at Goodwin Living," Heba said. "No matter what career path I chose, Goodwin Living was the place to help me build who I am today. My work has so much purpose, and I truly enjoy it here."
Septima Piedu, Heba's longtime friend, has also transitioned to TVA as an HR generalist. Heba's influence on Septima's journey is clear.
"At times, I would doubt myself about taking the next step into a different role, and Heba always encouraged me to press forward, no matter what. And here we are now, seven years later, working together again at TVA. Who would have thought? Heba has always been a great leader and always wanted me to succeed, and I have no doubt she will continue to do the same."
Jeanne Hobbs, Heba's first mentor in HR, now looks to Heba for leadership. "Heba is a strong, independent, and intelligent woman who accomplishes everything she sets out to do. She doesn't let obstacles get in her way, and she faces tough issues head-on with confidence. I trust her, value her opinion and frequently ask for her advice in my own work. She is a role model for me, and I often ask myself, 'what would Heba do?'"
Heba has made a life-changing difference at Goodwin Living. She is a pillar for people in difficult times, a shining example for all who seek clarity in their career paths and are willing to seize the opportunities that come to them. We know that her leadership at Goodwin Living will continue to empower others, and we'll be grateful to share more of her story as it unfolds.
__________
Timaeus Reed is a Marketing and Communications Specialist at Goodwin Living. He plans, writes and designs for internal and external campaigns that support all areas of the organization. He relocated from the Midwest to D.C. to join the team in the summer of 2021. When he isn't getting lost in traffic, Timaeus loves listening to live Go-Go music and stand-up comedy.