Staff Stories - February 27, 2023
Unexpected Career Opportunities in Senior Living
Reema Sikander Transitions from Retail to IT
by Timaeus Reed
Everyone has hidden talents that could lead them to unexpected and fulfilling careers. Success is easier when your workplace actively seeks out and invests in those talents. Reema Sikander represents one of the many team members at Goodwin Living who found herself thriving in unfamiliar workspaces. Thanks to her admirable drive to dive into new experiences and the support of her fellow team members, Reema transitioned from retail to IT in three short years.
From Retail to Receptionist | Unexpected Careers in Senior Living
Previously, Reema spent nearly a decade working in Sports Zone Elite before working at Foot Locker Inc in 2018. She enjoyed interacting with people face-to-face and helping them with their individual needs, but she felt a calling to do even more for people. In 2019, Goodwin Living HR Director Heba Sikander (Reema's younger sister) shared her meaningful experiences working in senior living and healthcare and referred Reema to apply. With no prior experience in senior living and her sister's vote of confidence, Reema joined the reception team at Goodwin House Alexandria (GHA) shortly after.
GHA Reception Desk Manager Selam Belete took Reema under her wing and built on the customer service skills Reema had previously learned. Their working relationship made it immediately clear to Reema that Goodwin Living is a workplace unlike any other.
"I'm the person who needs the tough love, and Selam did that for me. Especially the love part, "Reema said. "She didn't just treat me like someone who worked for her. She treated me like a family and a friend."
Months into her new role, Reema was promoted to team leader for the reception desk. Working at reception is more than answering calls and smiling. Reema described it as an often demanding role that requires agility and patience. Our reception team members are front-line problem solvers and friendly supporters for countless asks from residents, guests and team members. It humbled Reema to work with them. Reema had never managed so many incoming and disparate requests including tracing lost packages and screening groups of guests – and all at the same time! By the end of her first quarter, Reema was recognized as Employee of the Quarter by GHA residents and her fellow team members.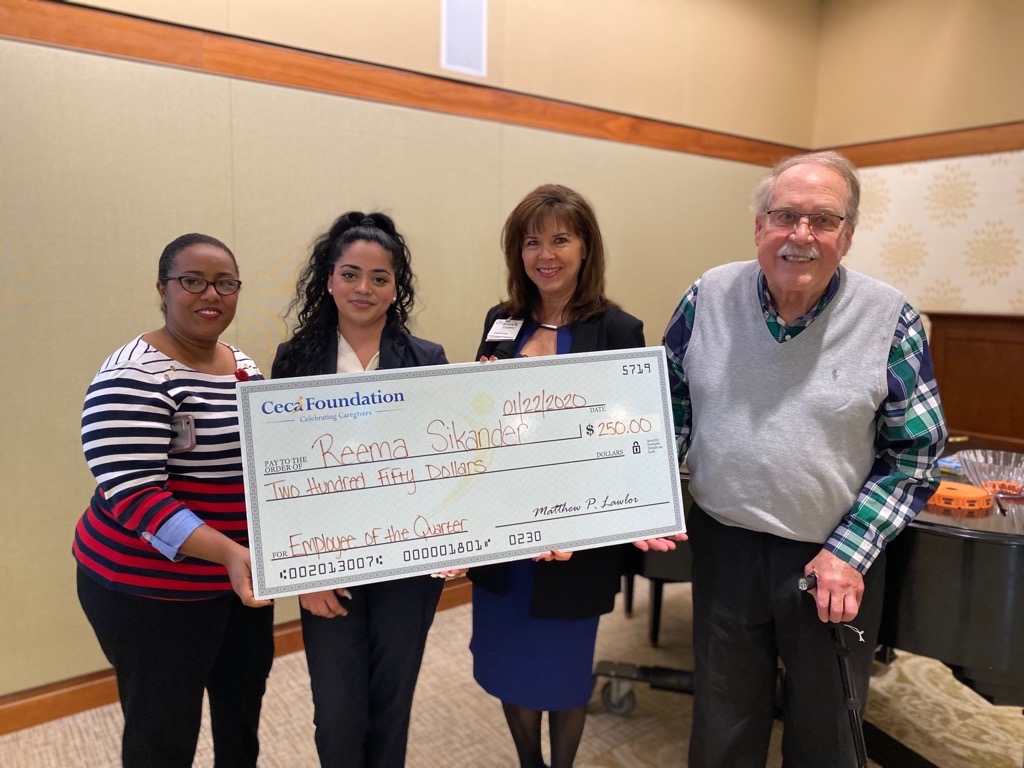 Reema was grateful Selam guided her every step of the way. Impressed by Reema's positive attitude and work ethic, Selam remembers working with Reema fondly.
"She was very calm under pressure and an effective multitasker," Selam said. "She was a great team leader who was always willing to help others."
When Reema came to Goodwin Living, she brought with her a longtime friend and current Goodwin Living Sales Coordinator Faith Hall. They both started their journey at Goodwin Living in the reception team and worked together in customer service beforehand. Faith continues to learn from Reema and speaks highly of her as a friend and coworker.
"Working with Reema at Goodwin Living continues to be a great experience," Faith said. "I am still constantly learning from her. Reema can have a ton of things going on outside of work and still find the time to be there for others."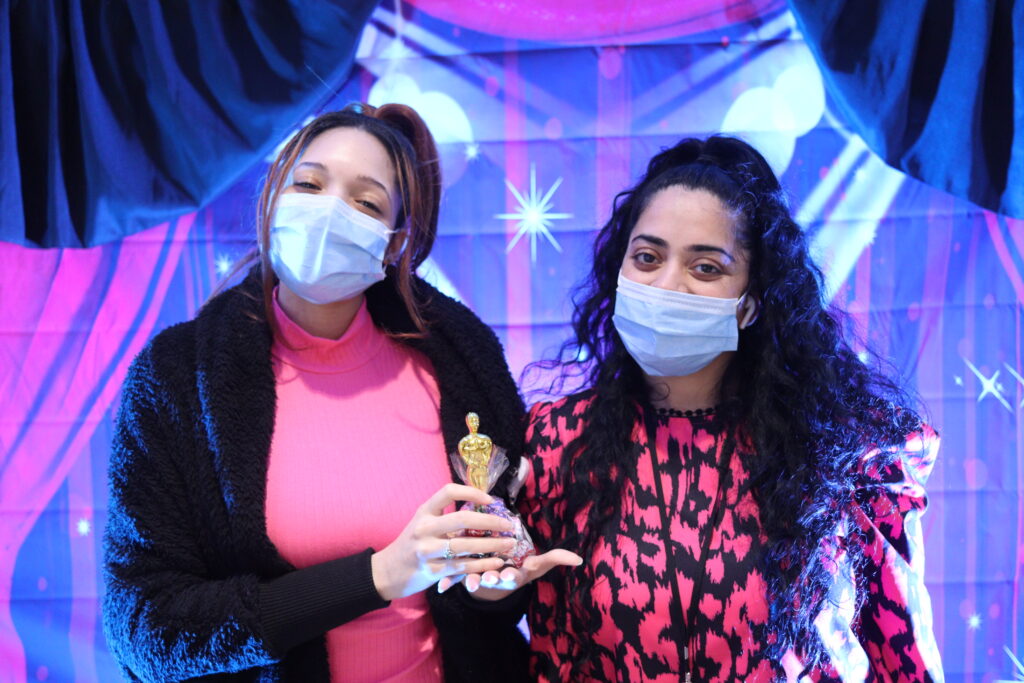 Reception Desk Leader Hops to Housekeeping | Unexpected Careers in Senior Living
In 2020, Reema discovered an opportunity with another department: the GHA housekeeping team. Reema had no idea what to expect from housekeeping and loved the bonds she'd made with residents and team members at reception. Still, Reema felt it was time for a new challenge. When she transitioned to managing the housekeeping team, Reema found more room in her heart for lasting bonds.
"All of the housekeepers I worked with are amazing," Reema said. "They wouldn't even let me pick up a bag of trash. On days that it would snow, they always asked to take work off my plate. As a manager, I was just trying to do right by them every single day."
When Reema came to lead the housekeeping team, she planned to lean on her previous managerial experience, but the role came with unexpected challenges. Reema had never managed a team full of people older than her before. Reema chuckled as she remembered her first few weeks adjusting.
"I thought, 'how am I going to guide and lead these team members?'" Reema said. "These are older people with spouses and kids my age. I was intimidated for sure. But on my rounds, I would talk to them about them and their lives. We grew really close, like a family. Even when we didn't speak the same language, we found ways to understand each other."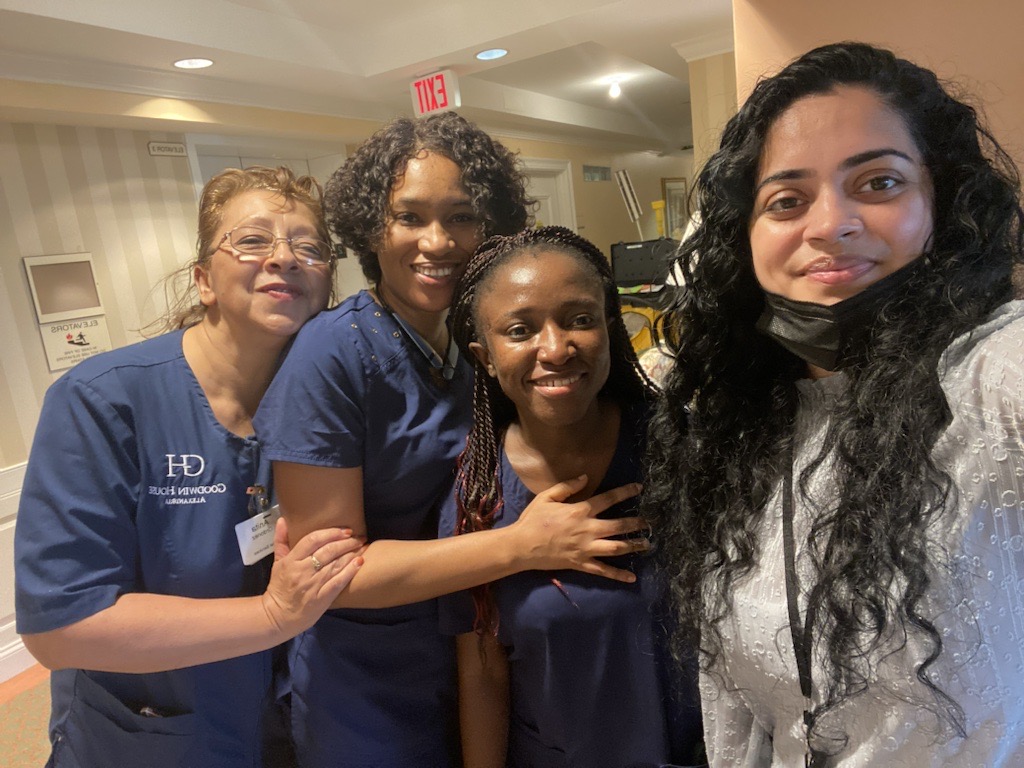 Housekeeping Manager Integrates New Staff in IT | Unexpected Careers in Senior Living
Reema loved her time in housekeeping enough to remain on the team for more than two years. She may still be there today if not for Goodwin Living Director of IT Dave Fowler. In 2022, he suddenly approached Reema with an opportunity in the IT department. Dave wanted Reema to become the new IT Onboarding Coordinator.
"At first, I figured there was no way I could get into IT. I have no experience," Reema said. "Then I realized, in every position I've had at Goodwin Living, I had no prior experience. That said something to me, so I was ready to challenge myself again."
Reema took on the role in July 2022, and she couldn't be happier to this day. As the IT Onboarding Coordinator, Reema helps new team members get access to and become acquainted with our sophisticated digital systems. Thanks to Reema, their IT challenges are much more quickly addressed. These satisfaction drivers contribute to improved performance and retention throughout the organization. Though IT is a completely different environment than anything Reema experienced before, David thinks it fits her like a glove.
"It was a brand-new position, so all I had was an idea of what I wanted it to look like and achieve," David said. "Reema was receptive and has made tremendous strides in the IT Department. With her help, new team members have an improved perception of Goodwin Living when they start."
In Reema's words, David is an "angel like no other.". She believes everyone deserves a supervisor who believes in their growth the way he does. Reema enjoys her role as one of the first experiences new team members have with Goodwin Living. Back in 2019, Reema didn't know many besides her sister and took her time to reach out to others. She can remember what it was like relying solely on Heba to have lunch with, or learn the details of the organization or even confide about a difficult day.
"Working with Heba is really funny, actually," Reema said. "She treats me like I'm an employee going to HR. When I go to her to vent, she'll give me an HR explanation. That's just who she is, and I love her for it. I'm happy I've made more work relationships as time passed."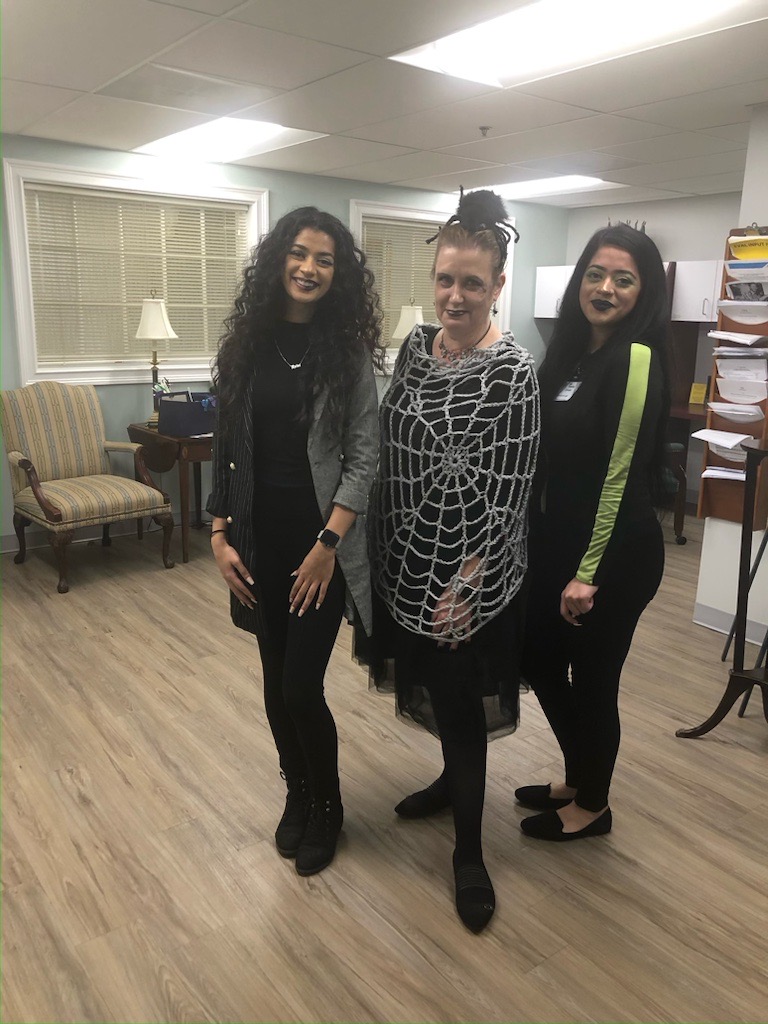 Feeling Seen in the Workplace | Unexpected Careers in Senior Living
Reema's story is a pattern of unpredictable success. She never knew what awaited her around the corner, but Reema knew that Goodwin Living was a safe place for her to explore and grow professionally. When asked to describe her favorite part of her work experience, Reema spoke to potential job seekers from the heart.
"Everyone is someone at Goodwin Living," Reema said. "When I was in retail, it was every man for themselves. I wasn't treated like family, just another one of their workers. When my dad passed away in August, the Goodwin Living Foundation helped us support the funeral that helped us honor him. People receive tuition assistance and many other things that go beyond the bare minimums so many employers offer people. That's what makes Goodwin Living special."
We applaud Reema for her openness to new experiences and admire her for her ongoing record of success. Stories like hers are why we thank donors to the Goodwin Living Foundation for powering the personal and professional opportunities available to our team members.
Reema is right. Everyone is someone at Goodwin Living. Every job, every volunteer and every connection made in our organization is made possible by the incredible people who believe in our mission. With your help, we can accomplish even more. If you're interested in more purposeful work where your talents are seen and valued, we encourage you to browse our current opportunities.
_________________________________________
Timaeus Reed is a Marketing and Communications Specialist at Goodwin Living. He plans, writes and designs for internal and external campaigns that support all areas of the organization. He relocated to D.C. to join the team in the summer of 2021. When he isn't getting lost in traffic, Timaeus loves listening to live Go-Go music and stand-up comedy.