Live Wisely - March 31, 2023
Food Sustainability, Fuel for the Future
By Timaeus Reed
More people are learning how food systems can shape the way we live. The more we understand food systems, the more we understand wellness and how it goes beyond choosing to eat healthily and keep active. At Goodwin Living, we think monitoring food waste and living a sustainable lifestyle is just as important. We believe better food sustainability preserves the health of our bodies and the spaces we share.
Food sustainability focuses on the quality of the food we consume, how it impacts the environment and the process of maintaining food systems over time. It can get complicated, but it's all about caring for our present and future. To that end, Goodwin Living embodies the spirit of the theme of this year's National Nutrition Month, Fuel for the Future.
Poor Food Sustainability Affects Us All
Before Goodwin Living began its road toward improving food sustainability, we first had to confront the problems presented by food waste. According to the U.S. Department of Agriculture, up to 40% of the food supply in America becomes food waste. That's more than 200 billion pounds of wasted food, which negatively impacts the environment. Food waste makes up the highest percentage of material in our landfills and generates millions of metric tons of greenhouse gases.
What's more troubling, millions of people in the United States are food insecure. As more food in the food supply is wasted over time, food costs rise, forcing those who are food insecure to pursue (at times) inexpensive and less healthy options. Less nutritious food options lead to other issues, especially as we age.
There are several causes for the high levels of food waste in the U.S., but it all falls under poor food sustainability practices. It's vital that the world reverse course on bad food sustainability practices, and many countries worldwide have succeeded.
Goodwin, Living More Sustainably
At Goodwin Living campuses, residents and team members work together to do our part. We are intentional about where we source our food, which can be one of the main contributors to food waste, higher food prices and (consequently) poorer nutrition. At present, food retailers generate more than 13% of the food waste in the nation, in part because of their great scale of accessibility and necessity in all parts of the country. Most people, including those at Goodwin Living, rely on food retailers for their basic groceries. Food retailers themselves are increasingly aware of the problem of food waste and are engaged in finding solutions.  Many of the largest food retailers are making these changes today. In the meantime, Goodwin Living  also partners with farmers markets to become live more sustainably and provide fresh produce and vegetables to residents and team members at our campuses.
"One of the best ways to eat more sustainably—to sustain the self as well as the environment—is to shake the hand of the person who grows the food you eat," Goodwin Living Culinary Innovation & Development Chef Brian Patterson said. "The more informed and intimate we become with how and where our food is grown, how it gets to us and how it is prepared, the better choices we will inevitably make in the food we eat."
Farmers markets usually depend on less harmful plastics, promote sustainable agriculture and sell healthy, organic food options to their customers. They can serve as a local alternative to the less healthy food options many rely on.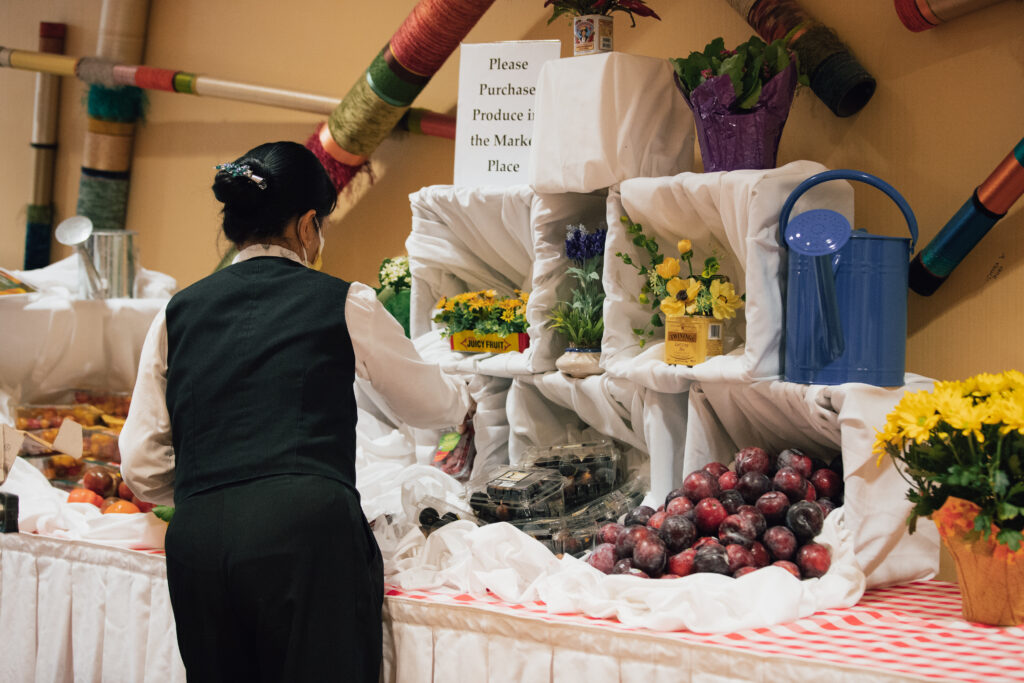 Through our partnerships with farmers markets, Goodwin Living learns from their sustainable practices and incorporates them into our daily dining experiences. We've added more vegetarian options in our dining venues and a robust composting program that composts our leftovers and food scraps. Vegetable peels, apple cores, chicken wings and more are turned into soil that will help grow new food. This also helps our registered dietitians recommend delicious and nutritious food options to residents.
"I consider myself lucky to be surrounded by so many wonderful people and to have a part in providing them with nourishing, delicious food," said GHBC Registered Dietitian Manager Alison Neov, RD, CSG.
"We're able to serve a variety of cuisines from around the globe, made with locally sourced foods, and it makes the menu planning part of my job so much fun," GHA Registered Dietitian Alexandra, RDN, CSG, FAND said.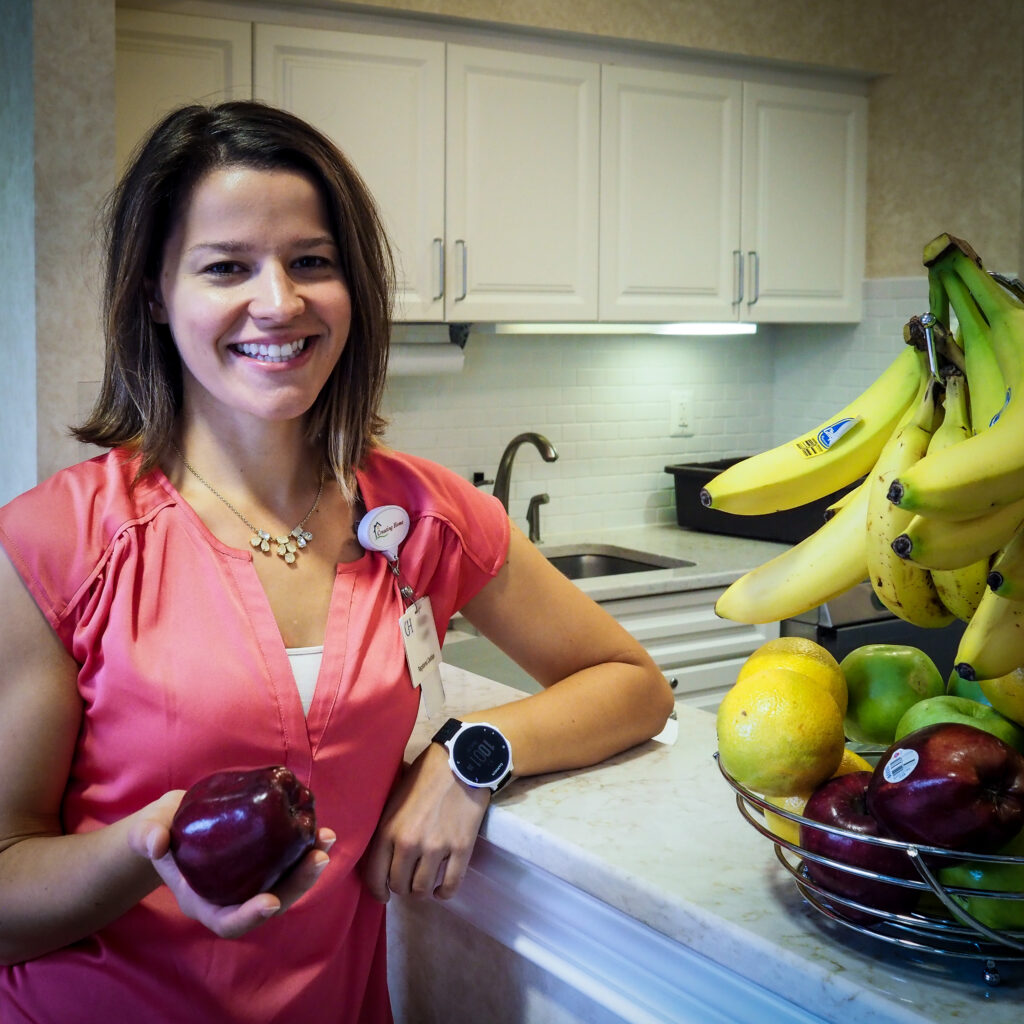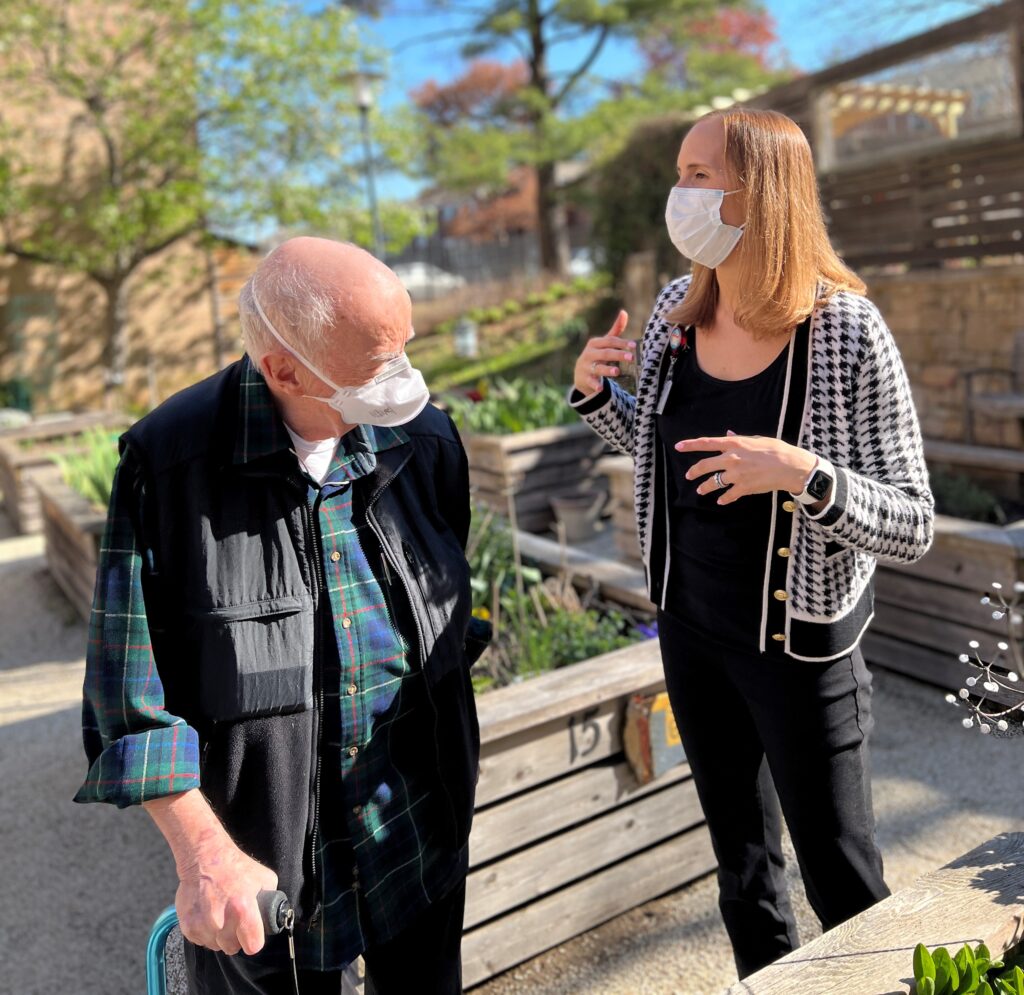 How Can We All Live More Sustainably?
To live more sustainably is to live for the future. Each person can live more sustainably in countless ways, though your diet is usually a simple place to start.
For food sustainability, shopping at farmers markets will make a big difference. Of course, it's best to know what sort of food to buy. Consult with a trusted and trained nutritionist or dietitian to make the most informed food choices that fuel your future.
When we asked our registered dietitians what simple food choices people should consider, vegetable diets were high on the list.
"Trying to eat more plant-based meals benefits your body, the Earth and your bottom line," Alexandra said. "With meat prices on the rise, this is the perfect time to try swapping out your entrée with something vegetarian instead, such as canned beans, lentils or tofu. If you do choose to eat meat, do some research about it.  Try to choose sustainably caught fish or purchase your eggs from a local farmers market."
Alexandra also mentioned the health benefits of a vegetarian diet. Studies show that vegetarians consume lower amounts of saturated fats and higher amounts of fiber, vitamins, minerals and antioxidants.
Alison echoed this recommendation. In addition to the physical benefits of consuming vegetables, she pointed out the positive impact on the environment.
"Sustainability is the ability to have a healthy life with a minimal environmental impact so that the world is a healthy place for future generations," Alison said. "When you increase your intake of plant-based foods, you start to lower the amount of animal protein in your diet. A reduction of animal protein can reduce your impact on the environment."
Food Sustainability Is on the Rise
Though the global food waste and food insecurity challenges persist, food sustainability awareness is on the rise. Our future depends on it. We hope this mindfulness continues beyond National Nutrition Month and into our daily lifestyles. Chef Brian interprets this year's theme, "Fuel for the Future," as a call to action.
"Our food choices fuel the self to a long and fruitful life," Brian said. "Food choices are not necessarily daunting, expensive or radical to consider but rather simple shifts in behavior and attitude. We all contribute to the regenerative health and well-being of the planet and the climate."
_________________________________________
Timaeus Reed is a Marketing and Communications Specialist at Goodwin Living. He plans, writes and designs for internal and external campaigns that support all areas of the organization. He relocated to D.C. to join the team in the summer of 2021. When he isn't getting lost in traffic, Timaeus loves listening to live Go-Go music and stand-up comedy.