Live Vibrantly - October 29, 2020
No Kidding Around, Baby Goats Are Therapeutic
by Amanda Ranowsky
There's nothing quite like the feeling of having a cat curled up on your lap, purring while you stroke her soft fur, or the sight of your dog greeting you with boundless joy whenever you return home. And what about how you feel when you see the fluff and hear the chirps of little chicks in their nest? Or the connection you feel when you meet the steadying gaze of a horse as you run your hand along its neck?
For many of us, connecting with animals can lead to better health and well-being.
Health Benefits of Pets
Pets of all kinds can offer many health benefits, including decreased blood pressure, cholesterol levels and loneliness (according to the CDC). Multiple studies have shown that animal interactions lead to lower blood pressure and reduced risk of cardiovascular disease. They also show that animals can help mitigate the effects of more common mental health disorders such as anxiety and depression, as well as advanced disorders such as dementia and Alzheimer's Disease.
For older adults in particular, having a pet can lead to improved levels of physical activity and reduced feelings of loneliness. The unconditional love, company and comfort they offer alleviates the sense of isolation that many older adults can feel.
The Need for Animal Interactions
Knowing the important role pets play in our lives, Goodwin Living allows residents to bring their pets with them when they move in. We also recognize that pet ownership isn't always a feasible option for older adults, whether they reside in a senior living community or in their own home.
Some older adults may have mobility issues that make caring for the pet too difficult. There may be concerns about what would happen to the pet if their owner required hospital care, or if they had to move to Assisted Living or Nursing Care.
Barbara Bolin, a Licensed Clinical Social Worker (LCSW) at Goodwin House Alexandria (GHA) is passionate about bringing this human-animal connection to older adults. "The connections that animals and older adults share is a really special relationship," she said. "It's non-judgmental. With animals, you can give unlimited affection, and it's reciprocated."
Barbara is a self-described animal lover and advocate. Knowing just how beneficial it could be for residents to have more animal interactions, she sought ways to offer the residents of Goodwin House Alexandria more opportunities for a little furry TLC.
Baby Goats Come to Goodwin Living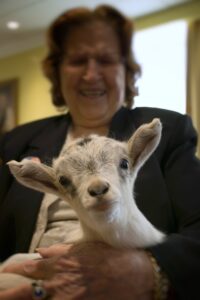 Barbara first brought pet therapy to Goodwin Living organically. A friend of hers owned a small herd of baby goats. When she went to visit them, she noticed how eager they were to interact. "Baby animals are not fearful, so they were very curious about visitors," she said. "I thought, I just have to bring them to work!"
Of course, Barbara couldn't just bring the goats to campus. She first had to address some details – namely how to clean up after the animals and how to prevent residents from getting bitten or scratched accidentally. It took some effort, but it was worth it.
"It was an unmitigated success," Barbara said. "For months, residents would ask daily when the goats were coming back. There was no doubt it was so good for people."
After the event, staff members reported that the residents who participated had better sleep, and they remembered and spoke about the event more clearly and frequently than they might usually do. These promising results laid the groundwork for bigger plans.
Baby Goats Lead the Way
With the success of the baby goats, Barbara realized there was an opportunity to build something greater. She set her mind to find ways to welcome more animal visits to Goodwin Living, and to offer it routinely.
To realize this dream, Barbara had to address administrative and legal tasks. Goodwin Living needed to have the right insurance to cover this type of activity, and Barbara had to create a liability release form for all participants to sign, in case there were any incidents of biting or scratching. She also made sure that participants had agreed to a photo release so that Goodwin Living would be able to share images of the events.
With legal issues addressed, Barbara began organizing the actual events. She had to engage with colleagues who could help manage the visits. And she had to ensure that everyone involved know how to make the interactions hygienic. "I consulted veterinary medicine journals about ideas for traffic flow and animal hygiene and handwashing," she said. Following the guidance she found in these journals, Barbara required that participants wash their hands before and after handling the animals. Many of the animals – including the baby goats – could be put into diapers, though staff were also on hand to clean up any accidents.
Herding Goats & People
Enough staff also needed to be available to help organize the flow of people during the event, and to take a few animals to residents who might be confined to their bed or living area. Here, the partnership between social work, life enrichment and nursing staff was key. "A big thing was getting nursing staff on board," Barbara said. "Our medical director is a huge fan of these activities."
Residents from all levels of living (Independent Living, Assisted Living, Memory Support and Nursing Care) turn out for the visits, along with many staff members and even residents' friends and families. Nursing staff keep an eye on safety and resident wellbeing. Life Enrichment staff make sure that everyone who wants to participate gets an opportunity. They help bring residents to the event and ensure they have a good experience.
As the events proved their value, Barbara created a policy specific to the animal interactions, and developed templates for care plans so that the visits could be incorporated into treatment plans for some of the residents. These animal visits became another tool that the social workers could use, especially for dementia patients and those dealing with transfer trauma or other emotional issues. She calls it a "therapeutic, non-pharmacological intervention".
Animal Interactions During the Pandemic
While the pandemic put a halt to live animal interactions, residents haven't been robbed of all the benefits animals offer. Even before the pandemic began, Goodwin Living used robotic animals as part of the care plan for some residents. Thanks to these faux-furry friends, Goodwin Living can offer residents the benefits of pet ownership without the work that would be required to care for a real animal.
All hope is not lost for the resumption of visits from live animals either. Barbara is working on a revised plan that will allow for safe interactions. "We're planning to have the residents come to see the animals in cohorts, rather than all at once, so we can keep Assisted Living separate from Independent living and so forth," said Barb. "We'll also have even more frequent hand washing, and maybe wipe down the animals between people."
Knowing that the pandemic has left many older adults feeling even more isolated, Barbara hopes to be able to resume her animal-centered activities soon. "You can't deny the response when you see people so joyful to be around these animals. Baby animals," she said, referencing the goats in particular, "you can't resist them!"
---
As Marketing & Communications Specialist, Amanda Ranowsky partners with colleagues throughout Goodwin Living to tell our stories and raise brand awareness. From printed collateral to digital marketing, Amanda covers many bases. Before joining GHI, Amanda worked for a small, family-owned business where she gained experience in content marketing. Amanda's creative expression extends beyond the office. She is an active member of community theater and chorus groups.