Live Vibrantly - April 28, 2023
Goodwin Living Celebrates Earth Day!
By Kathie Miller
Around the globe, people recognize and celebrate Earth Day every year on April 22. This day commemorates the very first Earth Day held in 1970. Since then, the movement has grown.
At Goodwin Living, we held our festivities on April 21 this year. This allowed us to ensure team members, residents and special guests could gather to enjoy the day. Mother Nature seemed to approve of our plans and provided us with sunny skies that were perfect for our outdoor activities.
At Goodwin House Bailey's Crossroads, residents and team members enjoyed a series of events throughout the day. Grounds Supervisor Nathan Neufer led tours of the Knoll Garden and Wilderness Trail. Life Enrichment dynamic duo Tiffany Proctor and Elizabeth Whitehouse led residents in planting their own herb gardens. And people gathered for some Earth Day Trivia. There was something for everyone throughout the day!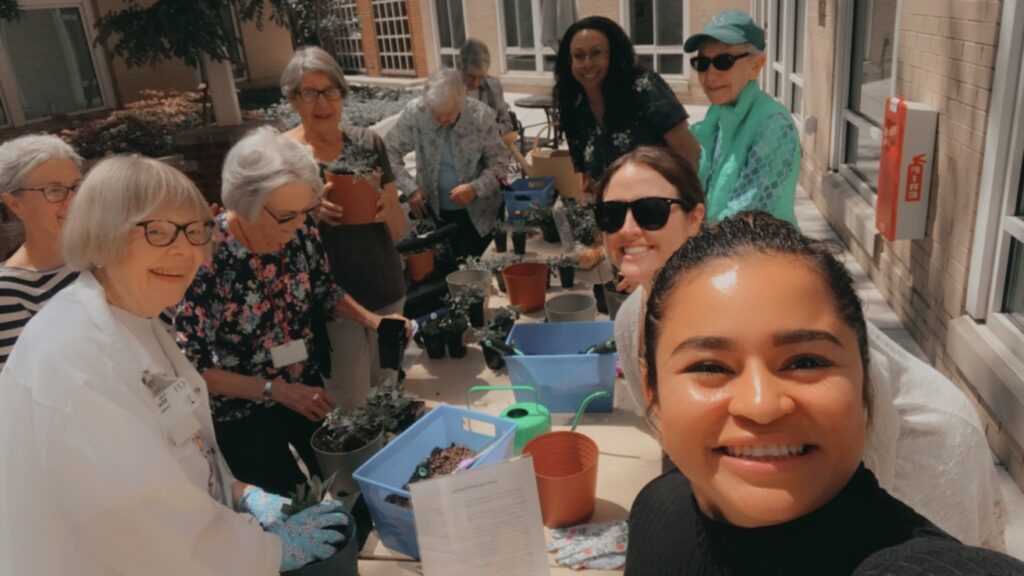 At Goodwin House Alexandria, the courtyard filled with a festival of activities for a few hours around midday. Everyone found something to enjoy, whether spending time with baby farm animals, chatting with local beekeepers, discussing the latest efforts led by the resident Green Team, sitting for a caricature or simply sitting with friends to enjoy the food, fun and music.
Watch this video for Earth Day highlights from Goodwin House Alexandria!
---
As Corporate Director of Marketing & Communications, Kathie Miller provides strategic guidance and tactical support for all areas of Goodwin Living. She writes, edits and manages The Good Life blog and newsletter. Kathie joined GHI in 2014 after nearly 15 years at NPR, where she honed her skills in brand and reputation management, content marketing and internal communications. Originally from Pennsylvania, Kathie has slowly come to realize she's lived in Arlington for more than half her life and should call herself a Virginian. She enjoys the outdoors and brings her rescue dog, Remi, to work every day.