Staff Stories - November 30, 2022
Making Music & Connection at All Stages of Brain Health
By Jessica Fredericksen
Music therapy comes in many forms. Generally, it's a path for participants to accomplish individualized goals, such as pain relief, mobility improvement and so much more. Even the ongoing act of learning music has excellent brain health benefits. That's why we invest in music therapy for Goodwin Living residents. In February 2022, Goodwin Living partnered with Encore Creativity, the largest choral organization for seniors in the country, to develop and pilot a unique experience to meet the needs of individuals with moderate to late-stage dementia. Director of Arts for Life at Encore, Mary Ann East, collaborated with Goodwin Living team members in August 2022 to pilot a new Melody Makers program for residents.
Melody Makers brings people together to share their love of music. It's a choral program where participants meet to socialize, sing, and learn vocal techniques to improve their singing voices. Melody Makers was intentionally designed for two kinds of participants. Individuals with moderate to late-stage dementia are called "Melody Makers." They partnered up with an "Ambassador" who can help them sing and learn sheet music. A typical Melody Makers group includes conversation, singing, learning harmonies or how to sing in a round and movement! All of these activities stimulate the brain and can improve mood, reduce anxiety, and lead to many other positive outcomes.
For the Ambassadors, Melody Makers helps them engage individuals living with dementia by showing that people who live with dementia are capable of amazing and wonderful things. Reducing stigma around dementia is a top concern to individuals living with dementia and their care partners. By including and training these volunteer Ambassadors, Melody Makers facilitates a meaningful connection between individuals with differing stages of brain health. It's a fantastic way to reduce the stigma surrounding dementia and memory loss.
This fall, Goodwin Living hosted its final Melody Makers session of the year. In just eight weeks we could see new bonds and relationships forged between residents and Ambassadors. To give some insight on what this amazing experience was like, we interviewed the team that developed and led this first Melody Makers pilot: Encore's Mary Ann East, StrongerMemory Coordinator Peri Weinfeldt and Goodwin House Alexandria Music Therapist Abigail Hanlon.
What was your favorite part about participating in Melody Makers?
Mary Ann: I enjoyed getting to know the participants and watching the friendships develop between each Melody Maker and Ambassador.
Peri: My favorite part of Melody Makers was seeing residents with cognitive decline, who are normally very quiet, find their voice. It was wonderful to see them enjoy a program where they had independence and autonomy.
Abigail: I really enjoyed seeing the ambassadors and participants who may not have otherwise met connect with each other. It was wonderful to see how their relationships grew over the course of just a few weeks.
Each week, we asked participants to share their favorite part of that day's rehearsal. We called it their 'Crescendo Moment'. What were your Crescendo Moments?
Mary Ann: There are MANY. Overall, the Melody Makers participated well and enjoyed singing.  I think the biggest moment was singing their four-part round.
Peri: My Crescendo Moment was seeing family members enjoy their loved one's performances.
Abigail: Towards the end of our semester, one Ambassador found they would be unable to attend the informal performance. The Melody Maker she was paired with had an upcoming birthday that weekend. The Ambassador went out of their way to visit their partner on their birthday. Had the choral experience not happened, I don't think those residents would have ever had the chance to develop a friendship!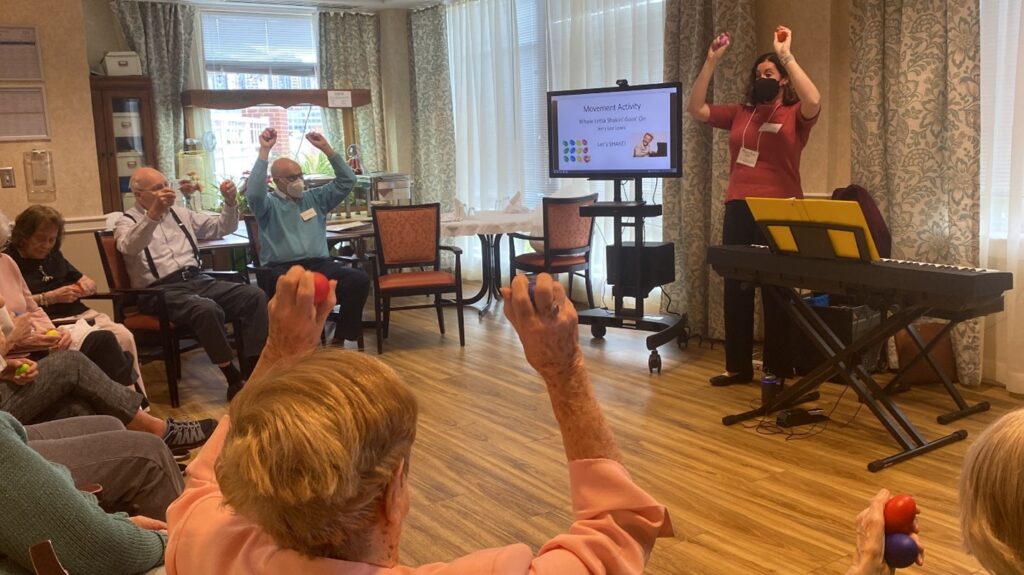 What is an element of Melody Makers that you think is particularly important and why?
Mary Ann: You should know about The Welcome Song that we do each session. It's vital exercise that serves several purposes: a chance to focus everyone to work together, to get to know each participant by asking them how they are doing that day (and welcoming all answers), and a chance to start using the voice.
Peri: Movement! Melody Makers involves a lot more movement than you might think. Movement is an essential part of our lives, including folks living with dementia. The movement part of the curriculum encouraged following directions with gross and fine motor skills. If it was difficult for some to follow the directions, they could create their own movement as well.
Abigail: Our Ambassadors are an important part of the design and structure of the Melody Makers program. Originally, we planned to pair volunteers with each Melody Maker so that each person receives individual support. We intended our volunteers to take what they learned from the experience and go out and apply it into the community. This way, all participants would become a representative, or "Ambassador" for the Melody Makers experience! We formalized the volunteer role into "Ambassador" roles and provided our Ambassadors with education and skills on how to communicate and build relationships with individuals living with cognitive changes. Not only was the skills-building instrumental in providing support for the Melody Makers throughout rehearsals, but it also had the potential to change their future interactions with other residents in and outside of Goodwin Living.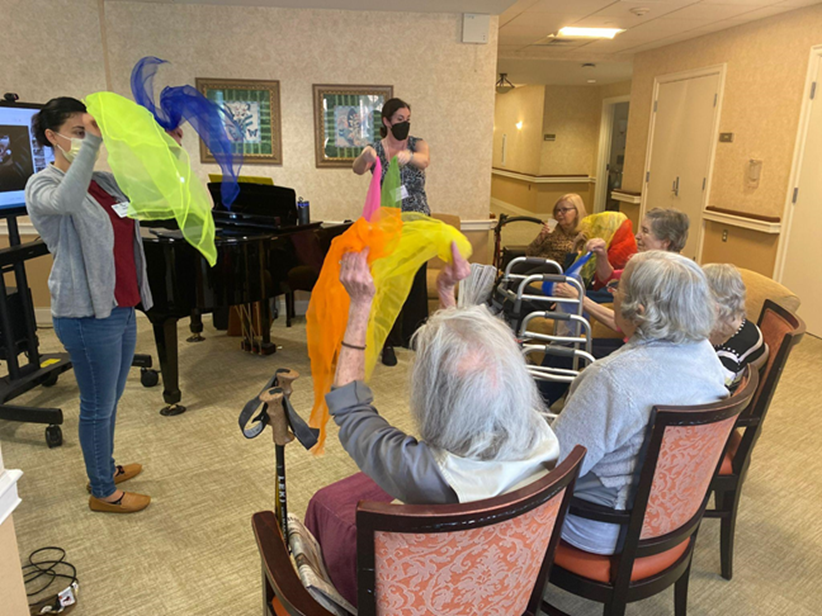 How does Melody Makers empower & support individuals living with dementia?
Mary Ann: The program gives them a chance to meet participants who are living independently in their Goodwin Living apartments and make new friends, a chance to be heard both in singing and sharing about themselves. The musical activities exercise the brain and the body and help engage them in a group activity. The participants were often more active and talkative at the end of the session then when they came in.
Peri: Melody Makers reaches all parts of the dementia spectrum. We wanted to ensure that all levels of dementia were able to participate and benefit within this curriculum. It empowers individuals to enjoy their time together and to feel seen.
Abigail: The Melody Makers choir provides participants with the opportunity to express their love of music and singing. Within our society, there is an intense focus on what is lost or changed when one is diagnosed with dementia. In contrast, Melody Makers provides participants with the opportunity to participate in a choir that is specially designed to support, honor and uplift who they are, no matter where they are in their journey with dementia, all while facilitating and supporting their relationships.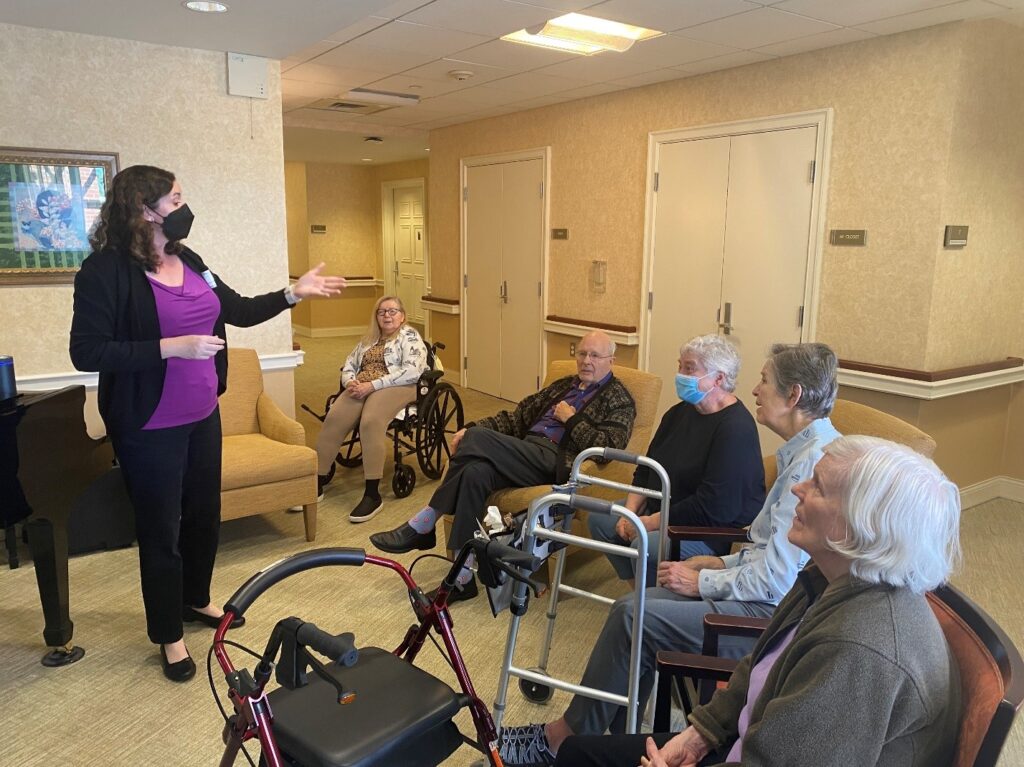 The Future of Melody Makers
When asked about how she felt about continuing Melody Makers, Abigail shared, "I am excited to see how we can continue to adapt this program to allow for more residents to join! We're looking forward to seeing how this program changes the conversation around dementia within our life plan community!"
Abigail collected observational data and feedback from participants during the 8-week pilot, which the team will analyze before starting the next round of chorales.
Thanks to the generous donors to the Goodwin Living Foundation, we are able to offer this specialized program to residents at no additional cost. If you are interested in supporting Goodwin Living's innovative brain health efforts, please consider making a donation to the Brain Health fund.
____________________
Goodwin Living Director of Brain Health Jessica Fredericksen, CDP, MSW, RCAL, joined Goodwin Living in early 2021 as Brain Health Program Manager. She is focused on advancing brain health and dementia awareness through education, the StrongerMemory program and serving on the Dementia Advance Team. She collaborates with staff across all Goodwin Living Incorporated service lines to provide creative brain health programming. Jessica is a Certified Dementia Practitioner (CDP) with a Masters in Gerontological Social Work (MSW) from Washington University in St. Louis. Before joining Goodwin Living, she worked for an Assisted Living & Memory Care company in the Midwest where she gained experience as an Executive Director and Corporate Director of Community Excellence. She spent most of her time traveling to train and support communities and care partners to provide excellent, person-directed care. When she's not focused on brain health, Jessica enjoys volunteering with her church's Youth Group and taking hikes with her cockapoo, Chloe Rose.