Live Vibrantly - June 30, 2022
Music Therapy at Goodwin House Alexandria
By Abigail Hanlon
If you frequent Goodwin House Alexandria (GHA) on Thursdays, you might notice something exciting and slightly out of the ordinary. Around mid-afternoon, residents usually gather by the tall windows of the Living Room, instruments in hand. Together, residents and I sing through their favorite song selections, play instruments, improvise music, dance and reminisce about their lives.
As a music therapist, I live for groups like these. Music therapy groups provide older adults with a space to give and receive support, socialize, express themselves creatively, and maintain their cognitive and physical abilities as they share the joys of making music with others. So, what is music therapy, when was it first practiced and who does it help?
Music Therapy | What is it?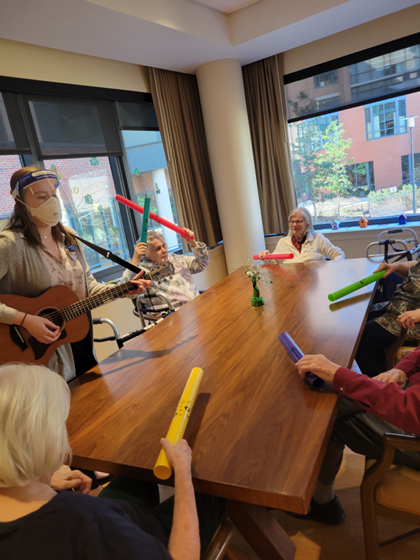 The American Music Therapy Association defines music therapy as "the clinical and evidence-based use of music interventions to accomplish individualized goals within a therapeutic relationship by a credentialed professional." Essentially, music therapists use proven techniques and music to help people reach their goals, which are focused on functioning and quality of life. Said goals include increasing social connections, maintaining cognitive and physical abilities and supporting speech and physical rehabilitation.
In order to provide music therapy services, music therapists must attend an accredited bachelor's degree program, complete a 1200-hour internship and pass the national board certification exam for music therapists. Some states require further education and additional licensure. Music therapists work in various settings, including life plan and senior living communities, schools, hospitals, alcohol and drug rehabilitation centers, prisons, private practices and international aid and relief settings.
Music Therapy | History
While the music therapy field is growing at an astonishingly fast rate, using music to help those in need is not a new concept. Using music to influence one's health is as old as the writings of Aristotle and Plato. There is even evidence to suggest that some cultures utilized music's unique qualities to influence behavior and spiritual healing practices well before this time, such as in the Paleolithic period. Here in the United States, music therapy got its start shortly after WWII. Thousands of veterans returning from war struggled with "shell shock", more contemporarily known as Post-Traumatic Stress Disorder. Music therapy played a vital role in treating those veterans and helping them lead normal lives for decades after the war.
In the 1970s, music therapy programs were first established in senior living communities. Thanks to the support of the Goodwin Living Foundation and its generous donors, we can provide individualized music therapy to older adults in our communities.
What Music is the Most Effective? | A Matter of Opinion
Music therapists receive this question a lot. What music is the most effective? Bach and classical music? New-Age? Jazz? It truly is a matter of opinion and taste. Several studies have shown that using the individual's favorite music is the most effective. When we use music that our clients find motivating, we often observe the most change and progress towards goals. As a Goodwin House Alexandria resident in our health care center likes to say, "Sometimes all you need is your favorite song and your favorite people to get you going in the right direction."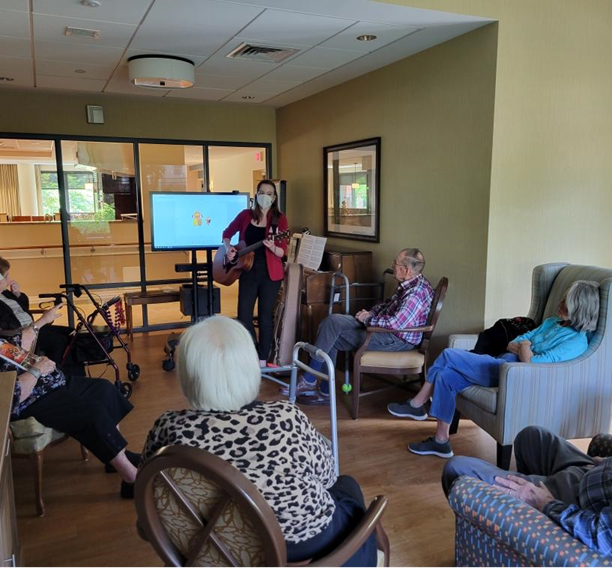 "Having music therapy groups has helped me socialize with other residents who I might not be in contact with on a regular basis," said Mac Reynolds M.D., a GHA resident and music therapy regular. "It helps my mood, and it also helps me manage my COPD symptoms".
GHA provides a wide variety of music therapy services to meet the varying needs of residents in assisted living. Currently, we provide weekly music therapy services to more than 120 residents in assisted living. We also offer individual sessions for those unable to attend group sessions.
GHA is a certified member of the Music & Memory program. This non-profit organization provides residents listening devices and headphones that enable them to listen to a c a personalized playlist of music that is most meaningful to them each day. The Java Time and Java Music programs are also a music therapy staple here at GHA. Java services helps more than 1000 organizations combat depression, loneliness and other negative mental health symptoms. We work with the Java curriculum to foster stronger connections and engagement among and between group members through a shared love of music from the 1940s, 1950s and 1960s.
In the next few months, GHA and Encore Creativity for Older Adults will partner to debut a new choral program for assisted living residents and our health care center. The new 'Melody Makers' choir is designed to help those who live cognitive changes and have a love of music and singing. Each Melody Maker choir member will partner with a GHA volunteer who will sing with and assist the choir member throughout the rehearsal.
Music Therapy | A Labor of Love
After joining GHA as a music therapist, I quickly learned that residents here live for music. Most of them are musicians, currently or in their past. Residents often tell me how much they look forward to weekly music therapy groups. Some will even attend additional music therapy groups on the same day after their scheduled sessions. I typically start each music therapy group with a 'hello' song, if you will. This plays a crucial part in setting the tone for the group and settling everyone in place. I often ask, "How is everyone?" after greeting the group to understand the group's needs better that day.
The most common answer is, "Well, I'm better now that we've started singing."
This is what makes my work so rewarding. I'm grateful to practice in a supportive workplace filled with imaginative and engaging residents. Music Therapy has already changed so many residents' lives for the better.
_________________________
As the Music Therapist, Abigail R. Hanlon uses music to enrich the lives of residents throughout several levels of care at Goodwin House Alexandria. She facilitates music therapy groups, leads the bell choir in the healthcare center, and maintains the Music & Memory program. Abigail also supports the Melody Makers choir, a choral experience for those in memory support. Originally from Pennsylvania, Abigail attended Marywood University, in Scranton, PA for a bachelor's degree in Music Therapy. She became board certified in 2019 after completing her internship at Children's Hospital of Philadelphia. Later she earned her master's in Music Therapy and Mental Health Counseling from Drexel University in Philadelphia, PA where she developed a passion for research and working with older adults. Abigail joined the Goodwin Living team in November 2021. Outside of work, she enjoys ceramics, visiting museums, and attending live music events.