Staff Stories - September 30, 2022
Culinary Student Finds Career in Senior Living & Healthcare
by Timaeus Reed
Workers are looking for more stable, sustaining and satisfying career opportunities. That's one of the messages behind the nationwide labor shortages of late. At Goodwin Living, we seek out the wellspring of talent in the national capital region and fuel their passions with purposeful work and life-changing benefits.
One of our pursuits of talent led us to a partnership with La Cocina VA. This non-profit educational organization helps underserved individuals "obtain higher-skilled, better-paying jobs and improve their interpersonal and language skills." La Cocina introduced us to one of their culinary students at the top of her class, Diosalma Toribio-Garcia.
Diosalma interned with our Goodwin House Bailey's Crossroads (GHBC) dining team over the summer before immediately hiring onto the team as a full-time cook.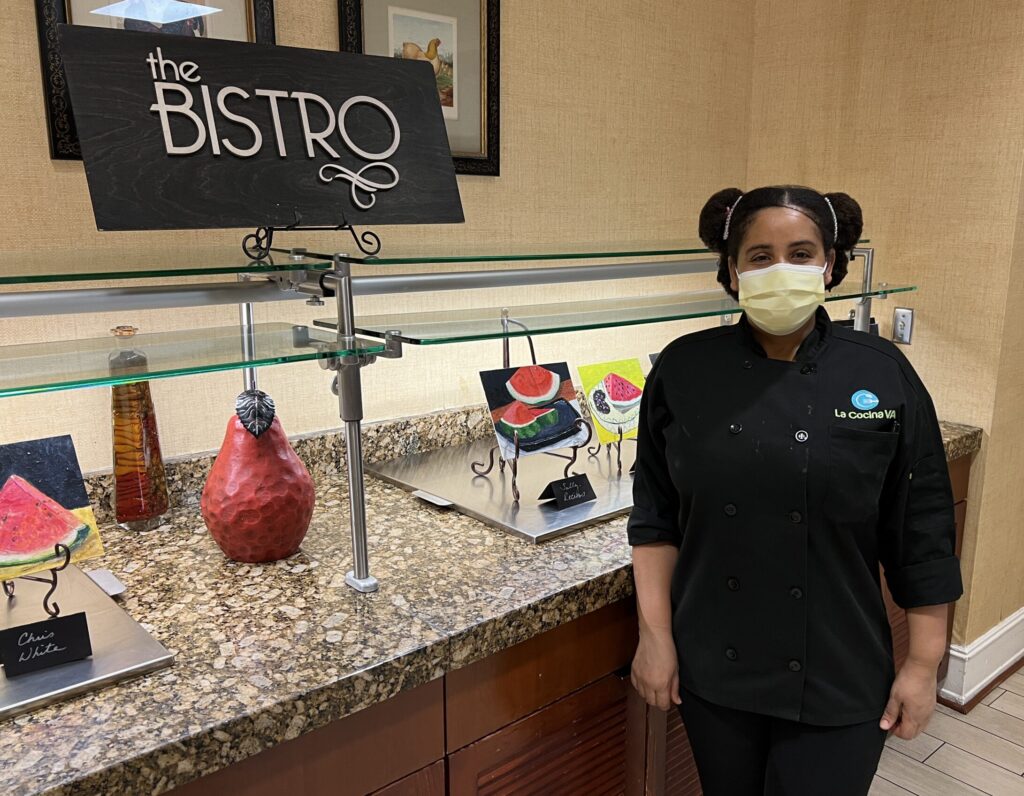 La Cocina Students Seek Career Opportunity
La Cocina is one of many organizations doing good work to provide the workers of Virginia with quality training. Though La Cocina has a sterling track record of connecting its students with career opportunities in the culinary world, the pandemic brought many challenges to the broader workforce. Thankfully, there's a wealth of opportunity within the senior living and healthcare industry for a variety of skill sets. If someone is interested in the culinary arts, they can work at a Top Workplace like Goodwin Living and receive incredible benefits and a work-life balance.
Supportive of our never-ending pursuit for more talent to help us pursue our mission, a resident reached out to Goodwin Living leadership to recommend we partner with La Cocina. It was a chance for us to teach the emerging workforce about career diversity and perhaps unexpected job opportunities within senior living and healthcare.  Goodwin Living Culinary Innovation and Development Chef Brian Patterson contacted La Cocina to identify ways Goodwin Living could be a good partner.
"This is part of a bigger effort to reach out to vocational programs in the area," Chef Brian said. "We want to do our part to support, honor and uplift as many as possible and empower others to do the same."
Thanks to the generous support of the Goodwin Living Foundation and the leadership at La Cocina, we identified Diosalma as an excellent fit for an internship at GHBC at the beginning of the summer.
The Start of a Career at Goodwin Living
Though she once pursued a medical career, Diosalma loved being in the kitchen with her family as a child. After moving to the United States from Puerto Rico with her children three years ago, Diosalma enrolled in La Cocina courses to nurture her passion for the culinary arts.
Diosalma went to school full time before transitioning into a full-time internship with GHBC, all while working a second job. Though her shifts were long, and she didn't have access to a car, Diosalma preserved to provide for her family and give her talents to a worthy cause. Impressed by her adaptability, skill and positive attitude, Chef Brian Patterson extended a full-time offer to her as soon as her internship concluded.
"She jumped in and applied all the skills that La Cocina coached in their students." Chef Brian said. "Diosalma is living proof of the excellent work that organization is doing."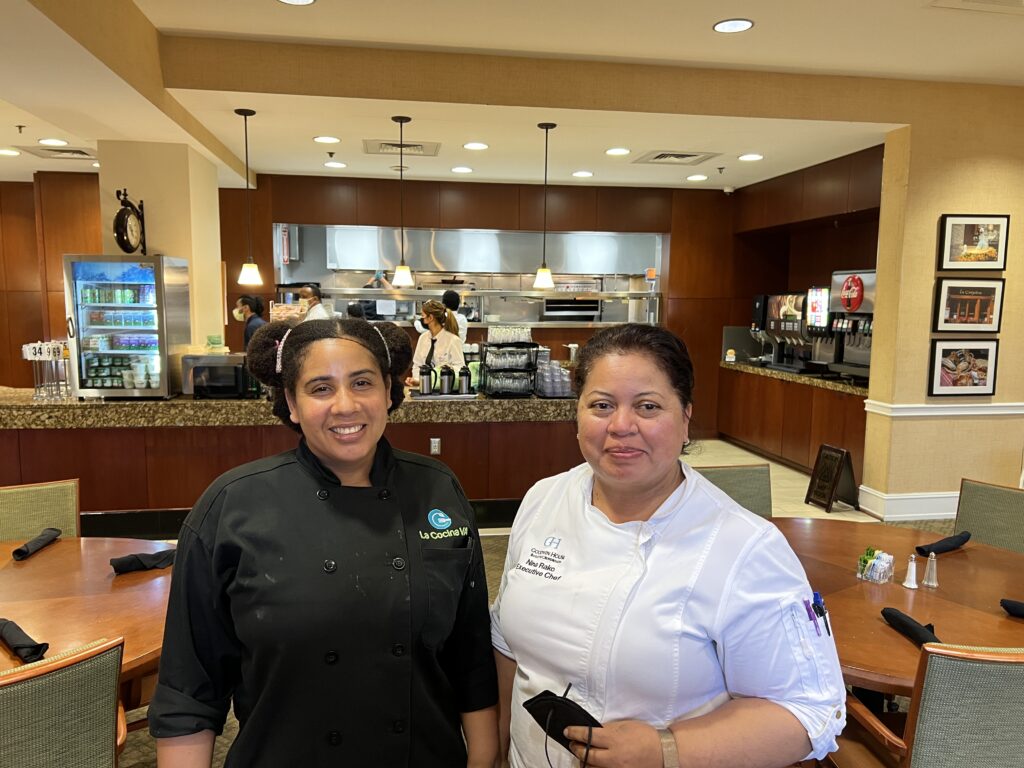 More than A Career. A Calling.
In any setting, dining services can be complex, fast-paced and precise. The details become more important when providing meals to older adults in their place of living. Diosalma had to learn quickly to navigate all the new information presented to her, despite speaking very little English. GHBC Executive Chef Nina Rako and her team guided Diosalma during her internship. She introduced Diosalma to all kitchen stations and the work we do at Goodwin Living.
"Even with the language barrier, we connected right away," Chef Nina said. "You can see how passionate she is when she works. Everything she does, she puts her heart into it."
A quick study, Diosalma became a stellar culinary professional in no time. Diosalma was only required to work 160 during her internship, but she voluntarily went above and beyond in her hours and work performance. The chefs of GHBC knew she would make an excellent fit for the dining team, and we're happy she feels the same.
"I feel supported by the people here and comfortable asking my coworker if I'm not sure or don't understand something," Diosalma said. "I may not perfectly understand the English each time, but while being here people have helped me understand a little more. This is a great place for all people to work. I've even recommended my previous coworkers to apply.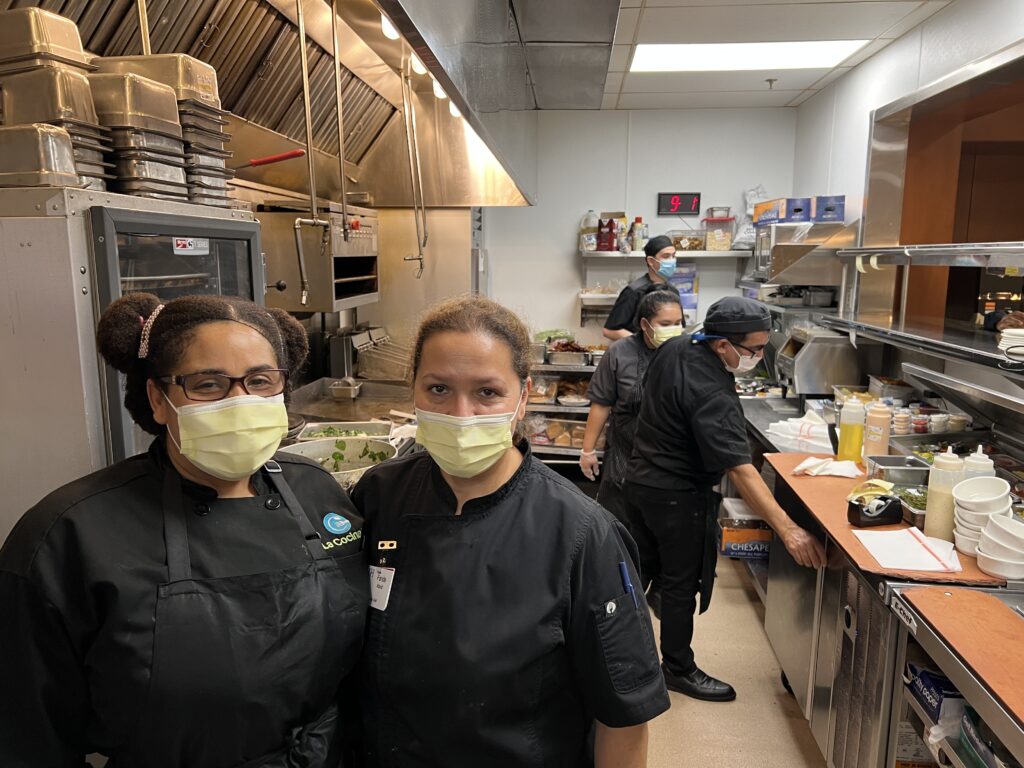 Find A Career in Senior Living in Healthcare
After only two months of being with GHBC, Diosalma feels completely comfortable and welcome in her role. With daily help from supportive colleagues and warm-hearted residents, she seeks to develop her career and English skills during her time with Goodwin Living.
We're proud to welcome Diosalma as a team member, and we look to her example for the strength and compassion needed to pursue our mission. The world of senior living and healthcare needs more professionals like her. We're grateful to La Cocina for connecting us and for all they do to help build the workforce in northern Virginia.
If you are interested in the career opportunities within senior living in healthcare, we invite you to follow this link and find the best fit for your skills and interests.
This blog was made possible thanks to Facilities Management Service Coordinator Estephanie Rubio for interpreting during my discussion with Diosalma.
_____________________
Timaeus Reed is a Marketing and Communications Specialist at Goodwin Living. He plans, writes and designs for internal and external campaigns that support all areas of the organization. He relocated from  D.C. to join the team in the summer of 2021. When he isn't getting lost in traffic, Timaeus loves listening to live Go-Go music and stand-up comedy.