Live Vibrantly - August 20, 2022
How Goodwin Living Empowers Individuals Living with Dementia
By Peri Weinfeldt
Dementia is the umbrella term that describes an array of symptoms. In the United States, dementia is the sixth leading cause of death for all older adults, and the fifth cause of death for older adults 65 and up. Though there is no cure for the disease, at Goodwin Living we strive to support, honor and uplift older adults and those who care for them, and that includes helping them to navigate the challenges of dementia.
Whether you are a resident in our senior living communities, a member of our at-home program, someone receiving our specialized health care services or anyone who lives with the effects of dementia, Goodwin Living helps all people to fight dementia and live a meaningful life.
What is Dementia? | History and Prevalence
According to the National Institute on Aging, dementia is defined as the loss of cognitive functions at levels that interfere with a person's daily life and activities, such as thinking and recall. Those who live with dementia also experience challenges with their language, judgement, memory and spatial and visual abilities. Dementia takes form in various diseases, such as vascular dementia, Lewy body dementia, frontotemporal dementia and (most commonly diagnosed) Alzheimer's disease.
Alzheimer's disease was discovered by psychiatrist Dr. Alois Alzheimer. In 1906, he worked with and studied a 50-year-old woman named August Deter who was experiencing symptoms of dementia. After Ms. Deter's passing, Dr. Alzheimer noticed plaques and tangles within her brain. He noted this as "unusual severe disease process of the cerebral cortex" and laid the groundwork for further study into dementia.
According to the CDC, there are more than 5.8 million Americans affected by Alzheimer's. It can affect even the most influential people in the world. Some folks you may know who have been diagnosed with Alzheimer's disease are President Ronald Reagan, famous women's college basketball coach Pat Summit, painter Norman Rockwell and musician Tony Bennett. These are just a few of the many who have been diagnosed with Alzheimer's Disease. In fact, another individual will be diagnosed with Alzheimer's in the time it took you to finish reading this sentence.
Fighting Dementia | The Key is Effective Communication
The most important part in anyone's current or future diagnosis of dementia is communication. To be the best communicator, it is essential to be a good listener. At Goodwin Living, this is how we find success supporting older adults.
For example, if you are caring for someone who lives with dementia, learn and observe them closely. It might take time to fully understand their varying needs and what they want. If you are caring for someone outside of your family, ask their family members what their typical day used to look like. What are their favorite hobbies? What are their favorite foods? How do they like to celebrate their birthday? Simple questions like these can help strengthen the needed communication and bonding between you and the person in need of support  and inform their treatment plan.
Nonverbal cues are another important component of communication that we at Goodwin Living pay close attention to. Sometimes, people who live with dementia have difficulty verbally expressing their needs and wants. A caregiver or family member who supports someone with dementia may notice how they are lethargic and groggy after breakfast. They may seem slouched down and bored. In moments like these, Goodwin Living caregivers are quick to recognize these signs and offer to move outside and enjoy the fresh air.
Small, attentive actions like these can make a huge difference in someone's mood. If you have done something similar for a loved one, you know how rewarding it can be to watch the transformation from lethargy to sitting up straight with energy. You can see that they have a bigger and brighter smile. Reach out and hold their hand. All of these simple gestures signal to your loved one that you have their best interest at heart. And this is something that they will appreciate you and trust you for.
Innovative Goodwin Living Programs to Fight Dementia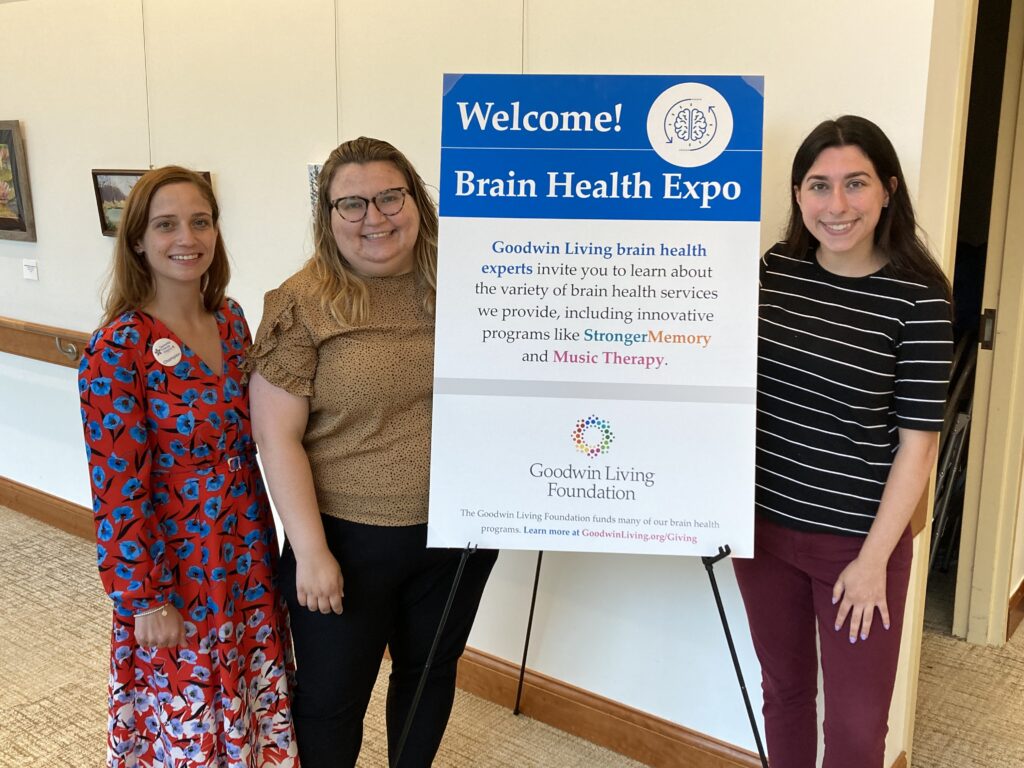 Our team members are compassionate, kind and mission-driven. When dementia presents complex challenges, Goodwin Living offers older adults with creative solutions. All of the following programs and more are proven to make transformational differences for older adults who live with dementia and those who care for them.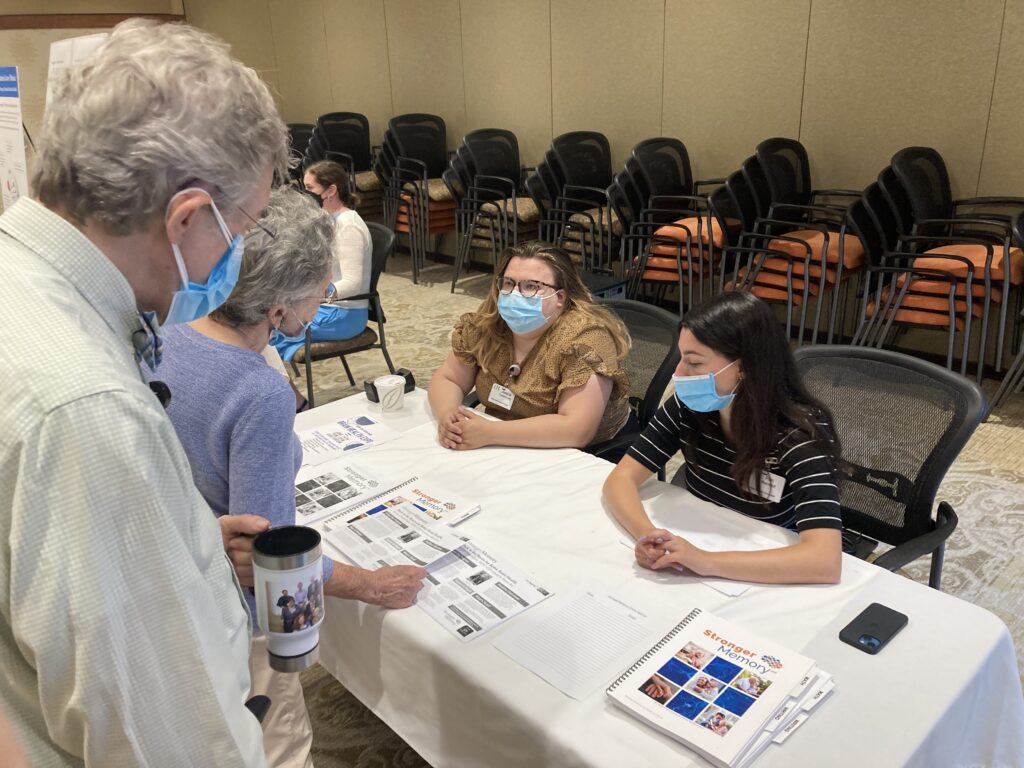 StrongerMemory: It only takes 30 minutes a day, five days a week to see improvements in memory confidence and socialization. StrongerMemory is a proven, self-guided curriculum of three activities: reading out loud, doing simple math and handwriting exercises. Older adults in our communities, senior centers in Maryland, the Village to Village Network and more support each other on their journey to better brain health at StrongerMemory social groups. Those who enjoy the privacy and comfort of their home can join our groups virtually as well! If you are interested in StrongerMemory or joining a group, please feel free to contact me at StrongerMemory@GoodwinLiving for more information.
Melody Makers: We partner with Encore Creativity to welcome residents to a new chorus group. Residents from our memory support house are paired with independent living volunteers to foster connection and share in their love of music together. Follow this link to learn more about Melody Makers.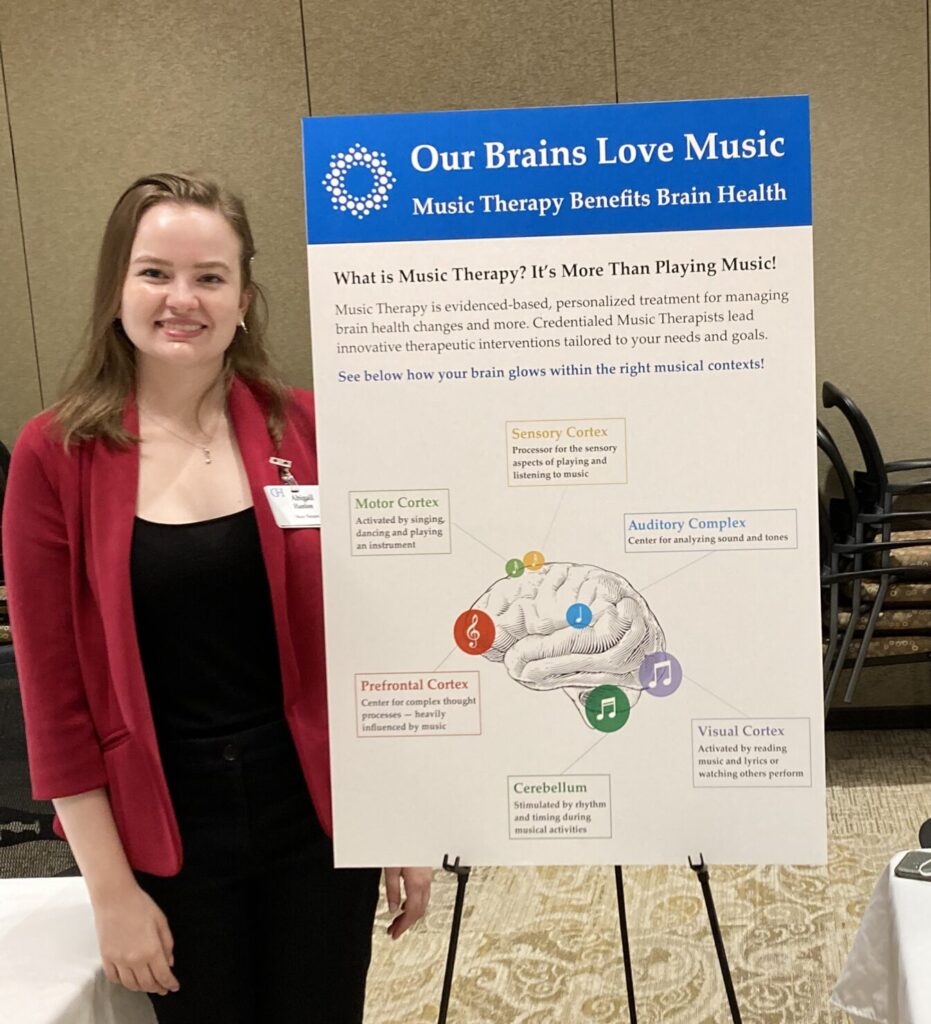 Music Therapy: Music and Memory is a non-profit organization that helps individuals with a wide range of cognitive and physical conditions to engage with the world, ease their pain and reclaim their humanity through their own personalized playlist. Music Therapy and Life Enrichment at Goodwin Living collaborate with Music and Memory to create playlists that help older adults enjoy their favorite tunes! Follow this link to learn more about Music Therapy from one of our experts.
Beyond offering enriching and engaging programs like these, our team members regularly seek and lead training to provide the best care possible. The brain health team leads training for our colleagues regarding StrongerMemory, Teepa Snow's GEM states and other best practices. Our social workers, recreational therapy and music therapists are Certified Dementia Practitioners. Additionally, Goodwin Living experts serve in leadership roles in the Dementia Friendly coalitions through Northern Virginia which help first responders, restauranteurs and communities of worship gain training to better serve persons with Dementia.
Wherever we can help others fight dementia, Goodwin Living is doing our part. And we want to empower everyone to do theirs as well. We invite you to join the effort and help make our region and country more dementia friendly! Contact StrongerMemory@GoodwinLiving.org.
_______________________________
About Peri Weinfeldt:
Peri Weinfeldt is the StrongerMemory Coordinator at Goodwin Living, and has been with Goodwin Living since 2018. She has the joy of visiting all our campuses. Her favorite part of working at Goodwin Living is connecting with residents and listening to their stories. In her free time, she enjoys the beach, visiting Old Town and listening to live music.