Live Vibrantly - February 24, 2023
Telling the Kurdish Story Through Art
A Unique Exhibit in a Senior Living Art Gallery
By Amanda Ranowsky
For one American-Kurdish artist, art is a way to educate about a people long excluded and bridge the divide of differing cultures, traditions and histories.
Born and raised in Syria, Lukman Ahmad emigrated to the United States in 2010 as a refugee under political asylum. As a Kurd, he is a member of a stateless ethnic group indigenous to an area that comprises parts of Turkey, Syria, Iran, Iraq and Armenia.
Today, Lukman lives in Manassas Park, Va. He works for Voice of America as a broadcast journalist, presenting programming in the Kurdish language through the VOA-Kurdish service and a radio program called "Sound and Color". He has also worked on several English-language documentaries, including "The Last Dance," the story of the Yazidi women kidnapped by ISIS militants in 2014. Lukman's artwork provides the visual narration of this powerful account of an atrocity that may have gone unnoticed by many in America.
A freelance artist, Lukman has seen his work displayed in galleries all over the world and, most recently, The Crossroads Gallery at Goodwin House Bailey's Crossroads (GHBC).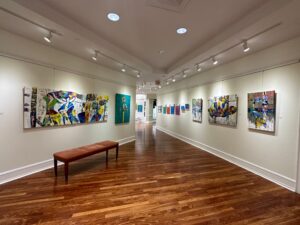 "The Other Side of My Journey" is a collection of pieces inspired by Lukman's Kurdish heritage. It went on display February 3 in the art gallery of this well-known, Falls Church senior living community. The exhibit remains on display in The Crossroads Gallery until April 4, 2023, with a special reception to be held in early March.
Lukman's story and inspiration for this fascinating exhibit offer an opportunity to expand our horizons, and, as Lukman believes, gain greater respect for those who are different from us.
Becoming an Artist
Born in 1972 in a small Kurdish town in Syria called Dirbasiyah, Lukman moved with his family to the city of Al Hasakah when he was nine years old. This move proved fortuitous to his artistic development: at his new school, he encountered a teacher who changed his life.
"I had a teacher named Lidia Karch," he said. "She encouraged me to be an artist. She was very open-minded, and she saw that I had talent. I was one of several children she encouraged in artistic pursuits – one became a singer, another became an artist like me. Thanks to her encouragement, I even entered my work into a talent competition for students."
Lukman's father balked at the idea of his son pursuing studies in art. "He was totally against me," said Lukman. "He said that what I was doing was wrong, and wouldn't allow me to study art. So when I finished high school, I stopped taking formal art classes."
This barrier didn't stop him from pursuing his passion. "I started looking for more information about art on my own," he said. "Art is not only about talent; you have to know about the history of art, techniques and artists. So I started looking for that and read whatever I could find."
In 1962, Syrian Kurds were stripped of their Syrian citizenship. To this day, a majority of Kurds continue to be denied citizenship in Syria, making them stateless in the eyes of international law. For Lukman, caught in the limbo of statelessness, art became a tool to assert his identity.
"The Kurds are not allowed to be recognized as a nation or ethnic group in Syria," he said. "I saw that art could be a good tool for showing people your identity and for keeping your heritage, traditions and culture alive."
A Senior Living Art Gallery as a Venue for Impactful Art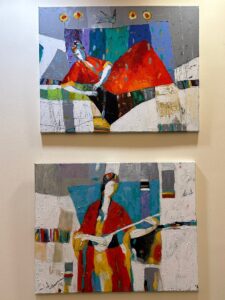 This exhibit is not Lukman's first at GHBC. In 2014, he shared "Hope and Freedom," a collection of pieces focused on the conflict and civil war in Syria. GHBC purchased two of the pieces from that exhibit and they remain on display near the Clinic to this day.
"Art is not just for galleries," he said. "I feel art is for people. It's for people to enjoy, to gain knowledge, to receive its therapeutic effects."
"People in a senior living community have time to simply enjoy the art," he said. "They also have the knowledge and life experience built up over the years to get even more out of the experience. I see them standing in front of my artwork and starting discussions about it – and that's exactly what I want to happen."
Inspired by the Past and the Present
Lukman wants his artwork to act as a conversation starter. "I see my art as a way to open a line of communication with other people to tell them about Kurdish culture," he shared. "The themes, symbols, colors and figures in my artwork all come from Kurdish culture."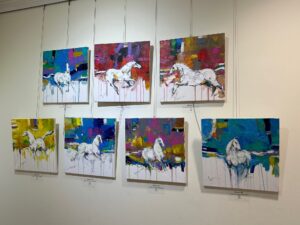 The artwork in this exhibit shows a range of Lukman's skills and interests. Nature-inspired abstracts sit next to a collection of horses. Women are also a key theme. "The woman and the horse give me a lot of inspiration," said Lukman.
The devastating earthquakes in Turkey and Syria that began February 6, 2023 brought a new type of inspiration to the GHBC exhibit. Lukman decided to express his solidarity with those suffering in Turkey and Syria by donating a portion of the exhibit proceeds to earthquake relief. He will donate 30% of the proceeds of artwork sales from this exhibit and the Goodwin Living Foundation will donate another 20% of the proceeds to the Episcopal Relief & Development.
"I'm also going to create a new piece specifically for the reception event," he said. "We'll auction it off at the event and 100% of the proceeds will go toward earthquake relief."
The Meaning of "The Other Side of My Journey"
With all his artwork, Lukman seeks to share the full complexity of Kurdish culture. "The Kurds have a very rich culture," he said. "It is a unique culture that has so often been hidden or forgotten."
By sharing Kurdish culture through art, he also hopes to inspire curiosity about other cultures. "If you understand more about Kurdish culture, maybe you'll want to know more about African culture," he said. "Here in America, the focus is so often on Western culture. But we forget that other cultures are just as valuable, just as interesting. In the end, we're all human beings. And in the end, it's people who create their culture, not governments or businesses."
By better understanding other cultures, Lukman believes, we can overcome the politics that too often divide us. "As an artist and someone who creates art with the purpose of cultural education, I think we have to do more to overcome our differences," he shared.
"We have to listen to each other's stories – that's how we can understand one another. And then when we understand each other, we can work together to create something new."
Lukman's exhibit at GHBC runs until April 4, 2023, and is open to the general public.
_________
As Marketing & Communications Specialist, Amanda Ranowsky partners with colleagues throughout Goodwin Living to tell our stories and raise brand awareness. From printed collateral to digital marketing, Amanda covers many bases. Before joining Goodwin Living, Amanda worked for a small, family-owned business where she gained experience in content marketing. Amanda's creative expression extends beyond the office. She is an active member of community theater and chorus groups.