Live Vibrantly - July 27, 2023
Equine Assisted Learning Program Turns New Centenarian into New Equestrian
By Katrina Hauser
On June 19, 2023, Goodwin House Bailey's Crossroads (GHBC) resident Betty Allan reached a milestone: she celebrated her 100th birthday! She marked the occasion with friends and family who gathered from near and far to spend it with her.
Betty has been a part of the GHBC community since 2006, when she moved in with her late husband Dick Allan. While at GHBC, she served multiple terms on the Resident Council and co-founded the Green Team, a committee of residents devoted to environmental protection. The current committee members showed their appreciation for Betty by hosting their own birthday celebration for her. To help Betty celebrate her 100th birthday, we sat down to talk with her about her life story.
Code Girl, Career Woman
Born in Salamanca, New York in 1923, Betty grew up on a small farm before attending the New York State College for Teachers at Albany (now State University of New York at Albany). There, she studied with the intention of teaching math and English in the public school system. But when Betty heard about a program in Washington, D.C. seeking women who were proficient in mathematics, her interest was piqued. Her father, who worked for a train company, secured a rail ticket for Betty to travel from Salamanca to Washington, D.C.
Once Betty arrived in the nation's capital, the U.S. Army recruited her as a "code girl," one of thousands of women (exact numbers are unknown, though some estimates reach above 10,000)  secretly hired by the government during World War II and trained to break code containing German and Japanese intelligence. Betty worked with the Army for an additional six years past the end of World War II. Upon leaving the Army, she traveled Europe for six months before taking the next steps in her career.
When she returned to the U.S., Betty took a job with the Central Intelligence Agency (CIA). Her new position took her back overseas. While stationed in Japan, Betty took a trip to Hong Kong, where she met her husband. They eventually returned to the U.S. and settled down in Falls Church, Virginia, where they raised three children. One of her sons now raises his own children in the same house.
"I'm so pleased," Betty said of the home remaining in the family. "Same neighborhood and everything."
While living in Falls Church, Betty became an active member of the community. She served on various school boards and worked with a mental health center that supported the Arlington area. She also devoted her time to Citizens for a Better City, the Democratic Party and other state improvement efforts. To satisfy her long held love of the arts, Betty volunteered as an usher at local theaters in her free time.
"I ushered for the Arena Stage many, many years, right from the beginning," Betty said. "And I ushered until I was 90, when I began to see that people would think they had to help me up the steps, rather than me being the usher and helping them up!"
Joining the Equine Assisted Learning Program
After a lifetime of learning, traveling and getting involved, Betty remains open to new experiences. Such a trait made her a perfect candidate to participate in the GHBC pilot group for the Goodwin Living Equine Assisted Learning Program.
Equine assisted learning refers to the use of therapeutic horses and exercises to improve engagement, cognition and connection in people who might benefit from this type of therapy. When horse lover and Goodwin House Alexandria (GHA) social worker Barbara Bolin discovered Simple Changes, a therapeutic riding center in Mason Neck, Virginia., she reached out to Executive Director Corliss Wallingford about creating a program for older adults. Together, the two developed a program that caters to memory and the specific mental health needs that can change as we age.
"The experiences are therapeutic because the person is gaining confidence and self-esteem, stretching their comfort zone, gaining respite from symptoms of anxiety or depression, and having experiences that instill hope, anchor attention around the outings and create excitement and anticipation," said Barbara.
After seeing success with the program at GHA, Barbara applied for and received a grant to expand this program to other care centers in the area, including GHBC. When it came time to think about which GHBC residents should be the first to try this new program, Ann Lam, Interdisciplinary Operations Manager, said that Betty's reputation for being open to trying new things made her the perfect candidate.
"She's very engaged in the activities here on the GHBC campus, so we thought she would be a good person for the pilot group to start with, because she's just very active. And she's always been that way," said Ann.
Making New, Equine Friends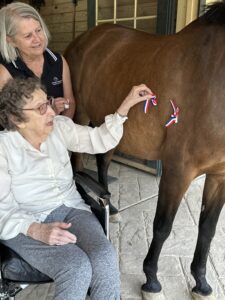 Betty joined the five-week pilot program. Along the way, she proved that if there is one upside to getting involved in activities, it's enjoying multiple birthday parties! Staff at Simple Changes orchestrated a celebration complete with a crown, cupcakes and singing as Betty shared stories of past birthdays. Now that the program has finished, Betty looks back on it with a sense of fulfilment.
"It was something very different, and I hadn't done anything much with horses before, except perhaps riding a horse now and then," Betty said. "But it was very interesting to see the horse farm and to meet some of the horses."
Visiting the barn allows residents to replace their typical afternoons on campus with an experience that gives them something to talk about and look forward to each week. The horses provide a soothing effect, making participants comfortable in the outside environment as they get to pet, brush and even paint the horses.
Corliss Wallingford, executive director of Simple Changes, leads each session.
"Being at the farm and with the horses provides participants with a smorgasbord of sensory input – visual, auditory, tactile and olfactory," said Corliss. "Things we do, such as listening to music and poetry, sensory integration with the horses, brushing the horses and practicing mindfulness are chosen because they are proven to reduce the stress-producing hormone cortisol and increase the secretion of oxytocin."
Betty particularly enjoyed the company of a miniature horse named Bells, a new addition to the Simple Changes team. Corliss would often ask residents to help with certain tasks as Bells acclimated to the barn.
"We talk about setting boundaries by keeping our hands flat, so Bells is not tempted to think a finger is a carrot," said Corliss. "We also talk about watching how Bells and all our horse friends communicate non-verbally. Bells' small stature is an advantage as it makes her easier to pet from a wheelchair."
In her room, Betty has a framed photo of herself with one of the horses.
"I did enjoy it. But I did find it kind of exhausting," Betty said of her trips to the horse barn. "As my daughter said, 'Well that's good for you.' I said 'Yes, I guess it was!'"
Adventures and Advice
Looking back, Betty appreciates the chance to interact with the horses and see how the barn operated.
"Well, it was an adventure, you know. Another one of my adventures," Betty said. "This last adventure is old age, age 100. It is an adventure, too."
With expansion underway the Equine Assisted Learning Program, more older adults will soon get to go on the adventure of equine assisted learning for themselves. Program coordinators are excited to see it generate more positive effects in the future.
"Three additional nursing communities have been very excited to join us, and they often remark about the change it has made for the quality of life of their residents," Barbara said. "We have had feedback that participants talk constantly about the program and remind staff often that they want to keep attending. The gratification from hearing those responses is thrilling and tells us we are making a difference."
For her birthday, Betty's son-in-law compiled a book of photos, playbills, postcards and other memorabilia in a tribute to Betty's long life of adventure and achievements, of which turning 100 is only the latest. Betty says that many have also been wondering if she's amassed any advice throughout her century of living.
"All these people want to know my secrets. Maybe I could make some money out of this. Auction all my secrets to the highest bidder! But that's being silly," Betty said with a wry smile and a twinkle in her eye.
Perhaps being a little silly is one of her secrets. Betty also recommended, "not to get thrown by anything. Take things mainly as they come."
This guidance, as well as Betty's willingness to remain open to new experiences, stands as a model for anyone who also hopes to look back at their life and hopefully see 100 years full of adventures.
_________________
Katrina Hauser is a rising senior at The George Washington University studying Journalism and Mass Communication and English. Originally from New Jersey, Katrina is the Summer 2023 intern for the Goodwin Living Marketing and Communications team. She assists in drafting internal and external communications, monitoring blog content and maintaining our social media presence. At school, she hosts her own radio show and serves as Assistant Director of Public Relations for the Student Association. In her free time, Katrina enjoys reading, traveling and spending time with friends.