Live Vibrantly - April 29, 2022
Residents' Ambitions Realized
New Pickleball, Bocce Ball and Golf Activities Launched on Campus at GHBC
by Timaeus Reed
The challenges of the pandemic forced people to adapt—to find new ways to stay social and active. At Goodwin Living, it has been exciting and inspiring to watch residents of our Life Plan Communities and Goodwin Living At Home members meet that challenge head-on. In the last year, we've seen them come together to make mats for the homeless, design barn quilts for their gardens and even go for gold at the Senior Olympics.
When residents at Goodwin Living put their minds to something, they make it happen. In fact, it's thanks to their efforts, and the help of a few friends and staff, that Goodwin Living just announced three new outdoor activities on the campus of Goodwin House Bailey's Crossroads (GHBC). GHBC residents can now enjoy the better weather together and play pickleball, bocce ball and golf on campus.
Presenting Outdoor Activities to the Grounds Committee
The GHBC Grounds Committee, led by Director of Facilities Management Chris Floyd, meets monthly to discuss maintaining and developing the campus grounds. The residents serving on the Grounds Committee always want to find more ways to keep our senior living community fresh and exciting for the residents, especially given the limits brought on by the pandemic. They found an exciting opportunity last spring when GHBC residents Mike and Kathy Morton made a guest appearance before the committee.
The Mortons presented their passion for the increasingly popular sport of pickleball, asking the committee to paint a pickleball court for residents on campus. They committed to appearing monthly at the Grounds Committee meetings to educate about the sport and how helpful it can be for older adults to keep fit and healthy.
"We were avid racquet sports players for many years and felt folks our age were not provided nearly enough outdoor activities," Mike said. "We feel very strongly about being active outdoors when possible."
After the first presentation from the Mortons, Chris Floyd and GHBC Executive Director Justin Carwile took an interest in pickleball. Over the next few weeks, Mike would arrange for them and other staff and residents to carpool to Lubber Run Community Center to get hands-on experience with pickleball. He would rally a lot of interest and support at GHBC in a short amount of time—everyone who tried it had a blast!
"I got to learn a lot more about pickleball than I ever thought I could," Chris said, "all thanks to Mike. I became somewhat of an enthusiast. I even caught myself watching pickleball the other week on TV."
Despite how much fun everyone had playing and learning about pickleball, the Grounds Committee needed more guidance and consideration before officially bringing the sport to the GHBC campus. The well-connected pickleball community across Northern Virginia delivered that added expertise.
Volunteer Experts Help Pave the Way Forward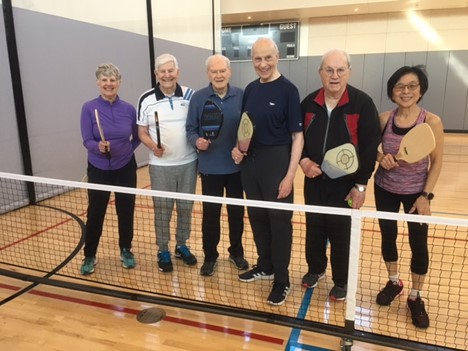 True to his love for racket sports, Mike is a member of the Golden Rackets Tennis & Pickleball Club. Through mutual connections with other club members, Mike got in contact with Judy Aw, a local racket sports talent in the community. Over the last nine years, Judy has coached pickleball and won several Senior Olympics medals. She was the perfect expert athlete in the community to help Mike and others bring pickleball to GHBC.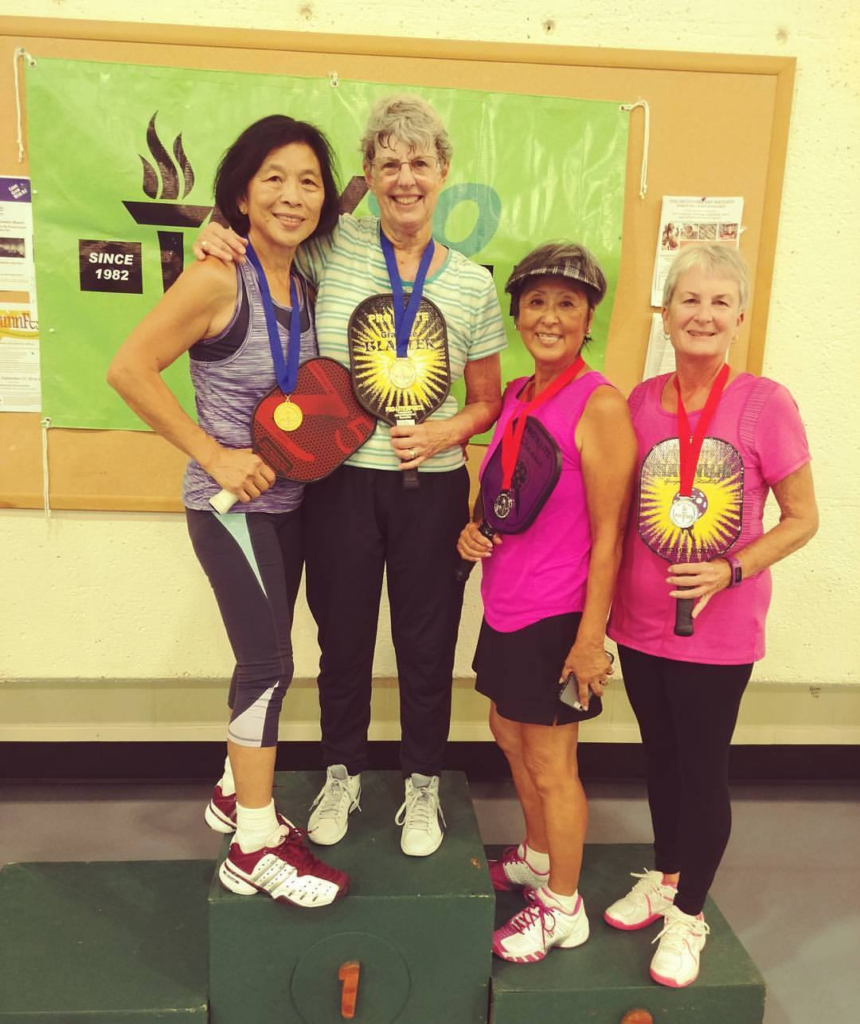 And she was happy to help. Judy was already familiar with the excellent reputation of Goodwin Living through her long-time friendship with GHA resident Sheila Hoben. Judy and Sheila have even claimed a gold medal together at the Senior Olympics in the doubles pickleball event.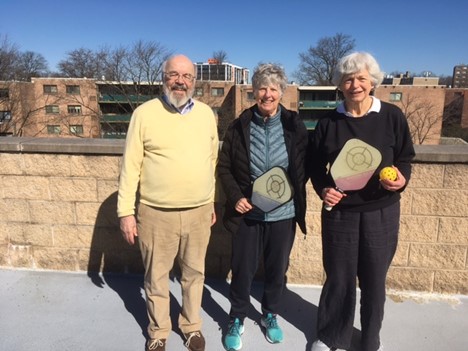 Judy was contacted in September 2021 and made her first appearance to the Grounds Committee along with Mike in October. She presented educational videos, brought fellow pickleball experts to speak and recommended equipment to the committee over the next couple of months. With each visit, the committee became more equipped to bring pickleball to GHBC.
"Every time I met with them, they reassured me they were serious about this," Judy said. "I didn't realize it could happen as quickly as it did, which is amazing and satisfying to see."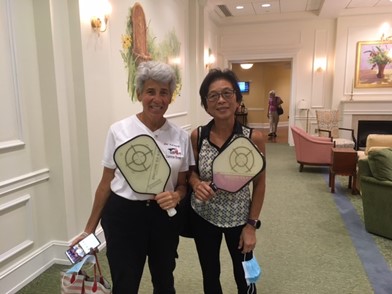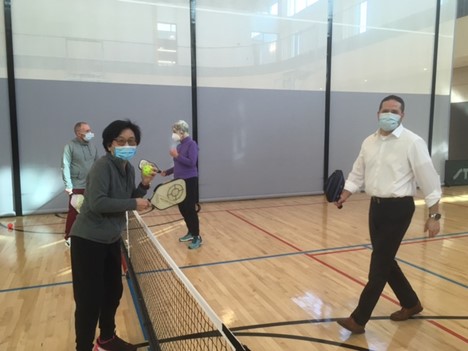 By spring of 2022, Judy had walked the campus with the Grounds Committee and selected an ideal location. She recommended the fiberglass paddles the committee ordered for residents to use. After months of meeting with fire marshals and relying on the facilities and groundskeeping experts and their development teams, GHBC would have its pickleball court and other outdoor activity spaces before long.
An Opening Ceremony for New Outdoor Activities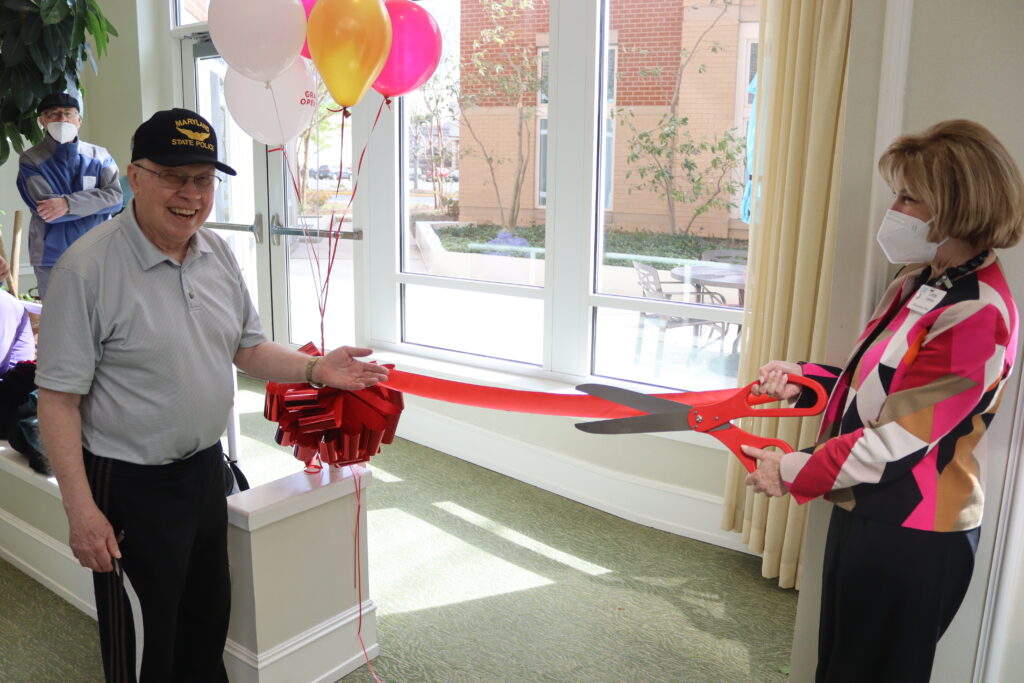 On April 8, 2022, the GHBC Life Enrichment team (who also helped Mike gather volunteers) hosted an opening event for the new outdoor activities on campus. Before the countdown began, residents, staff and volunteers were greeted at the event with a delicious variety of food and drinks. While they gathered, Fitness Manager Sherry Compton, a member of the Life Enrichment team who serves on the Grounds subcommittee for outdoor activities, announced the history behind the introduction of the new outdoor activities and thanked those who helped along the way. Beyond pickleball, Sherry told the attendees that the Grounds subcommittee wanted to develop as many activities as possible for residents to enjoy outdoors. And so, bocce ball and golf turf were added to the new developments on campus.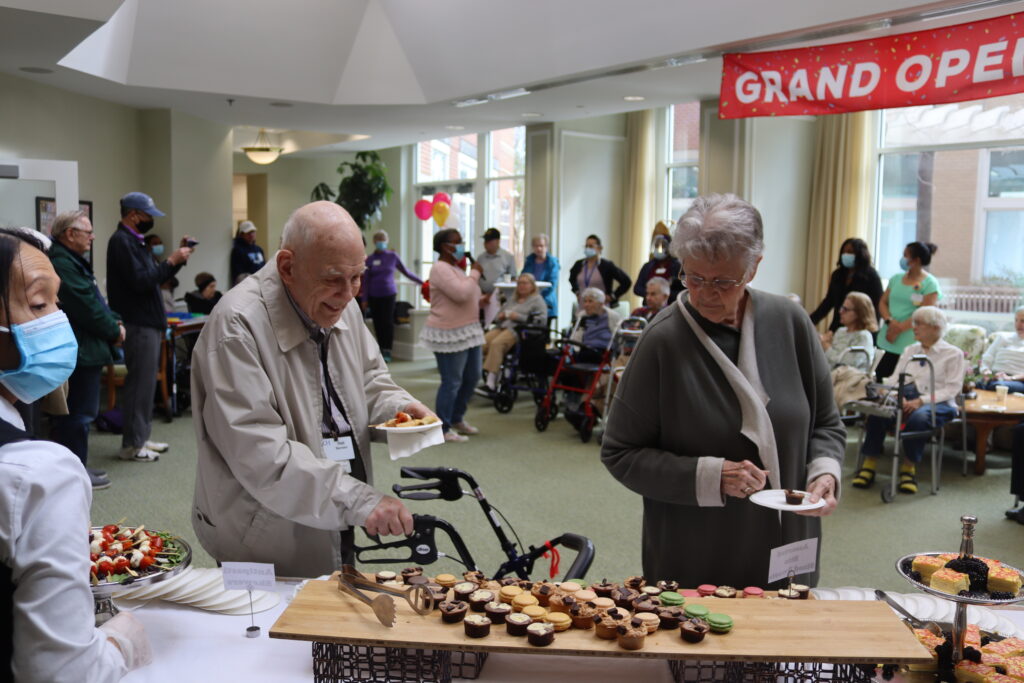 Before long, Mike and Goodwin Living Chief Operating Officer Linda Lateana (who helped with project management for the new developments) cut the ribbon to launch the opening of not just a new pickleball court, but a bocce ball court and putt putt course on the GHBC campus. With the ribbon cut and their bellies full, residents were led outside to a sunny day of fun new activities!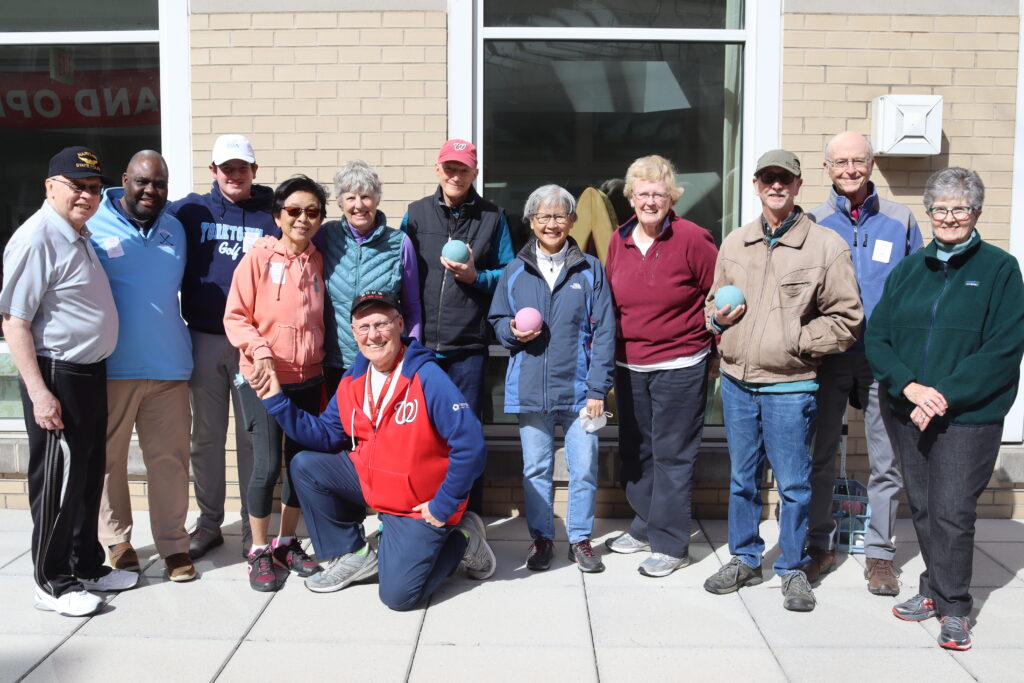 We want to thank all of the residents, staff and volunteers who participated in this project once more for helping to grow the opportunities for residents at GHBC. Great things are achievable when we work together, and we can't wait to see what great things are ahead of us. For now, we invite you to enjoy a quick peek at some of the fun residents had at our opening event below!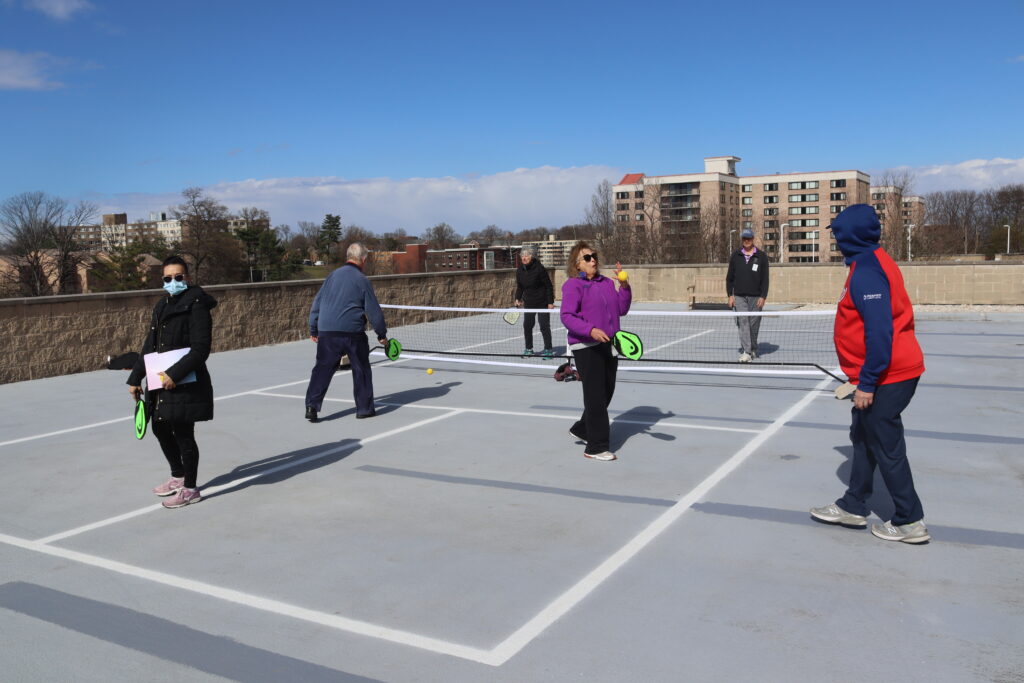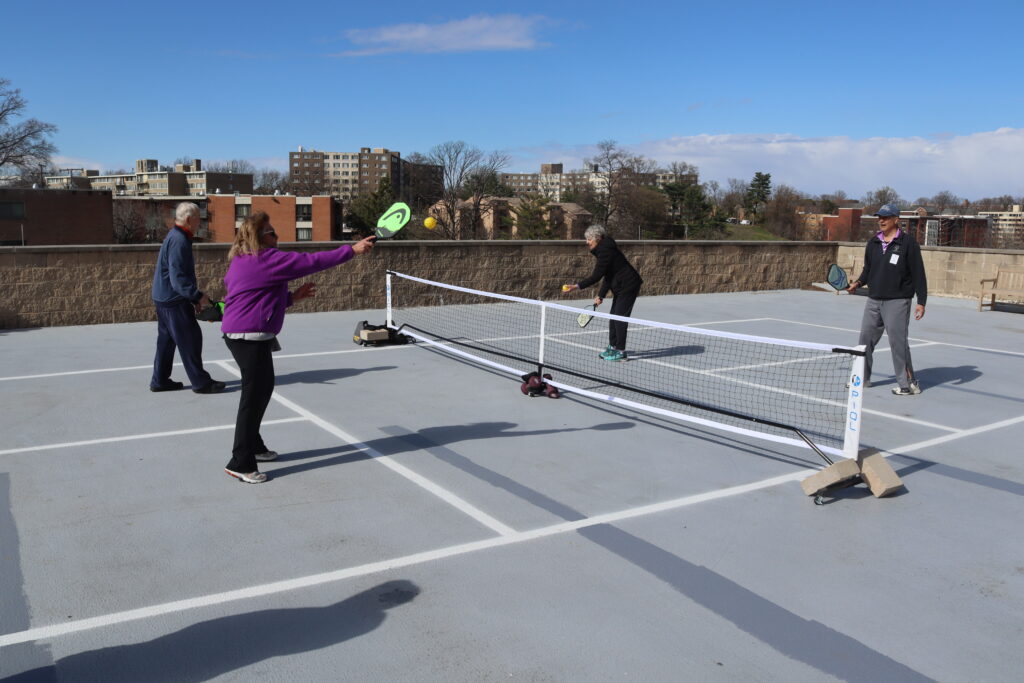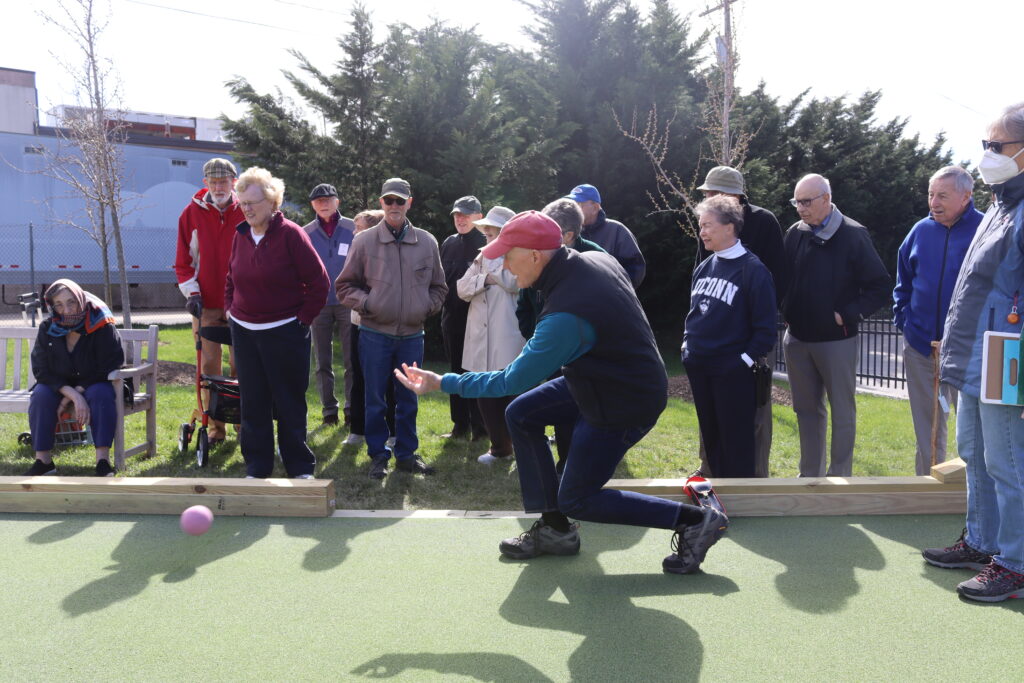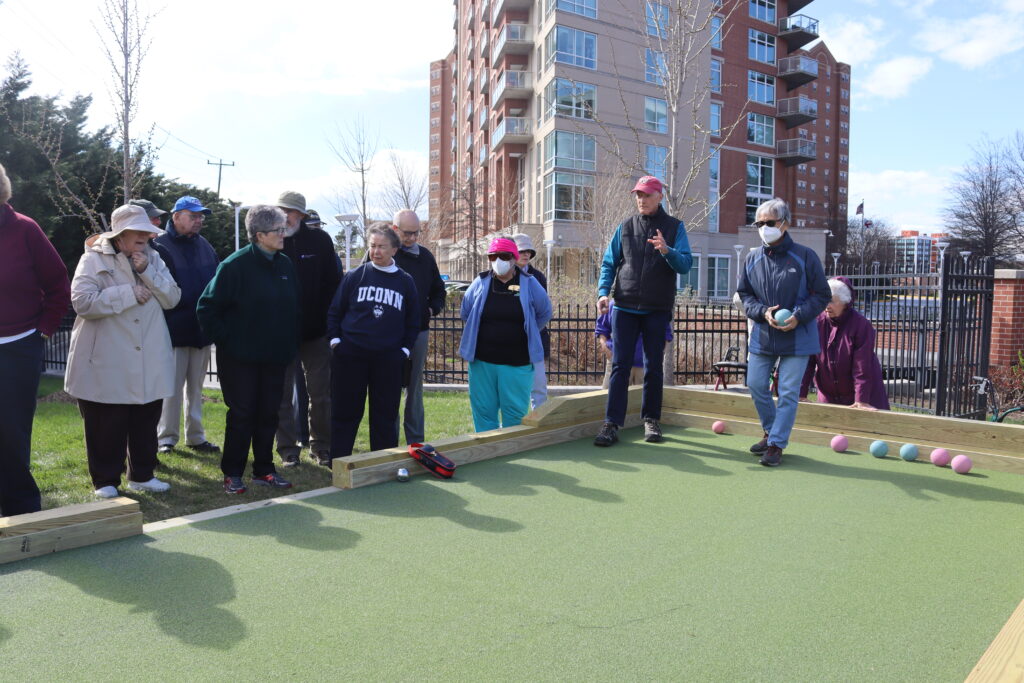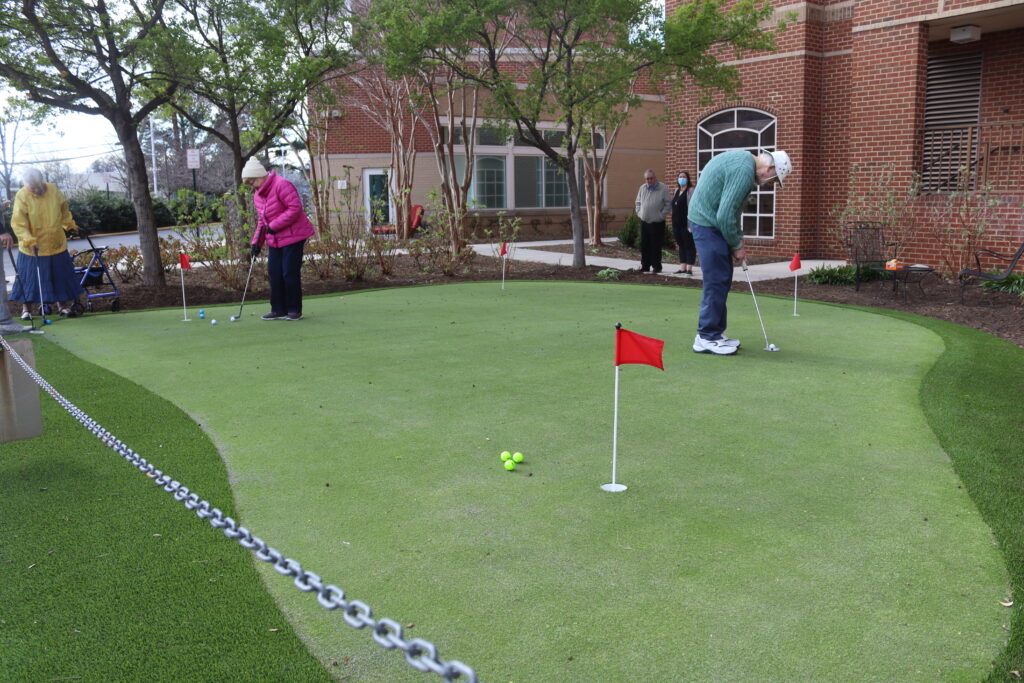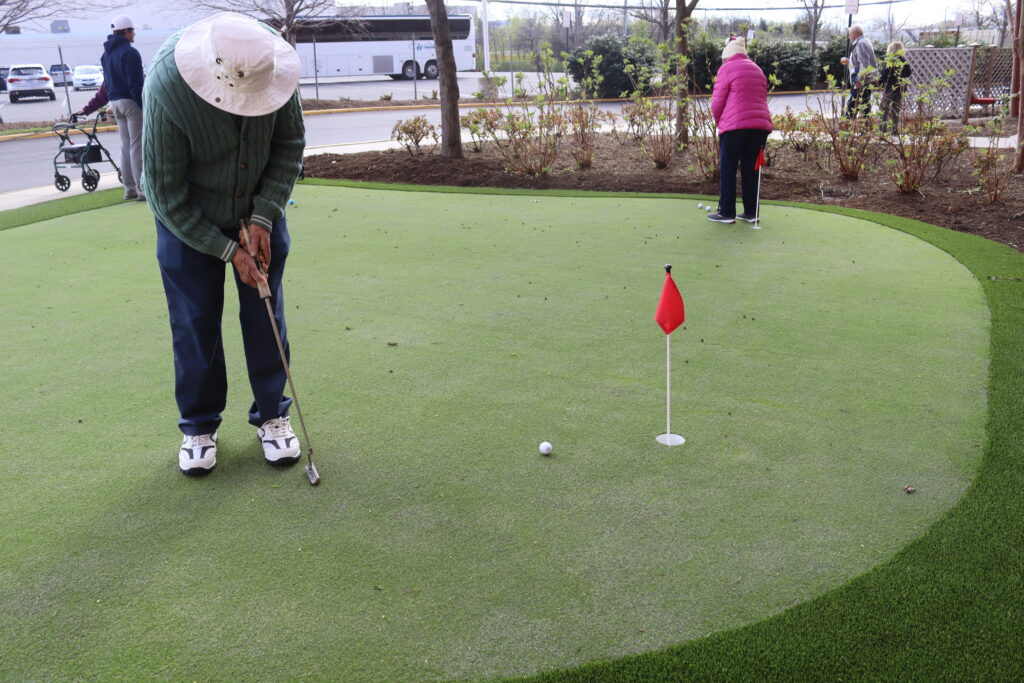 __________________________________
Timaeus Reed is a Marketing and Communications Specialist at GHI. He plans, writes and designs for internal and external campaigns that support all areas of the organization. He relocated to D.C. to join the team in the summer of 2021. When he isn't getting lost in traffic, Timaeus loves listening to live Go-Go music and stand-up comedy.