Staff Stories - November 30, 2022
What Inspires 36 Years of Nursing Service?
Ask Gloria Jackson
By Timaeus Reed
The world needs nurses. They are among the most agile and compassionate problem solvers in the healthcare industry. As the country faces a shortage of nurses that has been exacerbated by the pandemic, we seek to understand what calls people to the profession and keeps them going through difficult times. Goodwin Living recently celebrated a nurse who devoted her life to senior living and healthcare.
This November, Gloria Jackson retired after 36 years of service at The View Alexandria by Goodwin Living. Before closing this chapter of her life, we were grateful that Gloria agreed to let us share her inspirational story.
Gloria's Childhood Dream – A Nursing Career
Gloria wanted to be a nurse for as long as she can remember. It was a dream that started when she was a little girl. She found her first opportunity to pursue a nursing career as a teenager.
Raised in Alexandria, Gloria impressed one of her high school teachers who noted her passion and connected her to nursing certification resources. After receiving her first certification, she quickly became a CNA (certified nursing assistant) in a local nursing care center where she worked for several years. Gloria gained experience working with older adults, including those living with dementia, those recovering from stroke or cancer and those with other challenges that can be brought on by aging.
"I realized just how much help a lot of people need," Gloria said. "We all need a little extra help in our lives, especially as we get older."
Gloria decided to further her skillset and became an LPN (licensed practical nurse) as she transitioned to work in a hospital setting. In 1974, Gloria began working in Inova Alexandria Hospital where she served in the medical surgical unit and provided pediatric care and geriatric care for five years. When her first child was born, she bid farewell to Inova Alexandria Hospital. After more than two years raising her son at home, Gloria returned to the nursing care center where she first started her career.
Gloria Finds a Home in Senior Living and Healthcare
Though Gloria loved spending more time with her family, her heart longed to continue her passion for nursing. Gloria felt most fulfilled when she was caring for those who need it most. Thankfully, her fellow nurses at work knew how to help Gloria grow in her career.
In 1986, Gloria received a call from the director of nursing at The View Alexandria (known at the time as Hermitage Northern Virginia). She told Gloria that her nursing colleagues had highly recommended she give Gloria a tour. Without knowing what to expect, Gloria accepted the invitation and visited The View Alexandria the next day. She was impressed by the work of other nursing professionals, and the director of nursing was impressed with Gloria. As the tour ended, the director of nursing brought Gloria into her office and bluntly recruited her to join a new team.
"She told me 'You're hired!'" Gloria said. "I told her I still had another job, but she told me to put in my two weeks and come work with her. And so, I did."
In September of 1986, Gloria started her career at The View Alexandria as a charge nurse in the health care center. The new job presented her with challenges, but Gloria was determined to do her job well. She spent two years learning new skills and meeting new people each day. The residents loved Gloria as much as she loved them, and it showed in her work.
Gloria Becomes a Nursing Supervisor
Before long, the entire nursing department recognized Gloria's skills and talents, including her work ethic and warm heart. She always went above and beyond for the residents in her care. Seeing this, the director of nursing asked Gloria to become a nursing supervisor.
Gloria initially felt uncertain about the opportunity. She had grown accustomed to her role and did not feel qualified to lead other nurses. The director of nursing invited Gloria to shadow one of the evening nursing supervisors, hoping to prove to Gloria that she was indeed capable and ready.
The director of nursing was right. As Gloria shadowed and studied, she began a helpful habit that she would become well known for over the following decades.
Gloria kept notebooks with granular details of everything she learned. She wrote down every question she had, every name she met and more. These notes helped her to gain confidence, and soon she felt the courage to take on the supervisor role.
"You never know when someone is watching over you," Gloria said. "The director of nursing sought me out for my talent. And the nurses of my team followed in my footsteps. I never thought I would be an influential person."
Following Gloria's lead, several nurses at The View Alexandria now take notes in the same fashion, hoping they may prove just as great a nurse as Gloria. Evening Nurse Supervisor Kadiatu Turay is one nurse who credits much of her success to Gloria. She learned from by Gloria when she first came to The View Alexandria in 2010 .
"That's my mama," Kadiatu said. "I'm going to miss her. She taught me a lot of different ways, and how to love the job. It's not just for the money. You have to have a lot of love, and no one had more love than Ms. Gloria."
Gloria went on to serve as a full time Nursing Supervisor for more than 30 years.
A Long Nursing Career Comes to an End
Gloria gave notice of her retirement in October of this year. While a part of her does not want to leave, Gloria knew it was time to slow down and spend more time with her family. In honor of her incredible tenure and lasting legacy, we hosted a celebration for Gloria during her final week of work.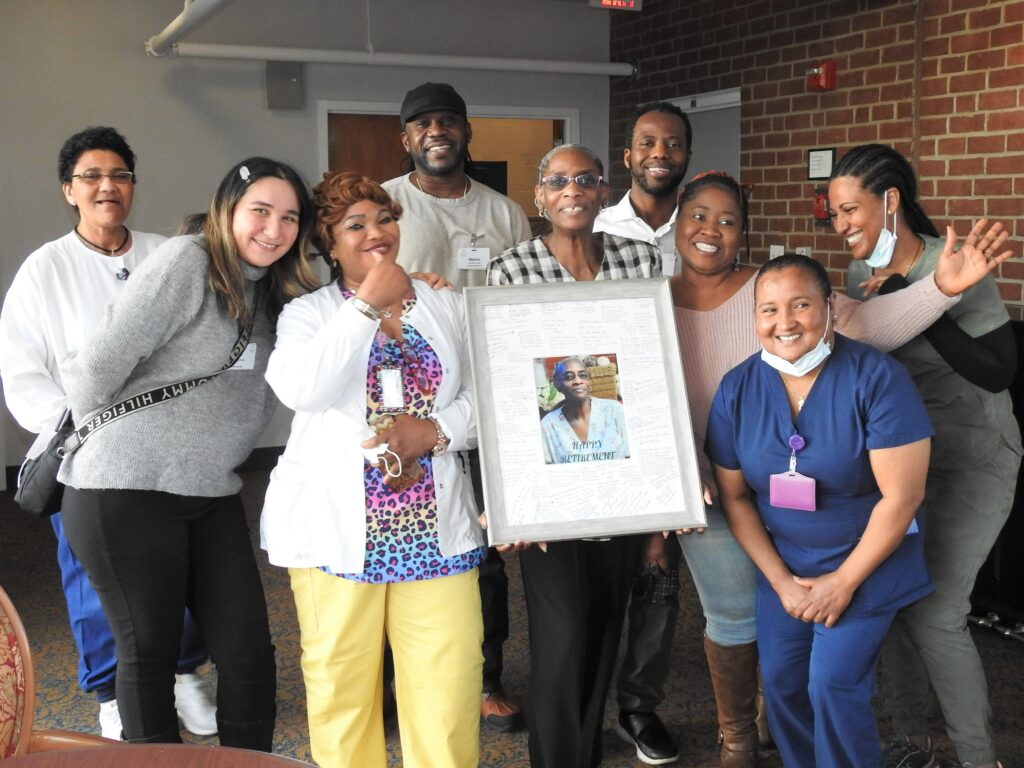 "I recently had the privilege of meeting all the nursing team during my first week at The View Alexandria," Interim Executive Director Josh Bagley said. "During introductions, nursing team members shared with me their length of tenure. 7 years, 10 years, 14 years, 24 years…. Then I met Gloria who has served for 36 years. I quickly realized that her leadership and kindness was a huge factor in the nursing team's culture of commitment and tenured service at The View Alexandria. We remember Gloria for the massive responsibilities that she undertook with grace. We celebrate her for the countless small ways she changes people's lives."
Gloria leaves The View Alexandria with optimism for the future of the organization. She finds confidence in the Goodwin Living team members who have joined her team since the acquisition of her campus, especially Josh.
"To be in our field, you have to have compassion," Gloria said. "When I met Josh and all of the other new nurses, I knew I was leaving The View Alexandria in good hands."
When asked what inspired Gloria to work with us for so long, she responded with a chuckle. "I loved my work," she said. "It's the only way you can ever be. You have to love what you do, and I loved every single day at my job. I loved the residents. My coworkers. I loved being in service. That's all it takes."
After a successful nursing career that spanned more than 50 years, Gloria wonders what the future holds for her. For now, she will enjoy the simpler things such as being able to spend Thanksgiving with her family and at home for the first time in 36 years.
Whatever awaits her, the entire Goodwin Living family wishes Gloria a happy future filled with memories made with her loved ones. And we thank her for her dedication to nursing, her years of service and her leadership of the future generations of nurses who aspire to be just like her.