Staff Stories - March 29, 2022
The Women Who Inspire Us
by Amanda Ranowsky
Throughout our lives, we feel privileged to know women who inspire us. As the chair of our Diversity, Equality and Inclusion Committee Theresa Thomas (who serves as Associate Executive Director of Goodwin House Alexandria) shared earlier this month, "What would the world be like without women?" Throughout history, women have made significant contributions. Yet all too often, they rarely receive the credit or acknowledgment they deserve.
Women's History Month aims to honor women's contributions to American history. Every year, the National Women's History Alliance designates a theme for the month. This year's theme, "Providing Healing, Promoting Hope", calls us to recognize the efforts of frontline workers and caregivers during the pandemic, as well as the countless ways women across the world have provided hope and healing throughout history.
At Goodwin Living, we recognize that all the women on our staff are caregivers for the residents, members and patients who receive support from our organization. Whether they are doctors or nurses, front desk staff or dining servers, life enrichment coordinators or environmental services workers, each and every woman on our team contributes to the care we provide.
This Women's History Month, we asked several of the inspiring women on our staff to tell us about the women in history—past or present—who inspire them.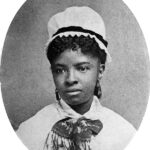 Charity Ampong, Assistant Director of Nursing at Goodwin House Alexandria: Mary Elizabeth Mahoney
Mary Eliza Mahoney (1845-1926) was the first Black American licensed nurse. Her dedication and efficiency inspire me to do my very best as a Registered Nurse.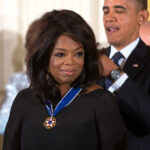 Estephanie Rubio, Facilities Management Service Coordinator at Goodwin House Bailey's Crossroads: Oprah Winfrey
Oprah Winfrey (1954-present) inspires me because she has encouraged each of us to find the highest and truest expression of ourselves. Winfrey's determination has changed the lives of countless women. She's selfless, honest about her past and genuine in her care for people. She continues to learn, to share, to make mistakes and learn from them and to be vulnerable.
One of my favorite quotes of hers is "Challenges are gifts that force us to search for a new center of gravity. Don't fight them. Just find a new way to stand."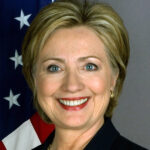 Kimerlyn Butler, Director of Life Enrichment at Goodwin House Alexandria: Hillary Clinton
Hillary Clinton is an American politician, diplomat, lawyer, writer and public speaker.
She was the first lady of the United States for two presidential terms. It was not a smooth eight years in the White House due to her husband's indiscretions, but she stood by him. She was a strong first lady, not letting anyone convince her to believe anyone or anything about her husband. She continued her presence and worked while enduring criticism from the American people. Even after the truth was revealed, she still stood by her husband, the President.
What inspired me most about Hillary was after she left the White House and began her own journey. She didn't let what occurred in President Clinton's journey affect hers. She continued to be a wife, but on her own terms. She pursued her career in politics. She was a United States senator from New York from 2001 to 2009. In 2008, she ran for president but was defeated in the primary elections. She became the 67th United States Secretary of State from 2009 to 2013. A member of the Democratic Party, she was the party's nominee for president in 2016, becoming the first woman to win a presidential nomination by a major U.S. political party. She has written three memoirs. Hillary Clinton has advocated and started many programs – State Children's Health Insurance Program, the Adoption and Safe Families Act and the Foster Care Independence Act, to name a few. She has advocated for gender equality. She has advocated for medical benefits for first responders whose health had been damaged in the September 11th attacks.
Hillary Clinton is a woman in history whose life could inspire any little girl looking to get into politics. She inspired me because no matter what she faced in her political career, her personal life or her husband's political career, it did not stop her from becoming who she is today. She is an inspiring woman!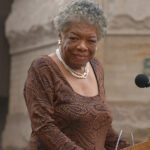 Chef Nina Rakotoarisoa, Executive Chef at Goodwin House Bailey's Crossroads & Kerri Mai, Assistant Director of Goodwin Home Health: Maya Angelou
Chef Nina: I've always admired Maya Angelou and three of her quotes have always inspired and guided me in my life:
"I've learned that people will forget what you said, people will forget what you did, but people will never forget how you made them feel."
"You may not control all the events that happen to you, but you can decide not to be reduced by them."
"You can't use up creativity. The more you use, the more you have."
I love to go to the Hallmark store and read the poems that she has on different cards. She is one of the reasons why I named my first daughter Maya.
Kerri: Maya Angelou taught me the importance of telling your story, with all the truths that entail your story, no matter how sad, painful or beautiful. This allows others to see they are not alone in their struggles. Life isn't always perfect, as it is often depicted in movies and stories, but you can always find a way to rise above any struggles that challenge you.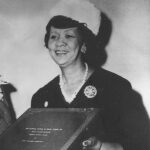 Beth Kilgore-Robinson, Director of Member Services for Goodwin Living At Home: Dr. Dorothy Irene Height
Dr. Height is a woman in history who inspires me because of her advocacy for Black people and women. She was an advocate and leader in our sorority and in the social work profession, and she embodies the type of person I aspire to be in my work and personal life. There is not one photo of her with her head down, unless she is reading.
She was the National President of Delta Sigma Theta Sorority, Incorporated from 1947 to 1956. (I am a proud member of the Sorority.)
She completed her postgraduate work at New York School of Social Work (I love social workers!)
Dr. Height is credited as the first leader in the Civil Rights Movement who recognized inequality for both women and African Americans as problems that should be considered as a whole.
She was a member of the 'Big Six' but is rarely mentioned because she was a woman.
She was respected by a broad spectrum of races, cultures, genders and ages.
My father always told me that as a Black woman, I should never walk into a room full of white men and women and cower. I should hold my head up and make them wonder how I got where I am. If they talk about you, make sure it is not negative. He also made me read the dictionary as punishment because he didn't want my brothers and me to walk into a room and not know what someone was talking about. I am inspired by Dr. Height because she embodies these characteristics and exudes quiet strength and grace.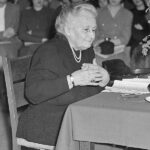 Liz Pomerleau, Director of Clinical Pastoral Education: Maria Montessori
Maria Montessori is a woman in history who inspires me. She created the Montessori method, an educational model now known around the globe. She was a scientist and created the Montessori method by observing children. She believed that children are naturally motivated to explore, to discover and to learn. She harnessed children's intrinsic motivation by giving them the freedom to pursue what they are curious about in a prepared environment. Montessori also focused on tactile materials, with children learning to count with beads and blocks, and learning to read with sandpaper letters and small toy objects.
To observe a Montessori classroom is miraculous: 20 small children, each with their own intricate works, rugs spread out all over the room, and somehow, each tiny person focused intently on their own work. Many of her methods are now also being used with people living with dementia. A side note—Montessori was one of the first female physicians in Italy. As a medical student, she had to go into the classroom at night because it was considered indecent for her to do her cadaver work in the presence of her male peers.
She inspires me because she was a trailblazer. She was so true to herself, confident enough to go against norms, and trusting herself enough to promote her own work. The Montessori method now touches millions of children and adults worldwide.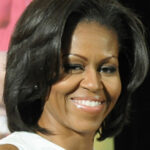 Corinna Berry, Hospice Team Operations Coordinator, Goodwin Hospice: Michelle Obama
Michelle Obama is a woman who inspires me because she was the first African American First Lady of the United States. I admire her advocacy for female education and her initiative to inspire young women to reach their full potential.
_______________
As Marketing & Communications Specialist, Amanda Ranowsky partners with colleagues throughout Goodwin Living Incorporated to tell our stories and raise brand awareness. From printed collateral to digital marketing, Amanda covers many bases. Before joining GHI, Amanda worked for a small, family-owned business where she gained experience in content marketing. Amanda's creative expression extends beyond the office. She is an active member of community theater and chorus groups.