Live Comfortably - December 29, 2022
Making the Holidays Festive at Goodwin Living
By Amanda Ranowsky
Throughout the year, you can find a wide range of events on our campuses. With everything ranging from fitness classes, woodworking instruction and book clubs to history lectures, movie nights and special themed dinners, the Life Enrichment teams at Goodwin House Alexandria, Goodwin House Bailey's Crossroads and The View Alexandria provide countless fun and engaging activities. Residents enjoy these opportunities to stay engaged and socialize with fellow residents and team members.
The Life Enrichments teams seek opportunities to celebrate holidays that are meaningful to the people who live and work at Goodwin Living. This can include religious observances, cultural celebrations and national recognitions . During the month of December, their focus shifts to winter holidays ― Hanukkah, Christmas and New Year's.
Decking the Halls
Our Life Enrichment (LE) teams stay very busy between Thanksgiving and New Year's. In addition to their usual schedule of regularly offered fitness classes, religious services, films, art classes and other group events, the LE teams decorate the campuses of our three communities and infuse them with festive cheer.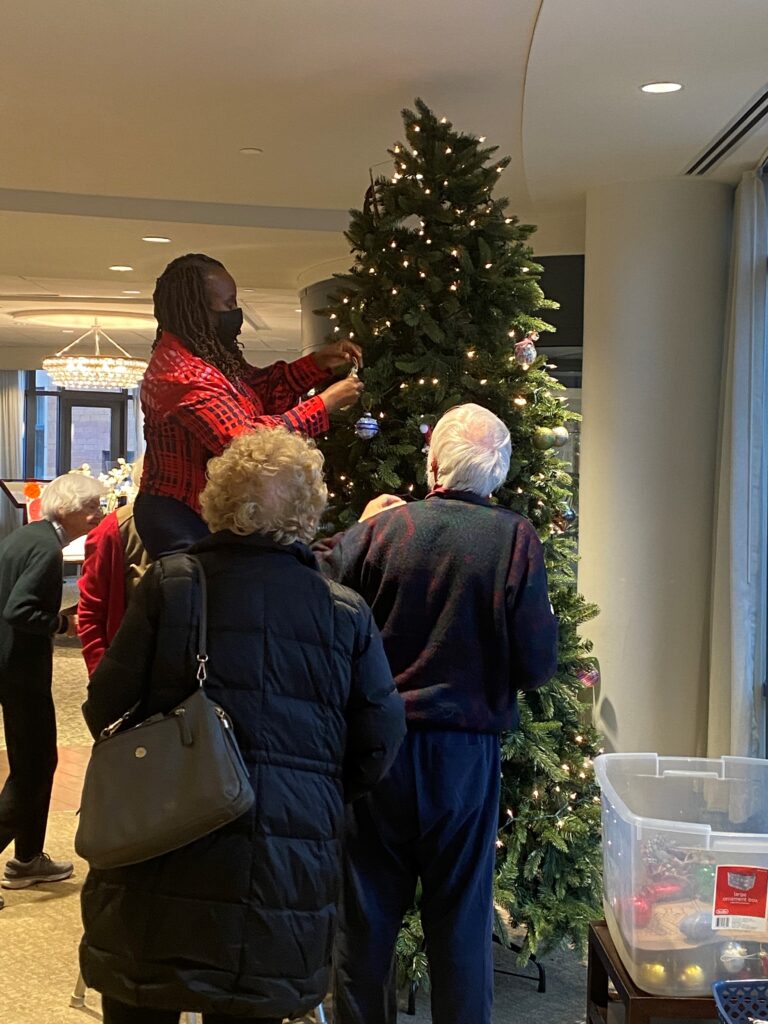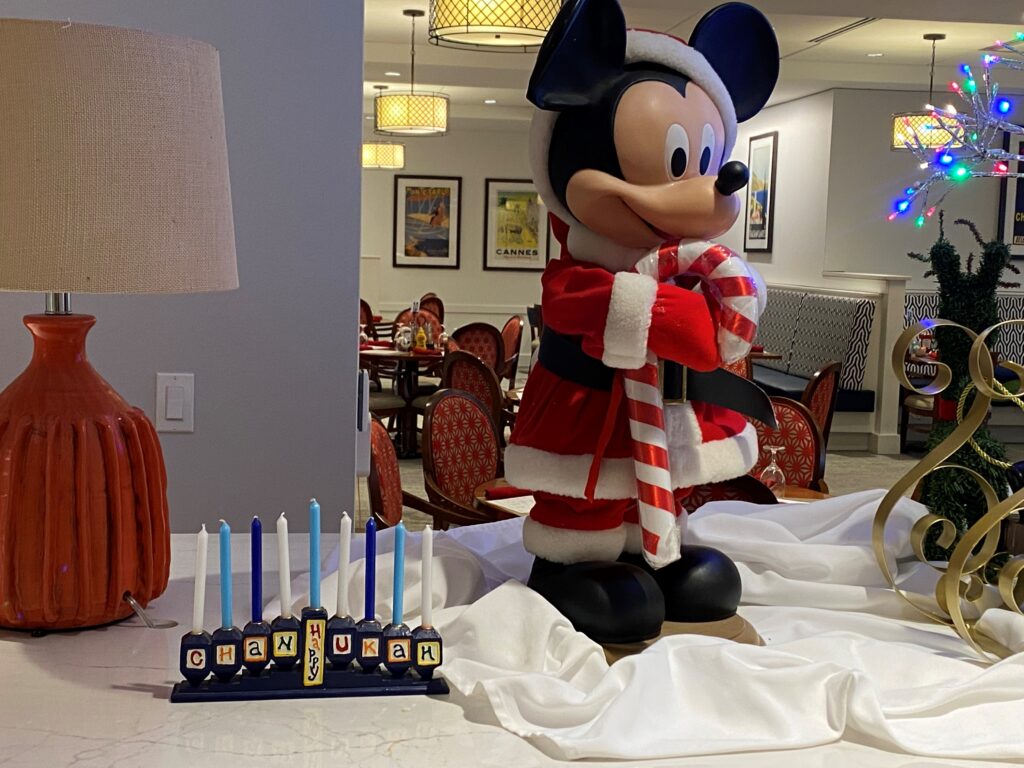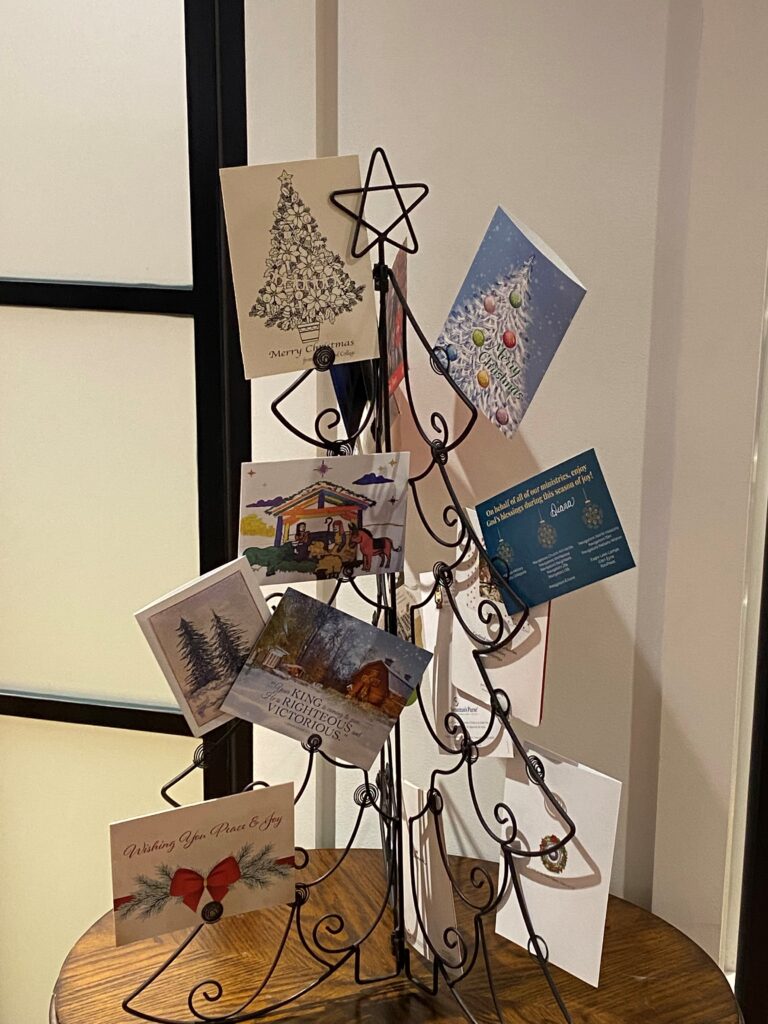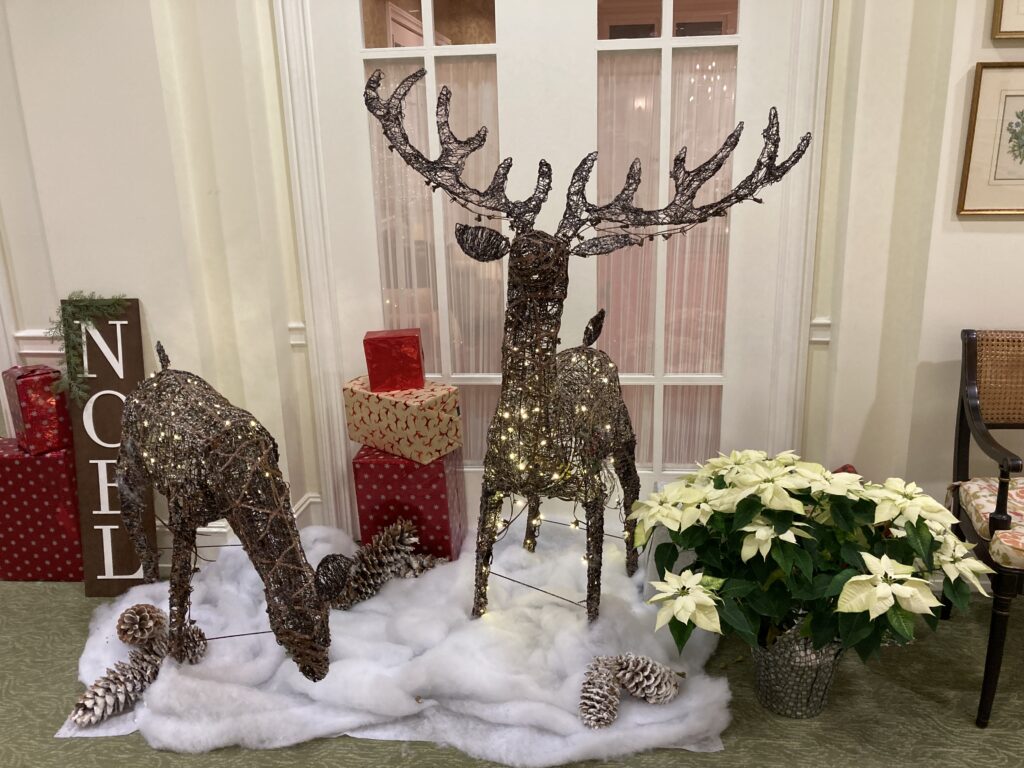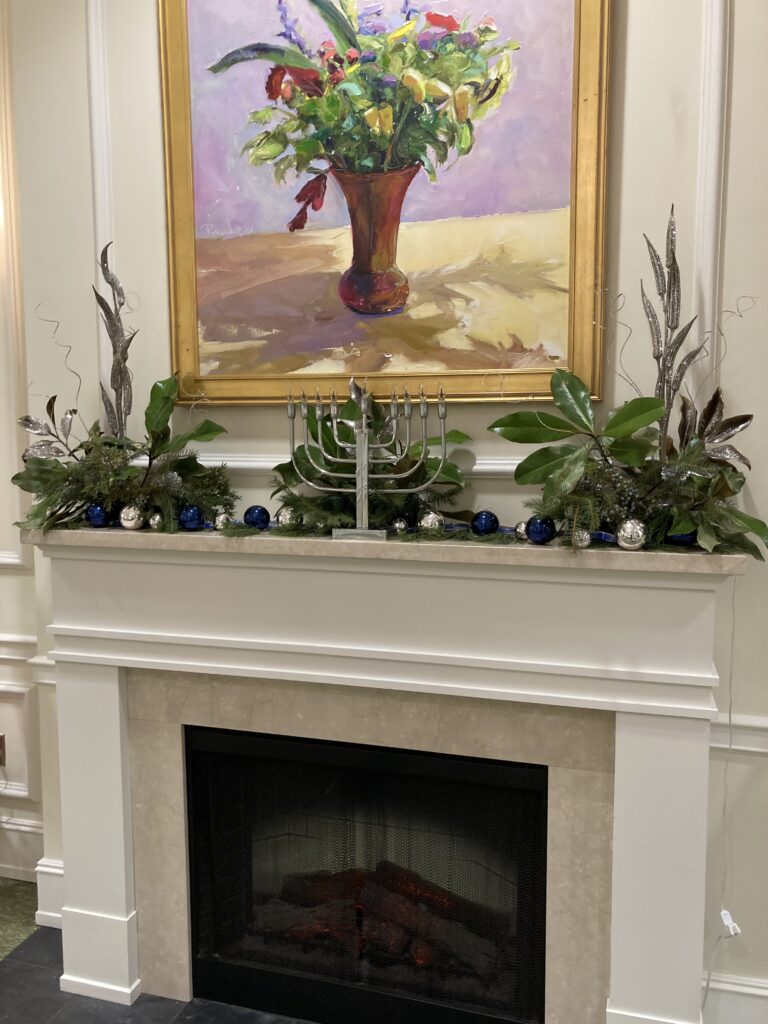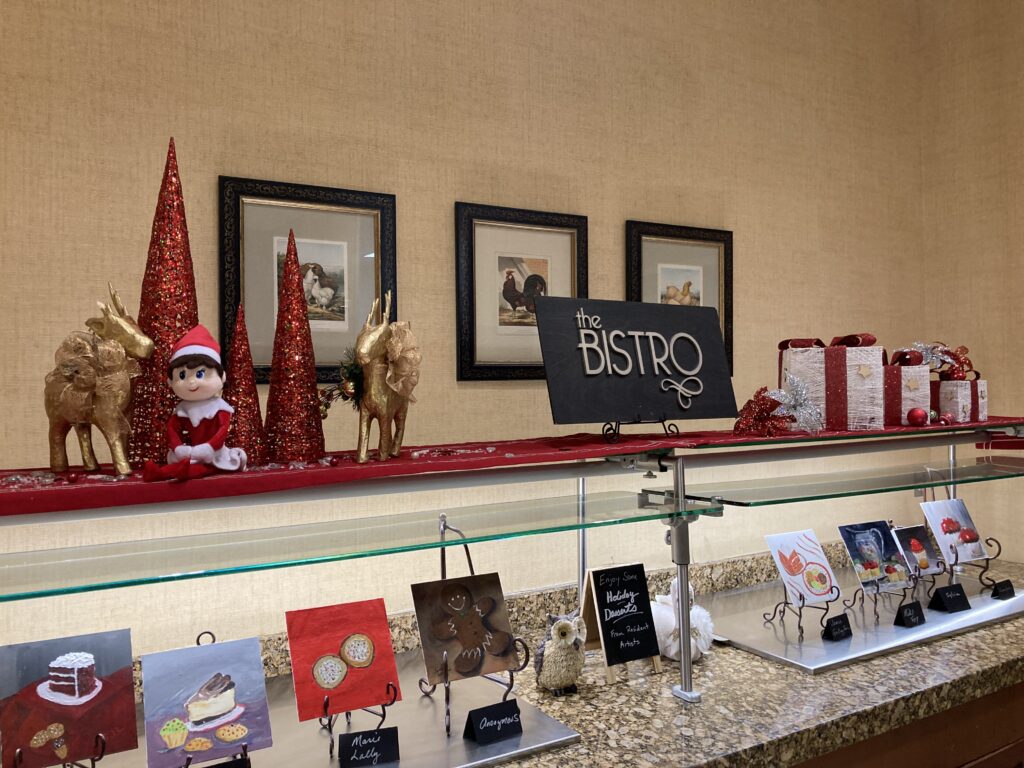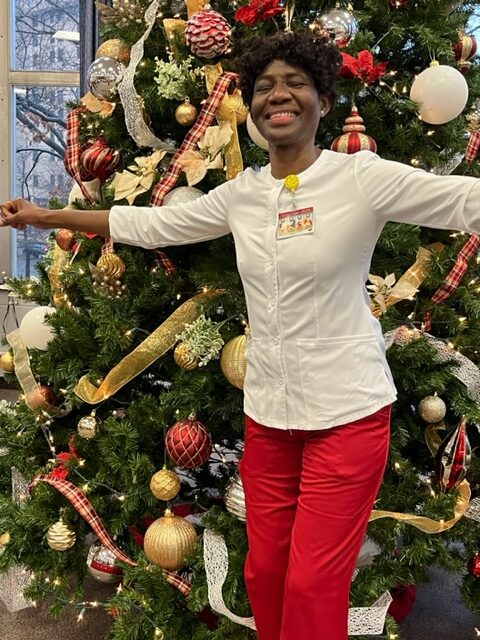 Lighting the Tree and the Menorah
Goodwin House Alexandria (GHA) and Goodwin House Bailey's Crossroads (GHBC) traditionally kick off the holiday season with tree lighting ceremonies at the beginning of December.
This year, GHA extended their tree lighting festivities to include a holiday art sale (filled with ornaments, cards, toys and home goods created by residents), a gingerbread house-making competition, and a blessing of the crèche by chaplain Rev. Bruce Stewart.
At GHBC, carolers sang a variety of holiday tunes from traditional Christmas carols to Hanukkah songs, to songs from around the world. Clinical Pastoral Education Director Liz Pomerleau offered a blessing for the tree before the lights were lit.
At The View Alexandria (TVA), residents celebrated the first night of Hanukkah by gathering to light the first candle of Hanukkah and sharing songs and traditional Jewish foods.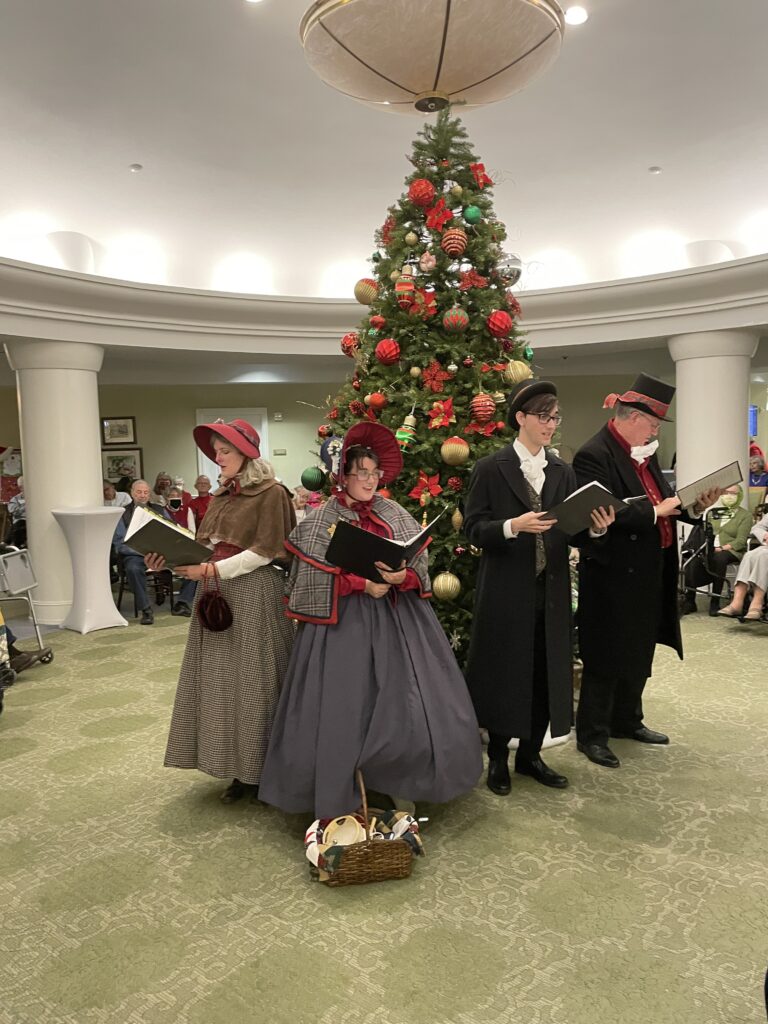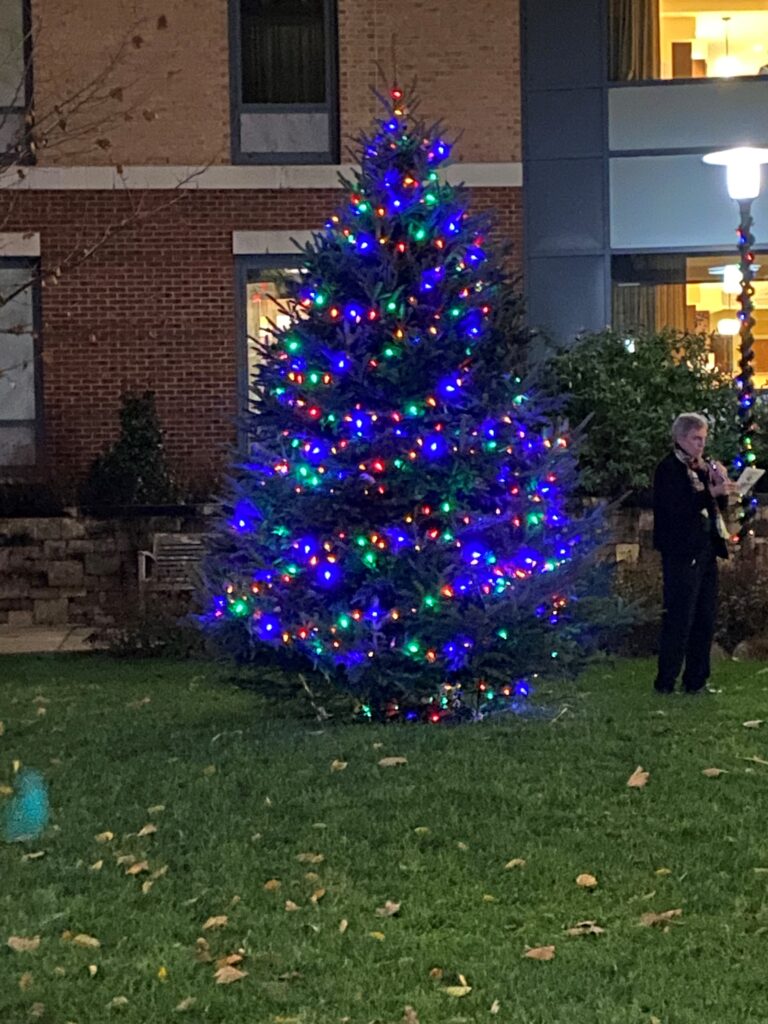 Making Merry with Music
Many residents eagerly anticipate their favorite holiday activity each year—the concerts!
"We often hear December is their favorite time of year, as we bring in a variety of musical concerts," shared Elizabeth Whitehouse, GHBC cultural arts and events manager.
"Residents at GHA really enjoy all types of music and musical programs," agreed GHA Events Coordinator Jennifer Bennett, "especially ones where they can sing along."
Resident singing groups, professional musicians and community music groups provide musical entertainment to residents throughout the holiday season. Fan favorites are the Alexandria Symphony Orchestra Brass Quintet at GHBC, the Singing Seniors resident concert at GHA, the Annual Holiday Brass Quintet Concert at GHBC (sponsored in partnership with Goodwin Living At Home), and visits from local children's groups to sing carols at GHA.
TVA residents enjoyed a sing-along around the tree as part of their Holiday Program, an event which included residents from different cultural backgrounds and times sharing their memories of family holiday traditions.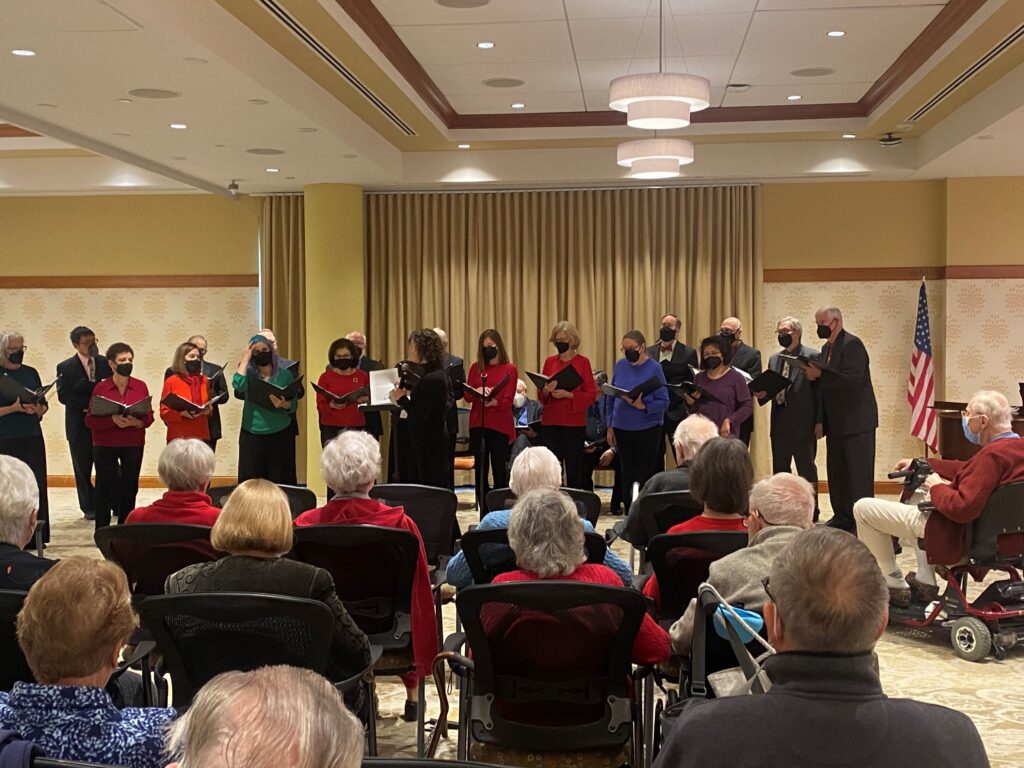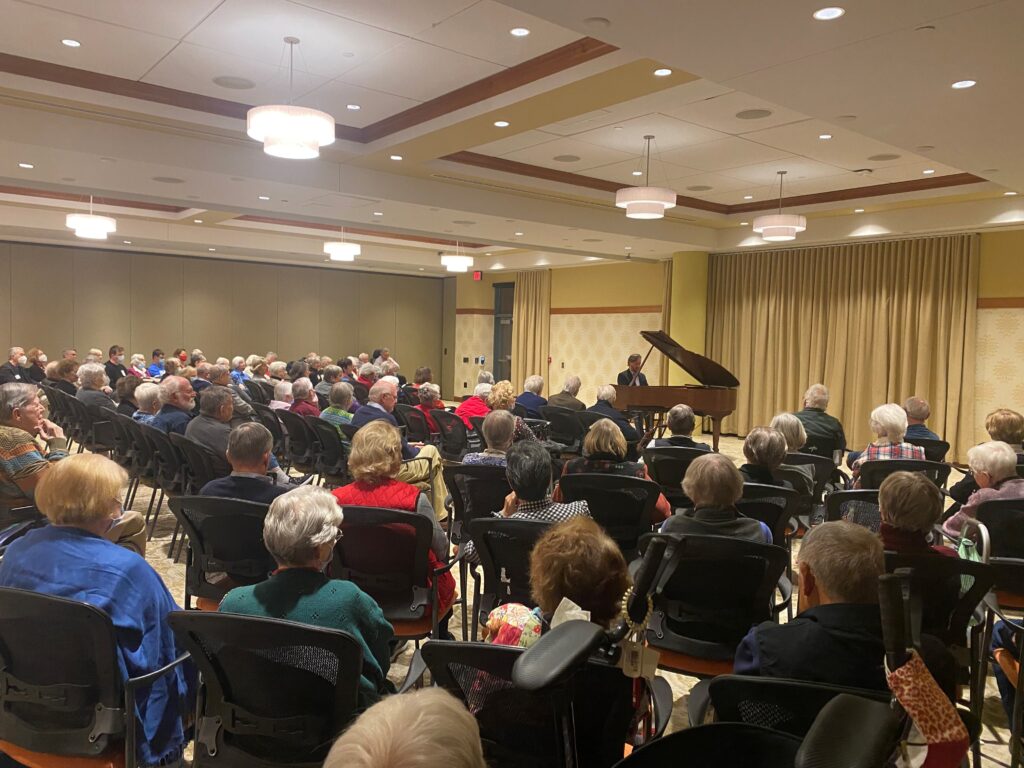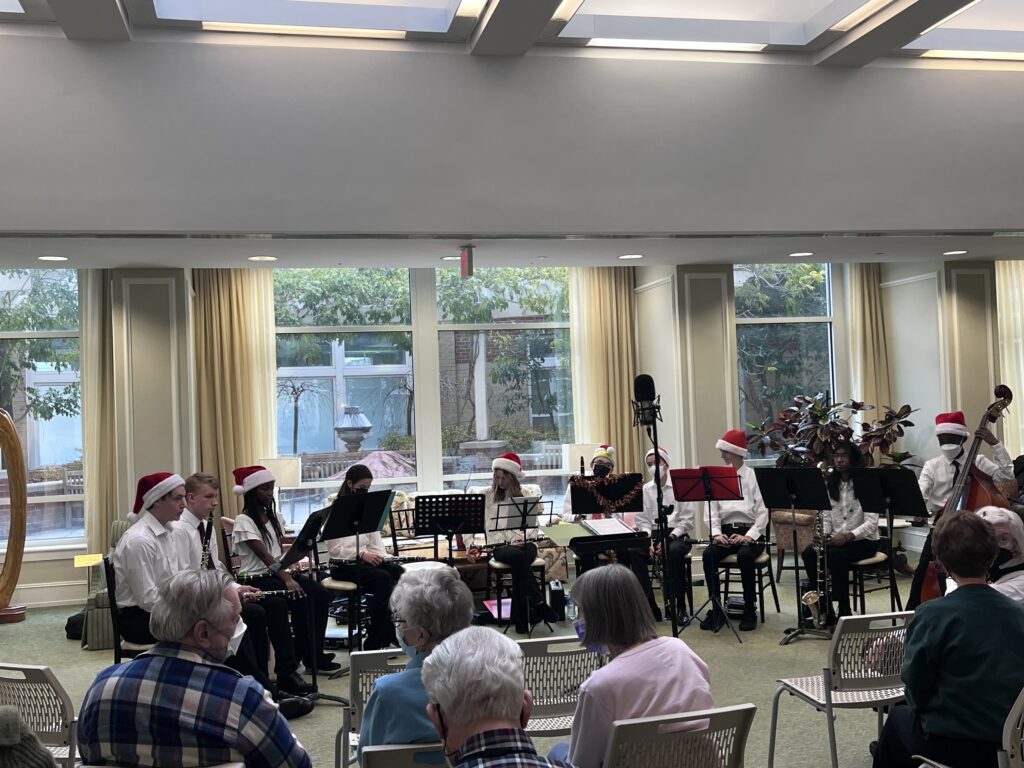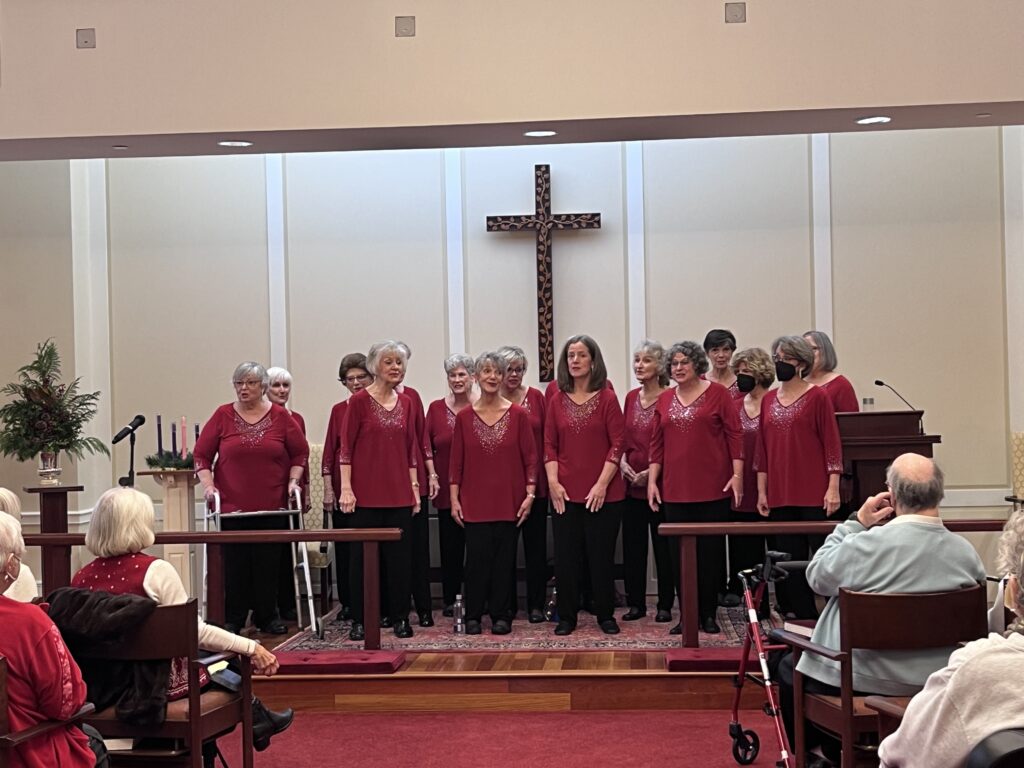 Ringing in the New Year
The Life Enrichment teams' busy season of holiday events concludes with a lively New Year's Eve celebration. GHBC resident Dr. Ben Wilmot entertains residents with his piano skills while everyone enjoys a glass of champagne. GHA residents dance to the tunes of a jazz band before toasting the New Year. TVA plans to enjoy a London-themed celebration centered around 12:00 a.m. Greenwich Mean Time (7:00 p.m. EST), watching the countdown and fireworks show in London streamed live on the BBC over YouTube.
With all these celebrations, the Life Enrichment teams ensure that everyone on our campuses enjoys a happy holiday season and shares in joy that carries us well into the New Year.
_________
As Marketing & Communications Specialist, Amanda Ranowsky partners with colleagues throughout Goodwin Living to tell our stories and raise brand awareness. From printed collateral to digital marketing, Amanda covers many bases. Before joining Goodwin Living, Amanda worked for a small, family-owned business where she gained experience in content marketing. Amanda's creative expression extends beyond the office. She is an active member of community theater and chorus groups.