Staff Stories - July 31, 2023
LeadingAge Internships at Goodwin Living
By Timaeus Reed
At Goodwin Living, we design our internships to shine light on the vast career opportunities within senior living and healthcare. As a member of LeadingAge, we've expanded our internships even further to promising students from all across America who seek a fun, fulling and educational experience at the #1 Washington Post Top Workplace in 2023  and a Top 100 Employer for Internships.
Leading Age Summer Engagement Program provides leadership opportunities for students in senior living and healthcare who are representative of the diversity and innovation in society. Interns in the program receive mentors, enjoy meaningful work and gain access to a professional network to assist help reducing barriers to leadership roles within the field of aging.
As part of our summer cohort, intern Leeanna Treadwell signed up to enjoy a unique opportunity unlike any intern before her. While most interns experience working at one of our campuses for a few hours a week, Leeanna engaged in a full immersion program. She lived at The View Alexandria (TVA), one of our senior living campuses, for the summer!
We were also pleased to welcome a second LeadingAge intern to TVA. Though not living on campus, Sontaey Jones's administrative internship included supporting projects across multiple areas of Goodwin Living during the summer, rather than one department. Sontaey's goal was to better understand the complexities of people management, the importance of presence and building relationships as a leader and the dedication it takes to stay committed to a company mission.
As we near the end of their time with us, we touched base with Leeanna and Sontaey to talk about their experiences and what they gained from it.
Meet LeadingAge Intern Leeanna Treadwell
From Tallahassee, Florida, Leeanna will graduate from Florida Agricultural and Mechanical University (FAMU) with a bachelor's degree in healthcare case management in August. Outside of work,  Leeanna enjoys working with her hands, putting together jigsaw puzzles, traveling, playing board games, knitting and spending time with family and friends.
When we offered Leeanna the chance to have housing as part of her summer internship experience, she gladly accepted. Leeanna moved into a studio apartment, the very same type of apartment that residents enjoy. Over the course of her 10-week program, Leeanna would engage in the work part of her internship experience, then continue to stay on campus where she enjoyed dinner with TVA residents.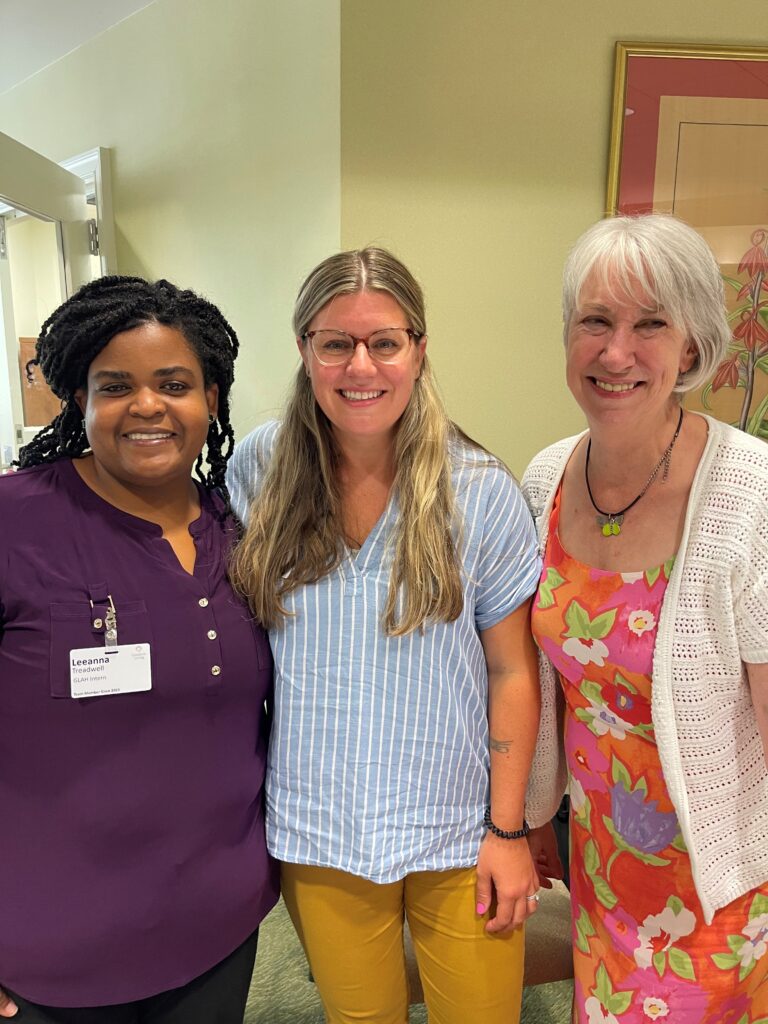 While staying on campus at The View Alexandria for the summer, Leeanna interned with the off-site Goodwin Living At Home (GLAH) team to help older adults who choose to age in their own homes. GLAH is a membership-based age-in-place program that offers an alternative solution for those who prefer to stay put rather than move into a senior living community. Leeanna assisted the GLAH team as they welcomed new members to the program, and along the way, she learned more about the wide range of Goodwin Living services.
"Meeting new GLAH members has had such an impact on me," Leeanna said. "These are amazing people who have accomplished so much in their lives, and I am grateful they crossed my path. I've met World War II and Vietnam War veterans, retired medical professionals, lawyers, educators, journalists, police enforcement and the list goes on. I shall always regard each day as a treasure."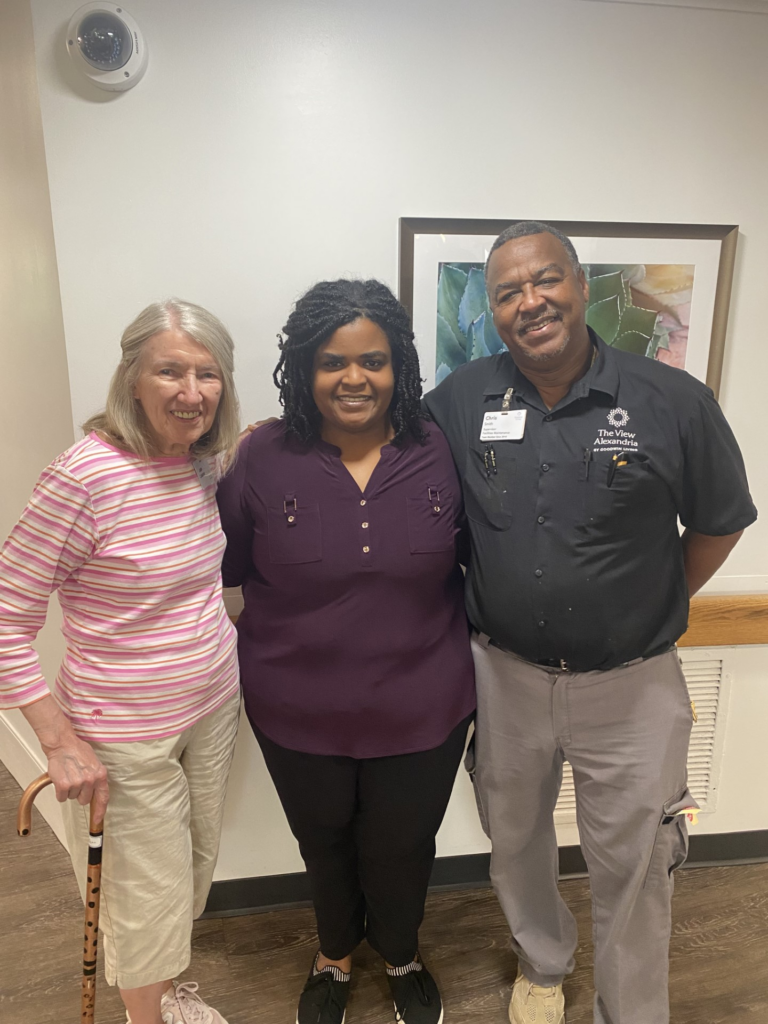 Meet LeadingAge Intern Sontaey Jones
Sontaey is pursuing her master's degree in healthcare administration at The George Washington University. She also received a bachelor's degree in biology with a specialization in neurobiology and a minor in business administration and management at Boston University. During the pandemic, Sontaey honed her interest in macrame and baking. When she isn't serving delicious white chocolate brownies and vanilla poundcake, Sontaey enjoys long walks along the National Mall.
Sontaey was drawn to an administrative internship at TVA because of the recent acquisition into Goodwin Living. She wanted to see first-hand how such a transition works. During her time with us, Sontaey supported TVA Executive Director Josh Bagley and Director of Nursing Stephanie Howard with several projects. Beyond that, Sontaey collaborated with other departments including Life Enrichment, Human Resources and Dining Services teams. This tapestry of experiences radically changed Sontaey's perspective on senior living and healthcare.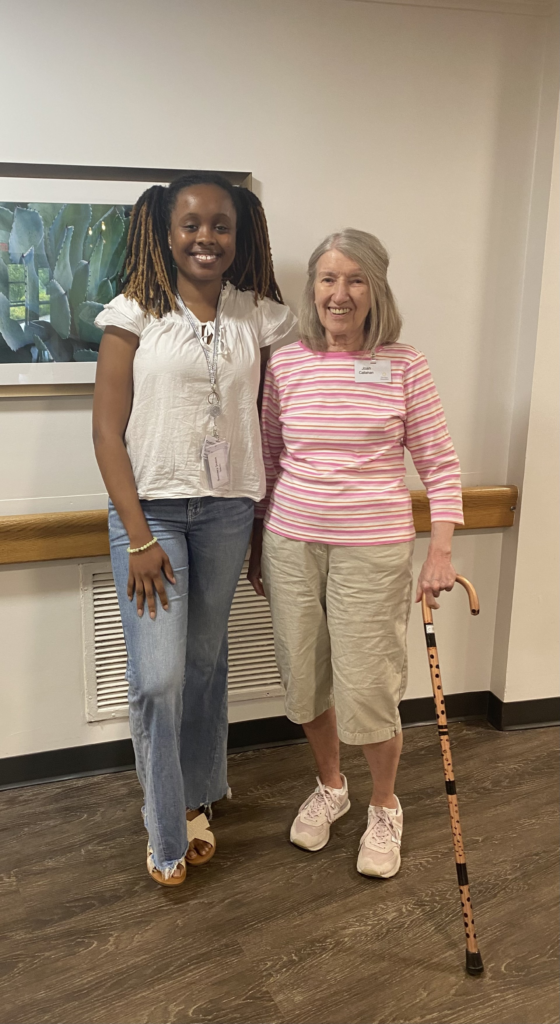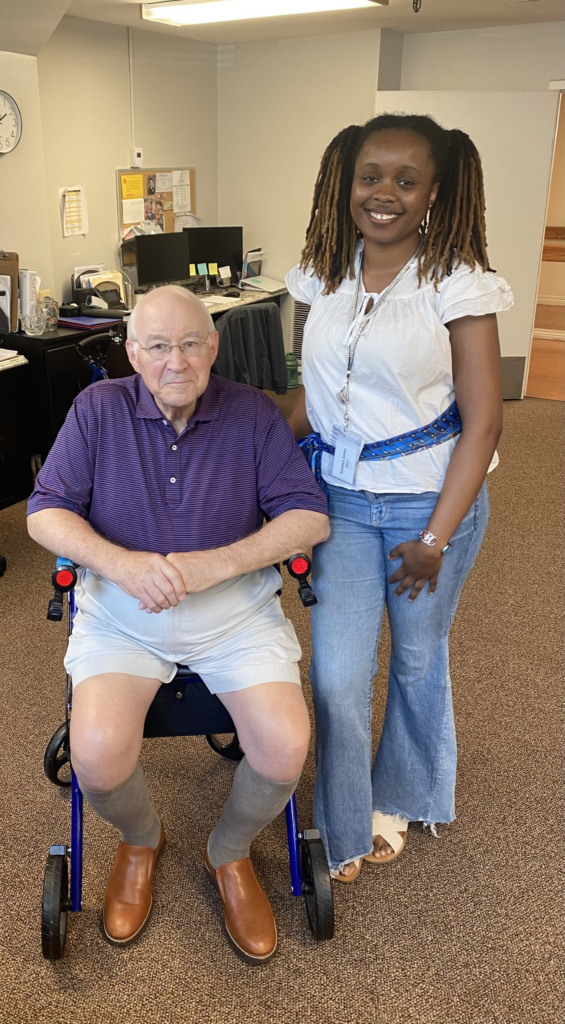 "Prior to this internship, I had minimal knowledge of senior living, and I did not think I would want to pursue a career in this sector of healthcare," Sontaey said. "My experience at Goodwin Living has opened me up to the possibilities of senior living. The Goodwin Living model is something that other long-term care providers could consider utilizing, especially since Goodwin Living successfully maintains quality of life for residents and ensures team member satisfaction. Goodwin Living provided me with evidence and hope that long-term care does not have to be 'the end' for older adults; it can be a new beginning."
Explore New Career Opportunities. Intern at a Top Workplace
Since 2019, Goodwin Living employees have voted us as a Top Workplace. We're proud to thrive in a diverse and dynamic work environment where everyone has a voice. People Engagement Manger Zoe Marcuse continues to introduce more emerging professionals like Leeanna and Sontaey to senior living and healthcare. We owe our success with the Leading Age Summer Enrichment Program, in large part, to Zoe's leadership and the generous donors to the Goodwin Living Foundation. In one year, Zoe substantially expanded a new Goodwin Living Internship program, and she's just getting started. With our internship programs growing, we look forward to supporting the next generation of leaders however we can. And we will eagerly watch as Leeanna and Sontaey enter the workforce and continue to make contributions to their careers.
Want to learn more? Check out other internship and staff stories on our blog. We welcome people of all backgrounds to find more internship opportunities year-round on our website or explore any of our open positions.
_________________________________________
Timaeus Reed is a Marketing and Communications Specialist at Goodwin Living. He plans, writes and designs for internal and external campaigns that support all areas of the organization. He relocated to D.C. to join the team in the summer of 2021. When he isn't getting lost in traffic, Timaeus loves listening to live Go-Go music and stand-up comedy.