Live with Purpose - April 22, 2021
How Senior Living Can Help Restore Our Earth
By Amanda Ranowsky
Climate change captures much attention. It is an issue that engages many of us in great debates as to cause, effect and what to do about it. As we recognize Earth Day, a global effort to drive positive action for our planet, we're taking a look at the efforts Goodwin Living Incorporated and residents of our Life Plan Communities have taken toward lessening the footprint of our environmental impact.
Why Climate Change is Important
At Goodwin Living, we focus on the health and wellbeing of our community members—residents, members, staff and all those we serve. Climate change threatens our health, and older adults are especially vulnerable to the health impacts of climate change. That's why we commit to doing our part to affect environmental change and sustainability.
We also aspire to support multiple generations, those of today as well as those of the future. Part of our collective legacy is ensuring we can leave the world a better place.
A Short History of Earth Day
Modern efforts to address damage to the environment began in 1962, when Rachel Carson's New York Times bestseller "Silent Spring" was published. The book raised awareness and concern for the environment and the links between pollution and public health.
This awareness grew into a movement. In 1969, following a massive oil spill in Santa Barbara, California, Senators Gaylord Nelson and Pete McCloskey began a bipartisan effort to organize events to educate people about the environment. This effort led to the first Earth Day on April 22, 1970. It also resulted in the creation of the Environmental Protection Agency and the passage of critical environmental laws such as the Occupational Safety and Health Act and the Clean Air Act.
Eventually, the national movement became a global one. Earth Day continues to be recognized every April 22nd around the world.
The theme for Earth Day 2021 is Restore Our Planet™, and each one of us can make an individual effort toward this goal. EarthDay.org suggests 51 actions you can take. Senior living organizations like Goodwin Living can also contribute toward positive change on an organizational level, to exponentially greater effect.
Organizational Efforts Toward Sustainability
At Goodwin Living, we have undertaken organization-wide initiatives to reduce our carbon footprint. Goodwin Living is mindful of the impact our life plan community buildings – Goodwin House Alexandria and Goodwin House Bailey's Crossroads – have on the environment. We seek ways to lessen these effects through renovating our buildings and updating our processes.
The Goodwin House Alexandria (GHA) Small House building, which opened in June 2017, was designed and built specifically to be LEED Certified. There are four possible ratings: Certified, Silver, Gold or Platinum. The GHA Small House building is Silver LEED Certified.
GHA is also working toward LEED Certification for its original buildings. "Getting an existing building certified isn't a quick or easy job," said Dave Baker, administrator of operations for GHA, "particularly for buildings such as ours that were built in the 1960s and 1990s."
"An important first step," Dave continued, "is to focus on converting conventional appliances, lighting, infrastructure equipment and anything else that meets federally mandated guidelines regarding energy efficiency to those that are Energy Star Rated. We continue this work whenever we make improvements."
GHBC is also making an effort to invest in Energy Star and energy-efficient lighting and appliances as existing units wear out. "We are working to reduce the carbon footprint at GHBC," said Chris Floyd, director of facilities management at GHBC. "While we are not pursuing LEED Certification for our buildings at this time, we are always mindful of the environmental impact that our purchases and policies can have."
Green Roofs Help the Environment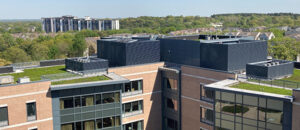 One component of the GHA Small House LEED Certification process was installing a green roof, which offers environmental benefits while also offering a pleasing view for residents to enjoy year-round from their apartments.
A green roof is a layer of vegetation planted over a waterproofing system that is installed on top of a flat or slightly–sloped roof. Green roofs help to insulate the building, reducing the need for air conditioning and heating, which in turn reduces greenhouse gas emissions. Green roofs can also help control storm water runoff and retention.
GHA embraced the green roof concept years before pursuing LEED Certification for the new Small House. A green roof was installed on the East Wing extension of the Original Building during renovations in 2012-2013.
Reducing Waste: Recycling, Composting and Reusing
Goodwin Living has significantly reduced the amount of waste we send to landfills. We have done this through a commitment to recycling, switching to reusable products where possible and implementing a composting program.
Our current recycling program has been in place for more than ten years. We use single stream recycling, which has allowed us to increase our volume. We also make it easy for residents to participate.
"Residents are active at both communities with recycling, which has helped us to reduce waste," said Theresa Thomas, corporate director of environmental services for Goodwin Living. "We have recycling containers on every resident floor, and two, eight-yard containers at GHBC and one at GHA are collected daily."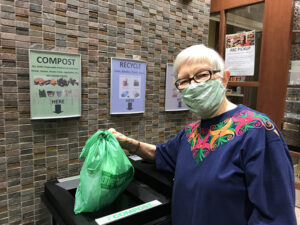 In late 2019, Goodwin Living began a partnership with Compost Crew, a locally-owned composting business operating out of Rockville, Maryland. This initiative took off when Rob Liebreich, an avid composter, joined Goodwin Living as president and CEO. Rob's experience with composting met with the enthusiasm of Goodwin Living residents who advocated for change and led us to partner with Compost Crew. As of March 2021, Goodwin Living has diverted more than 300,000 pounds of waste from landfills through composting alone.
Goodwin Living has consistently sought ways to swap out plastics and un-recyclable paper products for reusable or compostable ones. In April 2020, both communities began using reusable takeout boxes that are collected after meals, then cleaned and disinfected before being used again. When the reusable containers cannot be used, both communities strive to use compostable containers or products made with post-consumer recycled materials.
Residents Advocate for the Environment
Many Goodwin Living residents actively advocate for environmentally-friendly initiatives.
In 2005, GHBC residents formed "The Green Team", a committee committed to supporting a variety of environmental causes. Officially chartered in 2008, The Green Team serves a mission to "raise awareness among residents and staff of ways that personal and collective practices can contribute to a more sustainable future for the earth, to educate and to affect decisions and policies within the GHBC community."
In addition to spearheading the composting initiative at Goodwin Living, the Green Team has made many efforts to educate residents and staff about environmental issues and to implement other environmentally-friendly practices. When Fairfax County discontinued curbside glass recycling in October 2019, The Green Team organized resident volunteers to monitor separate glass collections on all resident floors and to drive those glass bottles and jars to the nearest county glass dumpster. Prior to the pandemic, the Green Team would also sponsor a monthly movie screening that featured environmental topics.
The GHA Green Team has made similar efforts, even though it was officially discontinued in 2019. Residents remain active in ongoing green efforts. Jim Carroll has been an active member of the Green Team throughout his 16 years at GHA and continued publishing a monthly newsletter on environmental topics until as recently as March 2021. He talked about the ways other resident committees continue to address environmental issues.
"The green space here has always been an important part of our life and our image," he said. "We have a resident grounds committee that has a say in how our grounds are managed. As climate change takes its toll on our trees, for example, the grounds committee chair has been working with a forestry consultant and arborist to develop a plan that considers the impact of climate change. Planning is often the key to sustainability."
Building a Sustainable Future
Individual and organizational efforts alone will not solve climate change. It will take a global, coordinated effort to do that. That doesn't mean that we shouldn't take action.
Indeed, international efforts should be paired with individual efforts in order to truly make a difference. "The world is at a tipping point where, as a planet, we realize how dangerous things are, and are starting to make changes in how we live," said Mr. Carroll. "The good news is that we're waking up. The bad news is that we're not doing it fast enough."
Goodwin Living is committed to doing its part to promote a healthy environment that, in turn, promotes the health of the people living in it. By composting, recycling and designing and converting our buildings to be more energy efficient, we are already making great strides toward this goal. On this Earth Day, we encourage you to learn more about how you can become more eco-conscious and contribute to the call to Restore Our Planet™.
________________________
As Marketing & Communications Specialist, Amanda Ranowsky partners with colleagues throughout Goodwin Living Incorporated to tell our stories and raise brand awareness. From printed collateral to digital marketing, Amanda covers many bases. Before joining GHI, Amanda worked for a small, family-owned business where she gained experience in content marketing. Amanda's creative expression extends beyond the office. She is an active member of community theater and chorus groups.