News - August 23, 2023
FOR IMMEDIATE RELEASE
CONTACT:  Elizabeth Bement | 703-915-5830 | Elizabeth.bement@finnpartners.com
Heart Church Visits The View Alexandria for Sunday Worship and Service Activities
Alexandria, Va. – Clergy, music ministry leaders and members of Heart Church visited The View Alexandria by Goodwin Living™ on Sunday, July 30 to participate in the Sunday worship service and contribute their time to service activities on The View Alexandria campus. The visit was part of Heart Church's fifth Sunday service project, where the church undertakes a community outreach project when there is a fifth Sunday in each month. Heart Church is based in Alexandria and worships on Sunday mornings at the Northern Virginia Community College (NVCC) campus in Alexandria.
Heart Church Pastor Merrick Deans delivered the homily message during the service, which was officiated by The View Alexandria chaplain Kathy Howell. Heart Church Music Ministry Contributor Patrick King took to the piano to sing several hymns, including a beautiful rendition of Amazing Grace.
"What a delight it was to have Paster Merrick and his congregation here to join residents of The View Alexandria in worship," said Howell. "We are humbled and grateful for this wonderful approach that Heart Church has to serving others on the fifth Sunday of the month."
"When our church started gathering at NVCC Alexandria we desired to not only be in the community, but to also be in community with our neighbors," said Pastor Merrick. "Heart Church's fifth Sunday service projects are a great way for us to accomplish that."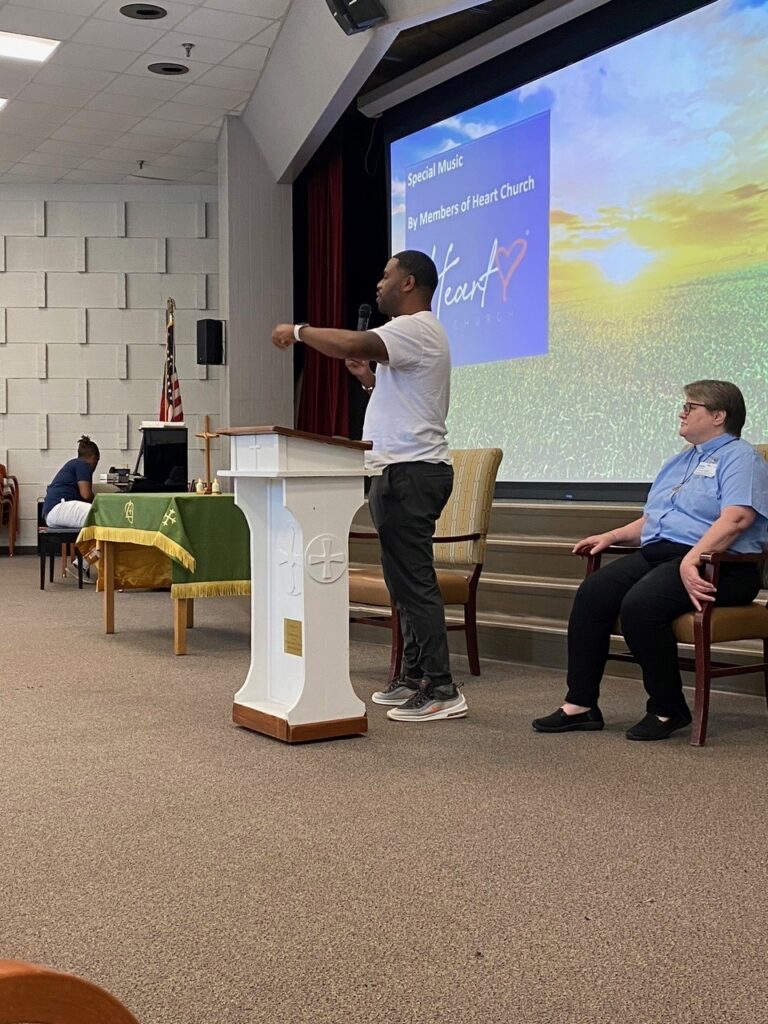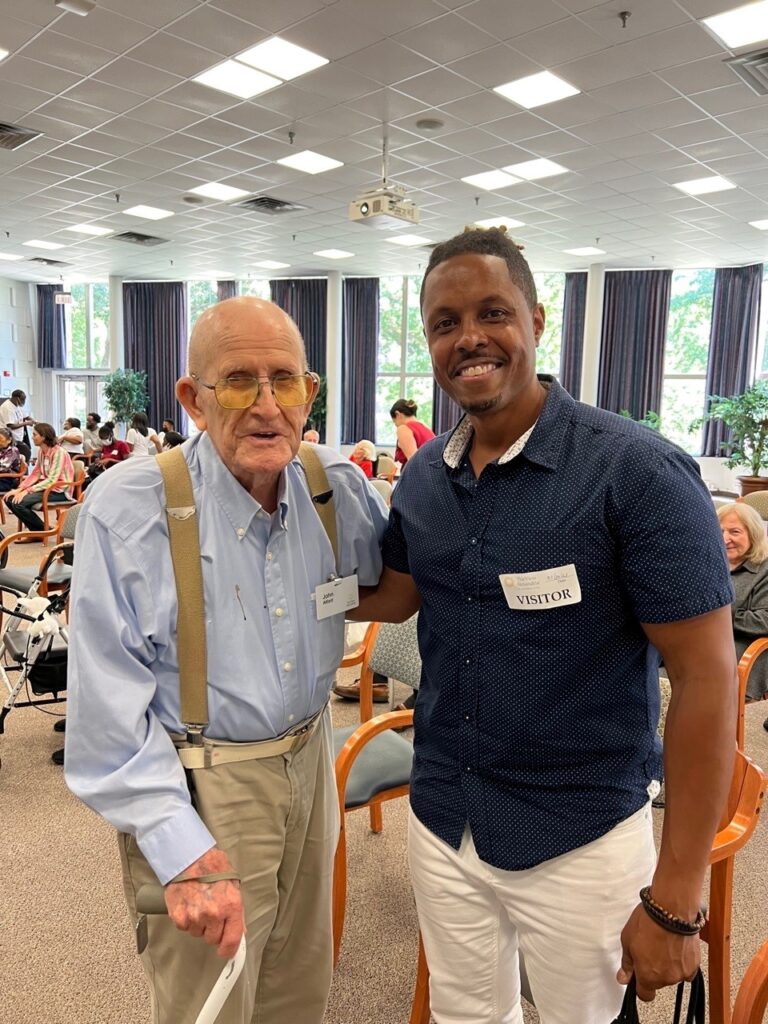 Following the worship service, the Heart Church team divided up, with some cleaning and organizing storage rooms at The View Alexandria storage rooms and others painting and improving the primary entryway to the Benjamin M. Smith Health Care Center.
For more information about Goodwin Living please visit GoodwinLiving.org.
_________________________________________
About Goodwin Living™ (goodwinliving.org):  Goodwin Living™ touches the lives of thousands of people every day through its range of senior living communities, specialized healthcare services, community partnerships and philanthropic endeavors. With a mission to support, honor and uplift the lives of others (specifically older adults and those who care for them), Goodwin Living leads the way in expanding the places and ways we can all thrive and find purpose as we age. Older adults will discover options that meet them where they want to be, and those options are managed and provided by team members who represent more than 65 countries. Goodwin Living has been a Washington Post Top Workplace for five consecutive years and was named the #1 Top Workplace for 2023. Get more information at GoodwinLiving.org or by following Goodwin Living on Facebook, Instagram and LinkedIn.
About Heart Church (https://heartchurchva.org/):
For the better part of 15 years, Pastors Merrick and Tiffany Deans faithfully served under the leadership of their beloved pastor and father, Bishop Leonard N. Smith. Under his covering, both were licensed and ordained while leading in a number of ministry capacities. After receiving his blessing and guidance to pursue their call to plant, our pastors planned out and prayed for what would become Heart Church. Under the direction of God and vision of Pastor Merrick, our founders planted Heart Church, in October 2021, hosting a vision-casting gathering with 10 volunteers and 25 attendees. After a number of outreach and connection events, Heart Church officially launched in June 2022 with a growing community of over 100 believers desiring to draw closer to God and others!