News - March 6, 2023
FOR IMMEDIATE RELEASE
CONTACT: Zoë McMahon | 703.405.1895 | Zoe.McMahon@FinnPartners.com
Goodwin Living™ Names Ben Marcantonio as Vice Chair of the Board of Trustees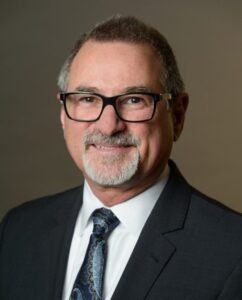 Alexandria, Va. – Today, Goodwin Living™, a not-for-profit, faith-based, senior living and health care services organization in the National Capital Region, announced that Ben Marcantonio has been elected Vice Chair of its Board of Trustees. Marcantonio is the Chief Operating Officer and Interim CEO at the National Hospice and Palliative Care Organization (NHPCO). He brings more than three decades of leadership experience in educational, healthcare and social service settings. He succeeds Thomas West, Senior Partner with Signature Estate and Investment Advisors, in the position.
"Since 1998, when we established Goodwin Hospice and Goodwin House Home Care, we understood the need to serve people in ways that reach beyond housing. Today, Goodwin Living is honored and proud to serve thousands of Northern Virginia and Washington, D.C., based older adults, and as we grow our focus on providing quality support to those living in the broader community, we need clear leadership and wisdom, and are very grateful for Ben's interest and engagement with our Board of Trustees," said Goodwin Living President and CEO Rob Liebreich.
"I am privileged to serve on the Goodwin Living Board of Trustees and to be asked to step into the role of Vice Chair for the Board of Trustees is truly an honor," said Marcantonio. "I am excited to serve with C.C. Clark, our new Board Chair, and the other Board Trustees to carry out the mission of Goodwin Living by planning for the future and meeting the needs of the present through the Goodwin Living retirement communities, programs and services."
Marcantonio has served on the Goodwin Living Board of Trustees since 2021. For the past two years, he has served as the as Chief Operating Officer of NHPCO. He holds a Master of Science Degree in Counseling from San Diego State University, a Master of Education Degree in Administrative Leadership from the University of San Diego and a Bachelor of Sacred Theology and Philosophy from the Gregorian University in Rome, Italy.
As a faith-based, not-for-profit organization, Goodwin Living has been led by a volunteer Board of Trustees since it opened its first senior living community in 1967. The Goodwin Living Board of Trustees guides the governance and strategic directions of the organization. Today, nearly 2,500 older adults are served daily by three Goodwin Living senior living communities, a federally-assisted nonprofit senior living community and a growing portfolio of health care services supporting older adults who are aging in place in their homes throughout the National Capital Region.
Like Marcantonio, Goodwin Living has a heart for ensuring that every older adult with a terminal diagnosis can benefit from hospice care. Today, Goodwin Hospice serves more than 500 older adults and their families across Northern Virginia. In Spring 2021, Goodwin Living partnered with the National Hospice and Palliative Care Organization (NHPCO) to release a revised version of the Black and African-American Outreach Guide and Goodwin Living continues to build awareness for hospice benefits among diverse communities.
For more information on Goodwin Living, please visit GoodwinLiving.org.
_________________________________
About Goodwin Living™ (GoodwinLiving.org): Goodwin Living™ touches the lives of thousands of people every day through its range of senior living communities, specialized healthcare services, community partnerships and philanthropic endeavors. With a mission to support, honor and uplift the lives of older adults and the people who care for them, Goodwin Living leads the way in expanding the places and ways we can all thrive and find purpose as we age. Older adults will discover options that meet them where they want to be, and those options are managed and provided by team members who represent more than 65 countries. Goodwin Living is a Washington Post Top Workplace for four consecutive years, from 2019 to 2022. Get more information at GoodwinLiving.org or by following Goodwin Living on Facebook and LinkedIn.