Staff Stories - September 12, 2022
Environmental Services: The Unsung Heroes Who Are Critical to Our Every Day 
By Amanda Ranowsky
In almost every organization, there is a team that is absolutely essential, whose work would be quickly and sorely missed if it went undone. Who are they? Environmental Services.
At Goodwin Living, our Environmental Services team stood on the front lines of the pandemic, preventing the spread of COVID-19 on our surfaces. And though they deserve celebration and recognition every day, we take the opportunity of International Housekeepers and Environmental Services Week to shine a light on the people who keep our communities looking their best.
I spoke with three longstanding members of the Goodwin Living Environmental Services teams to learn more about the important work they do and why they have devoted their careers to this important service.
What is Environmental Services?
Tinia McNeely is the Environmental Services Manager at Goodwin House Bailey's Crossroads (GHBC). In her role, she manages all the housekeepers and floor technicians who make up the Environmental Services team.
Housekeepers clean and sanitize resident apartments and public spaces on our campuses. They often work in specific areas – public spaces, Independent Living apartments, Assisted Living apartments or Health Care Center apartments – though they cross-train to ensure they can help in other areas as needed.
Floor technicians have a variety of responsibilities. In addition to cleaning the floors (which can involve shampooing carpets, buffering hardwoods, vacuuming and sweeping), floor techs also help set up and break down areas for events and move furniture. "I hired two extra floor techs to help sanitize high-touch areas during the pandemic," said Tinia. As the final step in our cleaning protocols, the floor techs would come in with the Solaris Lybot, a tool that uses UV light to sanitize. "My crew were front and center!" she proudly exclaimed.
Tinia McNeely, GHBC Environmental Services Manager for Housekeeping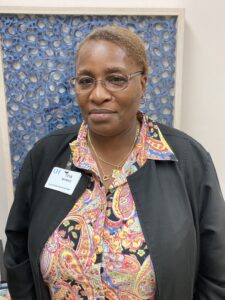 For Tinia, cleaning is a calling. "My mother had five girls, and out of her five girls, she used to say I was the cleaner," said Tinia. "She said all of us had their niche. Mine was cleaning."
She tried office jobs, including as a telephone operator for Verizon, but didn't feel suited to that type of work. "I'm not a sitter," she said. "I always got into trouble because I was supposed to be at my desk. My supervisor would find me somewhere else and say, 'you have to stay at your station'. The office setting just wasn't for me."
She then worked for a retirement community in Ashburn, Virginia, and discovered she liked working with older adults. When she came to Goodwin Living in 1987 as a housekeeper at GHBC, her hours were planned around her young son's schedule. With a shift from 8:00 a.m. to 4:00 p.m., Tinia could put him on the bus in the morning and pick him up from his school's after school care in the afternoon.
While she initially planned to stay at Goodwin Living for only two or three years, Tinia found a home here. "I put everything I have into my work because I love what I do," she said. "People say this is my first home instead of my second home."
Over the years, Tinia progressed from housekeeper to department trainer, then team lead, then housekeeping supervisor. In her current role, she oversees the entire Environmental Services department at GHBC.
Her role as a manager doesn't stop her from being hands-on. "My favorite part about my current role is being on the floor," she said. "I like to be out there with my team leaders and let them know, 'I do the same thing that you all do.' Working along with them, that's how you earn respect from your employees. And I want to make sure I keep that going!"
Magana Jean Baptiste, GHA Housekeeper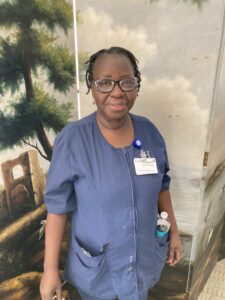 Magana Jean Baptiste, a housekeeper at Goodwin House Alexandria (GHA), also likes being out and about in her role. During most of her more than 20-year tenure at Goodwin Living, she worked in the Assisted Living area on campus. Today, she fills in wherever she is needed across the campus. "I like it," she said. "You keep moving. It's good exercise!"
Magana moved to the U.S. from Haiti 28 years ago. She worked in a nearby nursing home for four years before a friend who worked at GHA encouraged her to join Goodwin Living. She hasn't looked back.
"I don't like to go from job to job," she said. "I have friends working here. My boss is a nice person; I like her very much. And everything you need to work is right there."
The pleasant work environment is augmented by good relationships with the residents.
"My favorite part about working at Goodwin Living is the residents," said Magana. "The residents are very nice. Any time you see them, they always say 'thank you for what you do for us!'"
Vicky Gonzalez, GHA Housekeeper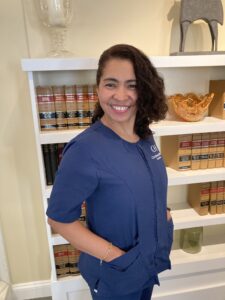 Vicky Gonzalez, another housekeeper at GHA, shares Magana's affinity for the residents. "My favorite part about my job is greeting the residents when you come inside their apartments," she said. "I like it when I go in the apartments and see the people there, smile at them and have them smile back at me. It makes me happy."
"You find love and you give love, too," she continued. "I appreciate feeling they are a part of my life, and part of my family."
Vicky moved to the U.S. from El Salvador in 1997. She joined Goodwin Living in 2006 after having working in various customer service and housekeeping roles at local hotels and museums. When she came to Goodwin Living, she wanted full time work with secure hours as well as benefits. "Here, I receive all that," she said. "This is a better place for me to be. Here, you find a lot of opportunities to grow and develop for everybody who is interested in challenges and would like to do something different. I stay in what I am doing because I like it."
Giving 100%
Sharing a love of their work, Tinia, Magana and Vicky find satisfaction in giving their all to their roles and their team. "I like to help people," said Magana. "I'm not one of those who go, 'this is not my job'. If the job has to be done, we get it done. Everybody is working together."
"My goal is to do the best of my ability," said Vicky. "I make the residents happy doing my best. They appreciate what I do."
"My father told us, it doesn't matter what job you're doing; whether you're digging ditches or cleaning toilets, you give it 100%," said Tinia. "You give it all you got. Then you turn around and look at a job well done."
Tinia knows the importance of the work Environmental Services team members do. "If my team members feel people don't respect them because they're in Environmental Services," she continued, "I tell them, it's because of you that your coworkers, colleagues and bosses come into a clean environment. That speaks a lot of value to you. I don't feel that perception. I feel my job is just as important as any other job."
As we recognize International Housekeepers and Environmental Services Week, we thank Tinia, Magana, Vicky and all of the Environmental Services team members at Goodwin Living for their care and dedication in keeping our campuses clean!
______________________
As Marketing & Communications Specialist, Amanda Ranowsky partners with colleagues throughout Goodwin Living to tell our stories and raise brand awareness. From printed collateral to digital marketing, Amanda covers many bases. Before joining GHI, Amanda worked for a small, family-owned business where she gained experience in content marketing. Amanda's creative expression extends beyond the office. She is an active member of community theater and chorus groups.