Diversity Equality Inclusion - October 30, 2020
LGBTQ History Month

(Lesbian, Gay, Bisexual, Transgender and Queer)
by Carol Lewis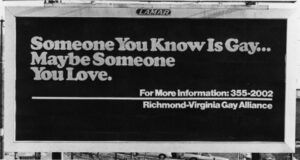 In 1987, the Richmond Virginia Gay Alliance put up this billboard to let the public know that Richmond's LGBTQ people and community should not be invisible. The billboard opened eyes and doors. It freed the voices of LGBTQ people and those who loved them. It enabled them to speak about hiding who they were. The response was overwhelming.
The history of LGBTQ people goes back farther than 1987. Because LGBTQ people have always belonged to all races, ethnic groups and religions, they are not a homogenous group. Young LGBTQ people need role models and community. Those who are not LGBTQ, we need to know this history because it is our history too, and knowledge brings us closer to total equality.
LGBTQ individuals and their contributions are often hidden, disparaged, untaught and condemned. Their actions and impact don't count because, like many marginalized groups, they don't count. Yet LGBTQ history is alive with magnificent contributions in art (Rob Esptein, Oscar-winning Director), science (Ann McClain, NASA Astronaut), literature (Emily Dickinson, Poet), music, dance, politics (Angie Craig, U.S. Representative of Minnesota) and civil rights (Felicia Alizondo, Transgender Activist).
Started in 1994 by Missouri high-school history teacher Rodney Wilson, LGBTQ History Month seeks to provide role models, help build communities and support civil rights. October was chosen because October 11 was already recognized as Coming Out Day.
LGBTQ history has its own story of civil rights. It is a story of the struggle of a disparate group of people who want only to be accepted for who they are. Early movements in the 1960s and 1970s, including the Stonewall Riots in 1967, focused on liberation. Subsequent movements took up causes such as marriage equality (2015) and protections against discrimination in employment (2020).
Recognizing the importance of being a place of welcoming and belonging for everyone, Goodwin Living Incorporated engaged in training to become SAGE certified. SAGE (Services & Advocacy for GLBT Elders) is an organization that provides advocacy and services for LGBTQ elders. SAGE trained Goodwin Living staff in awareness and how to address the special needs of LGBTQ residents. The Certification signifies that GHI is a welcoming and accepting community for LGBTQ residents and staff.
At GHBC, residents recognized LGBTQ History Month by displaying slides of well-known people who just happened to be LGBTQ, and events or organizations that had an impact on our culture and country. Slides featured the following: Bayard Rustin (activist), James Baldwin (author), Mary Oliver (poet), Gene Robinson (bishop) and Danica Roem (delegate), the Stonewall Uprising, the Matthew Shepard Foundation, the AIDS Memorial Quilt, Marriage Equality Act and Employment Protections.
Right now, gay and transgender rights are under attack. The Supreme Court is hinting at reconsidering the legality of same-sex marriage, and there is a fear that the Court may revoke protections in employment only recently extended to LGBTQ people. We are in danger of returning to times when LGBTQ people were in the closet denying their sexuality or gender for fear of losing their jobs, their friends, their families or their lives. This is why LGBTQ history is important: LGBTQ people want equal rights, not more rights—not special rights, but equal rights.
There are LGBTQ residents and staff at Goodwin Living. They may be open about their sexuality or gender, or they may be closeted. If someone comes out to you—if they are open with you about their sexuality or gender—it is an honor. They trust you.
We may not know what it is like to be LGBTQ – to be denied the right to live as your authentic self, to love who you love, to marry who you choose, to work in any profession, to be treated equally in society and under the law. We may not understand, but we can try. We can be allies. Allies are people who are not members of a marginalized or mistreated group but are those who express or give support to that group.
There is a lovely poem by Anthony J. D'Angelo: An Ally's Promise, which captures what it means to be an ally and offers us all steps we can take in our everyday lives. We can all do this!
I will seek to understand you
I will see the diversity of our commonality.
I will see the commonality of our diversity.
I will get to know who you are rather than what you are.
I will transcend political correctness and strive for human righteousness.
I promise to do my part.
I promise to stand beside you.
I promise to interrupt the world when its thinking becomes ignorant.
I promise to believe in you, even when you have lost faith in yourself.
I am here for you.
Let's go interrupt the world!
_______________
Carol Lewis was raised in McLean, VA and moved to Vienna, VA in 1991 with her young son. She later remarried to Leroy Lewis, a Black man with three older children. She worked for the American Psychiatric Association until retirement in 2006, moving to Goodwin House Bailey's Crossroads in 2017 following the death of her husband. The mother of a gay son, Carol was a PFLAG (Parents, Families and Friends of Lesbians and Gays) group facilitator for 10 years and helped start FLY (Fairfax LGBTQ Youth), the first PFLAG youth group in this area. At Unitarian Church of Arlington, she helped set up UUCA's Living the Pledge workshops on anti-racism. She hopes her lived experiences with her son and her Black family and her work with UUCA can be put to use in the Goodwin Living Diversity, Equality & Inclusion Committee's efforts.
About the Diversity, Equality and Inclusion (DEI) Committee: We are a group of staff and residents who together serve a mission to educate, embrace and empower a workplace of diversity, equity and inclusion. Our vision is to seek open and honest communication and collaboration that will inform and celebrate the cultural, ethnic and sexual orientation of all members of our staff without bias.
Questions or comments? Please contact us dei@goodwinliving.org.