Live Vibrantly - June 3, 2020
Cooking and Cocktails with Goodwin Living At Home
by Amanda Ranowsky
Pan seared cod with a summer salsa, served with Jasmine rice and greens… a dish so tantalizing that surely it must only be found in a five-star restaurant.
For Goodwin Living At Home (GLAH) Members, it's a dish that they now can confidently prepare in their own home, thanks to Member Services Facilitator (MSF) Lauren Bradley, MSW.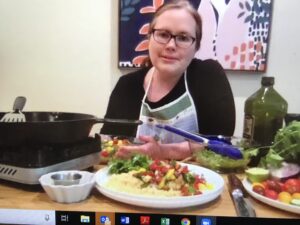 Lauren recently donned her chef's hat to teach how to prepare this meal. Showcasing Lauren's cooking skills was part of a recurring series of the "Wednesday Weekly" video hangouts for GLAH members. Every week, GLAH staff and members meet to enjoy some time together. Since March, they've enjoyed pet parades, beach blanket bingo, live music concert, lively discussions and now, cooking lessons!
This particular Wednesday Weekly social hour became a personal cooking show as Lauren walked members through the steps to prepare the dish. Along with her, fellow Member Services Facilitator Beth Robinson showed off her skills as bartender and mixologist. Beth demonstrated how to create a selection of exciting cocktails to accompany the meal.
Beth's signature drinks were aptly named: "Virtual Visit", "Blue Quarantini" and "GoToMeeting Margarita". She also made an Old Fashioned, one of her husband's favorite drinks.
The live cooking and cocktails demonstration is just one of many ways GLAH is working to keep its members active and engaged during the pandemic, when so many are stuck indoors and separated from their normal social life.
These Wednesday Weekly virtual meet-ups are popular with GLAH Members. "We need to have some fun in our life," shared Connie Sorrentino, "and GLAH helps provide it." Member Ruth Arnold added, "I've really enjoyed these weekly calls and getting to know other members a bit better."
GLAH Staff and Members are happy to share their good times and tasty recipes with you. Learn more about member benefits and how you can join. And enjoy some good food and drinks, too!
Pan Seared Cod with Fresh Fruit Salsa
Fruit Salsa Ingredients:
1.5-2 cups of fruit (My favorites for this recipe are mango, pineapple, peaches or strawberries- or a mixture)
1 cup tomato, chopped in small cubes
1/4 cup red onion , minced
1/4 cup cilantro , chopped finely
2 tablespoons lime juice freshly squeezed
Salt and pepper to taste
Pan-seared blackened cod Ingredients:
4 tablespoons olive oil
1 pound cod
1/4 teaspoon salt
1/4 teaspoon black pepper
1/4 teaspoon paprika or chili powder
1/4 teaspoon oregano
1/4 teaspoon cumin
Directions:
Mix all chopped ingredients for the fruit salsa in a large bowl, add lime juice, add salt and pepper to taste. Set aside to let the juices combine together.
To prepare seasoning for the fish, mix salt, pepper, paprika, oregano, cumin in a small bowl.
Heat large skillet on high heat. Season fish on non-skin side with salt & pepper and other spices from step 2, generously. Add oil to the hot skillet: the oil should sizzle. Add fish to the skillet non-skin side down (skin side up) and sear for 4 minutes, moving the fish around the skillet to make sure oil coats the surface of the fish and that the fish is not sticking to the pan while searing.
After these 4 minutes, turn the fish over to the skin side and sear for another 3 minutes on high heat. After searing on the skin side, you can remove skin easily at this point and discard, if you don't like to eat it.
Cocktail Recipes
Virtual Visit
Ingredients per person:
1 ½ oz Lillet Blanc
Splash of Tonic Water or Club Soda based on preference (I prefer tonic water)
Directions:
Ice wine glass to chill but dump ice before filling with ingredients, or pour all over ice, per your preference. Garnish or float with orange wheel, lemon wheel or grapefruit wheel.
Blue Quarantini
Ingredients:
¼ cup cranberry juice
1 oz. vodka
1 oz. blue curacao
T tbsp. lime juice
Lime wedge
Ice
Sugar (optional if using around rim)
Directions:
Fill martini glass with ice while preparing ingredients to chill.
Add sugar to a small plate. Moisten rim of chilled martini glass with lime wedge and dip into sugar on plate.
Fill cocktail shaker with ice, add cranberry juice, vodka, curacao, and lime juice. Cover and shake. Empty ice from martini glass, strain ingredients into martini glass.
GoToMeeting Margarita
Ingredients:
2 oz tequila (I use Patron in mini bottles)
1 oz. blue curacao
1 oz. Cointreau (triple sec)
1 oz fresh lime juice
Directions:
Rim tops of mini bottles* with lime; dip into sugar or salt** (your preference)
Mix all ingredients in a shaker with ice and pour back into mini bottles; serve with straw
*each mini bottle is about 1.6 oz
**Sugar and salt can be red, green, yellow, blue, orange by adding a small amount of food coloring
Beth's Old Fashioned
Ingredients:
2 oz. straight bourbon whiskey (Beth used Woodford Reserve)
½ oz Demerara syrup  (see recipe below or purchase from store)
3 dashes Angostura bitters (Beth used Woodford Reserve Bitters)
2 dashes Orange bitters
Orange peel
Directions:
Add ice to mixing glass; add ice to serving glass
Add all ingredients to mixing glass and gently stir for 30-40 seconds
Strain into serving glass over ice
Express orange peel by gently twisting to release its oil,s then run the peel around the rim of the glass; drop the peel into the glass to serve
Demerara syrup recipe
Ingredients:
1 cup turbinado sugar
1 cup water
Directions:
Bring water to a boil over medium heat then stir in sugar until dissolved. Cool to room temperature and pour into a glass jar. Can be kept in the refrigerator for up to 2 weeks.
————————————-
As Marketing & Communications Specialist, Amanda Ranowsky partners with colleagues throughout Goodwin Living to tell our stories and raise brand awareness. From printed collateral to digital marketing, Amanda covers many bases. Before joining GHI, Amanda worked for a small, family-owned business where she gained experience in content marketing. Amanda's creative expression extends beyond the office. She is an active member of community theater and chorus groups.