Live with Purpose - February 23, 2022
Books Build Bridges: "Little Free Library" Strengthens Community Ties at Goodwin Living
By Amanda Ranowsky
It is incredible how many good deeds can be done and how many connections can be built through a single idea. What began as one resident's idea to install a Little Free Library at the Goodwin House Bailey's Crossroads (GHBC) campus has turned into two community-building libraries: one installed at GHBC in November 2021, and a new one at a neighborhood church next door to Goodwin House Alexandria (GHA).
When GHA Executive Director Barbara D'Agostino heard about the Little Free Library at GHBC, she was inspired. She brought the idea of building such a library at GHA to the residents on her campus.
Many GHA residents are active community volunteers who are involved in various resident-led committees. One such resident took the lead to make this project happen.
Getting the Ball Rolling
Judy Hansen knows first-hand what little libraries can do for communities and neighbors. Her daughter lives near a Little Free Library, and Judy remembers how much her granddaughters enjoyed using it when they were little. She immediately connected with the idea of building one and volunteered to lead this effort at GHA.
Since moving to GHA in January 2021, Judy has become an active member in several resident committees, activities and projects. Judy serves on the Library Committee (a natural fit for this project) and the Outreach Committee, two of the many resident committees that symbolize the active and engaged lives of Goodwin Living residents. She also manages the citizenship tutoring program for GHA staff who pursue U.S. citizenship with the help of a grant from the Goodwin Living Foundation.
"The whole idea behind the Outreach Committee is to connect with our local community and support their needs," she said. "I thought they would be a perfect group to take on this project. I brought the idea to them, and they loved the idea of building a Little Free Library."
The collaboration among members of the Outreach Committee was the first of many that would make it possible for GHA to introduce a Little Free Library to their neighborhood.
Where Will the Library Go?
The first step was finding a good spot to place the library—one that would get a lot of foot traffic from the neighborhood. Judy had a few ideas for locations, all within a block from the GHA campus.
GHA sits atop a hill and shares a driveway with a relatively new neighbor. The Spire opened in 2021 and is home to 113 households. From her apartment at GHA, Judy has a birds-eye view of The Spire apartments, and she's conducted voter education and registration outreach there.
"I knew because of our voter education and registration efforts that there were a lot of kids in The Spire," she said. "There are also several other apartment complexes nearby. So I thought that's just a perfect place for a Little Free Library."
Management at The Spire were very supportive of the idea, though the installation of a Little Free Library on their grounds would require the approval of several committees. As she wanted to get the project going as soon as possible, Judy pursued an alternative location.
Just next door to The Spire is the Episcopal Church of the Resurrection. It was through a partnership between this church and AHC Inc., one of the largest developers of affordable and mixed-income housing in the D.C. metro region, that The Spire was built.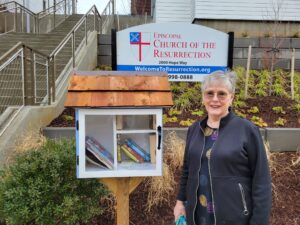 Khaki Berry, a fellow member of the GHA resident Outreach Committee, put Judy in touch with Carolyn McDonald. An active member of the Church of the Resurrection, Carolyn once served as junior warden and had responsibilities associated with the upkeep of the church buildings and grounds. Carolyn brought the idea to her church and quickly received the approvals needed to plan for the Little Free Library's placement on church property.
Who Will Build the Library?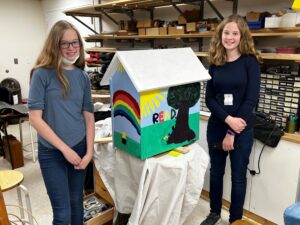 With the decision on the placement of the library made, more people stepped up to build the library. The Quality of Life Committee provided the Outreach Committee with a grant to cover the costs of construction materials. Judy's husband, John Hansen, is a woodworker and carpenter. He partnered with good friend and fellow Outreach Committee member Kevin Heanue to build the new Little Free Library. The pair spent several weekends in the GHA workshop measuring, sawing, hammering and painting.
Judy and John's granddaughters volunteered to decorate the library. Their cheerful paintings are eye-catching and sure to draw interest from those in the neighborhood.
Who Will Fill the Library?
With the construction of the library nearly complete, it was time to think about how to fill it.
The Library Committee offered a generous donation of the proceeds from their recent book sale. Judy used these funds to purchase children's books for the Little Free Library.
"I have donated adult books as well," said Judy, "hopefully appealing to moms and dads. My granddaughters gave me a bunch of their middle school and young adult books that they were done with, so those will appeal to that age group. We have a broad range of books that we'll be able to put out for everybody."
As everyone involved in launching the library shared in the excitement of it all, they also realized they needed a plan to keep it stocked. While close to GHA, the downhill walk to the church is not something that all residents can manage easily. "I knew in the long run that it may be hard for us residents to maintain the library in terms of keeping it stocked," Judy said.
Their collaborators at the church presented a solution. "Carolyn talked to the leader of what is going to be a new Girl Scout troop at the church," said Judy. "The leader thought that the girls would be happy to maintain the library in terms of keeping it stocked and keeping an eye on it."
The Final Touch
One final piece of the puzzle remained: they needed something to help the neighborhood understand the concept of a Little Free Library. "I'm an avid reader and I like books a lot. I thought maybe we could make a bookmark," Judy said.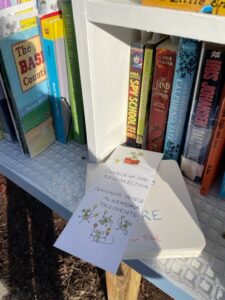 Judy talked to Jane Jordan, an artist and fellow GHA resident. Among her work, Jane creates cartoons with little mice as the characters. Judy asked Jane if she could make a bookmark featuring those mice that explained how the Little Free Library operates. Jane loved the idea and got to work. They took the completed design to Lindsay Mueller, the art center coordinator at GHA, who helped Judy and Jane print a bunch of the bookmarks on card stock. One bookmark was placed in each book for the first round of stock in the library.
The Grand Opening
All the wonderful collaborative efforts led to a grand opening. The Little Free Library was installed on Beauregard Street outside the Episcopal Church of the Resurrection and a ribbon-cutting ceremony was held on February 23, 2022. Many of those who made this project possible gathered to celebrate the creation of the library.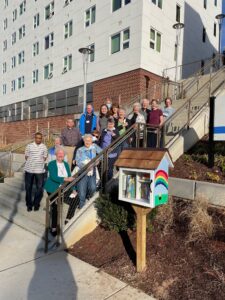 All spoke of their commitment to collaboration within the three communities that make up our little corner of Beauregard Street. "We're all in this together," said Rev. Jo Belser, rector of the Episcopal Church of the Resurrection. "There is a mutual win-win-win that can be had for all of us with this Little Free Library."
"I want the church to know that we're here and enjoy working with and supporting them as much as we can," Judy shared. "I also want the residents in The Spire to realize that they have friends here. Most importantly, we all want to encourage kids in particular to enjoy reading."
"Ultimately, it's the idea that we're here, that we all care for each other," she finished.
Both Goodwin Living Life Plan Communities now have a Little Free Library installed close by their campuses. Goodwin Living residents connect with and care for many in our wider communities through outreach efforts like this one. Through projects like these, residents feel a sense of purpose as they continue to make a real difference in the lives of others.
_______________
As Marketing & Communications Specialist, Amanda Ranowsky partners with colleagues throughout Goodwin Living Incorporated to tell our stories and raise brand awareness. From printed collateral to digital marketing, Amanda covers many bases. Before joining GHI, Amanda worked for a small, family-owned business where she gained experience in content marketing. Amanda's creative expression extends beyond the office. She is an active member of community theater and chorus groups.