Live Vibrantly - July 30, 2021
An Evening Escape to Hawaii
by Kathie Miller
Goodwin House Bailey's Crossroads (GHBC) residents were treated to a delightful and delicious evening on July 29. GHBC Dining Services and Life Enrichment teams joined forces to whisk them away to Hawaii. With many of us still hesitant to travel, we were all able to enjoy a sense of adventure and travel without leaving home.
Executive Chef Nina Rakotoarisoa and her culinary team created a custom menu that included starters, entrees and desserts all inspired by Hawaiian foods and flavors:
Chilled Guava Pina Colada
Cucumber and Apple Slaw with Mango
Kalua Pork and Spam with Sticky Rice
Grilled Hawaiian Swordfish with a Peach and Pineapple Salsa
Huli Huli Macadamia Portabella Mushroom
Hawaiian Fruit Salad with Coconut Gelato
Tiffany Proctor and Elizabeth Whitehouse arranged for Ohana of Polynesia to offer an evening of tradition and culture from the islands of Tahiti, Hawaii, Samoa and Aotearoa (New Zealand). They shared their passion for dance, music, costumes and rituals while providing us all with some educational lessons along the way. Did you know that men were once not allowed to smile while performing the hula?
The weather was almost perfect – a near miracle for late July in D.C. and residents and staff alike enjoyed the chance to bond over good food and dance lessons.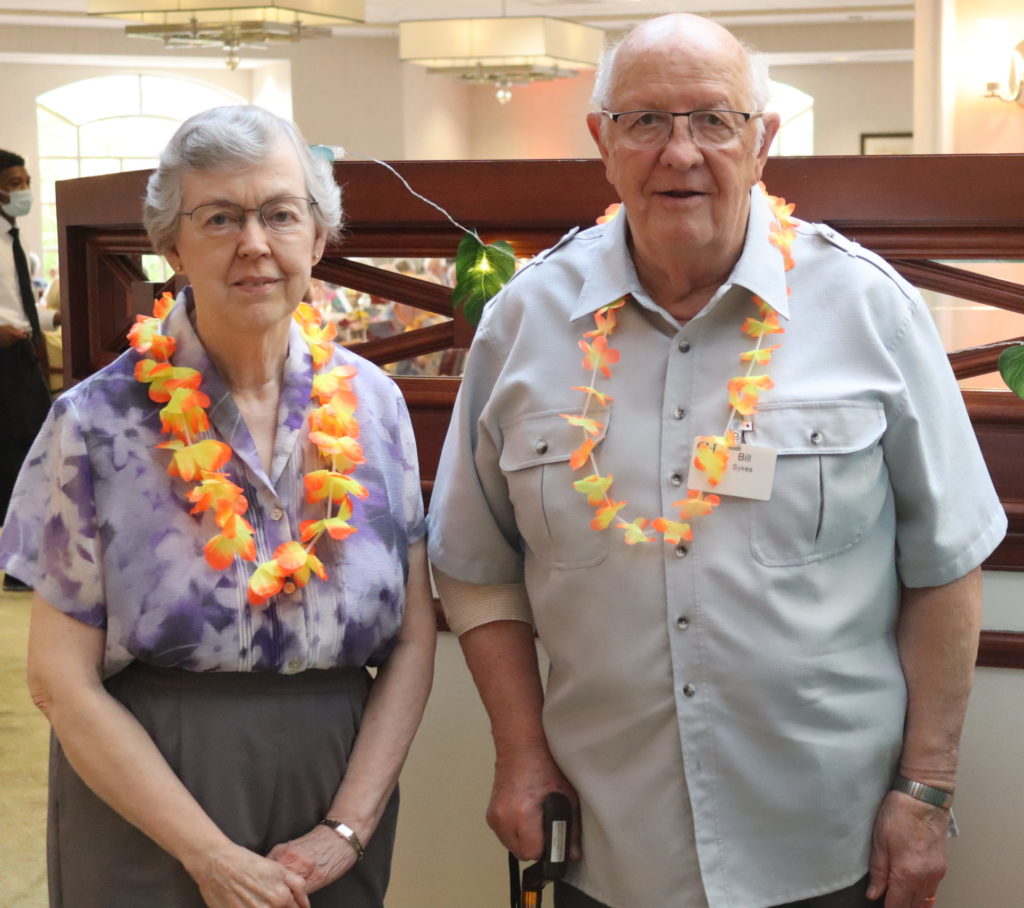 Peggy and Bill Sykes enjoy the evening in Hawaii.
"My favorite part was the fire dance," shared GHBC resident Peggy Sykes. "That was very impressive! Oh, and I also really enjoyed the Spam," she added as a big smile lit up her face. "I haven't had that since my childhood!"
Enjoy these photos and a video that capture the fun and spirit of the evening. Aloha and Mahalo!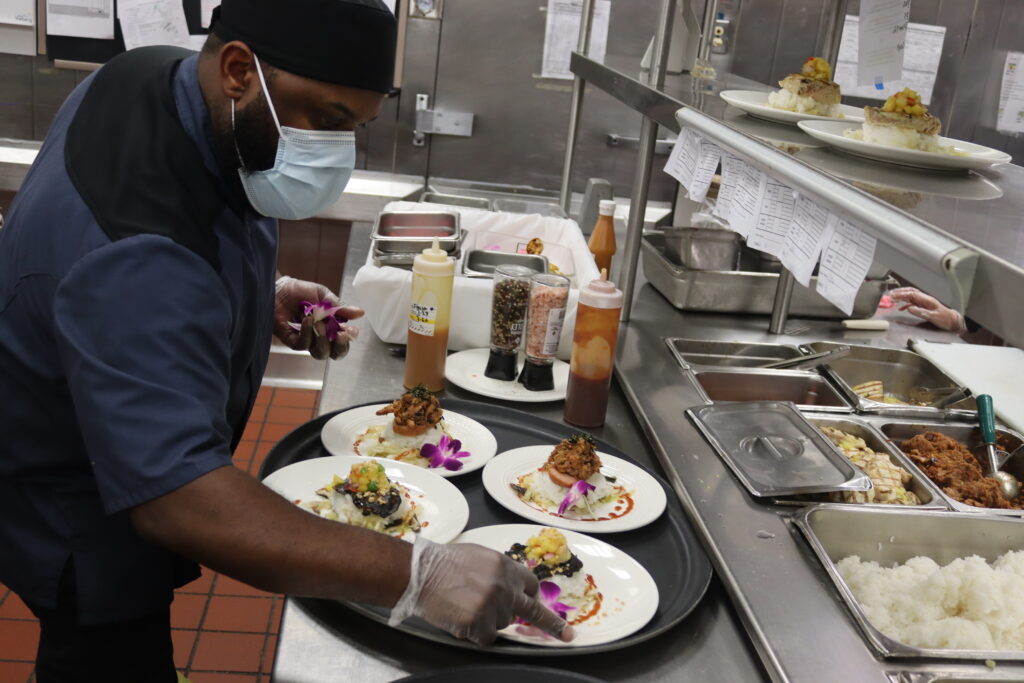 GHBC Sous Chef Rony Paul plates entrees in the kitchen.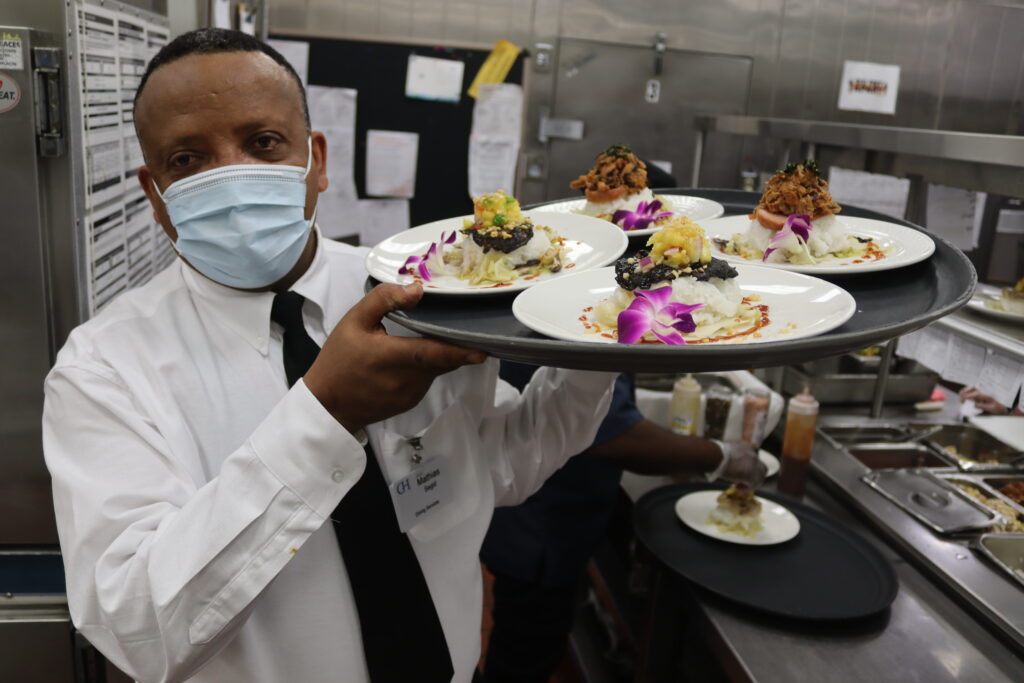 GHBC Server Mathias Segid prepares to deliver food to residents in the Jefferson Dining Room.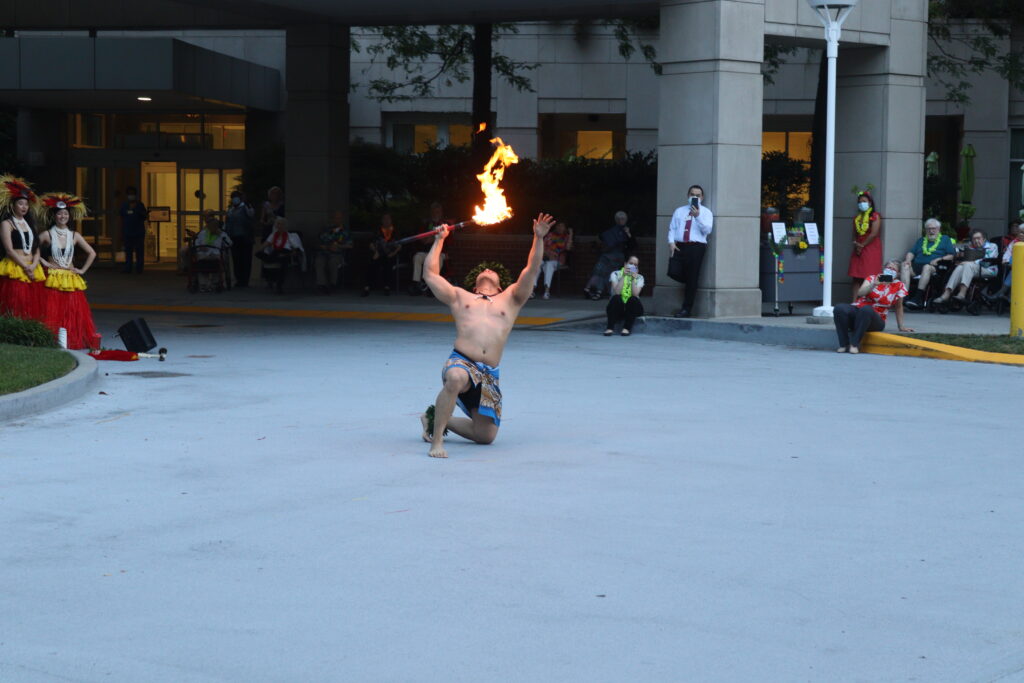 Ohana of Polynesia performed a range of traditional Polynesian dances, including a fire dance.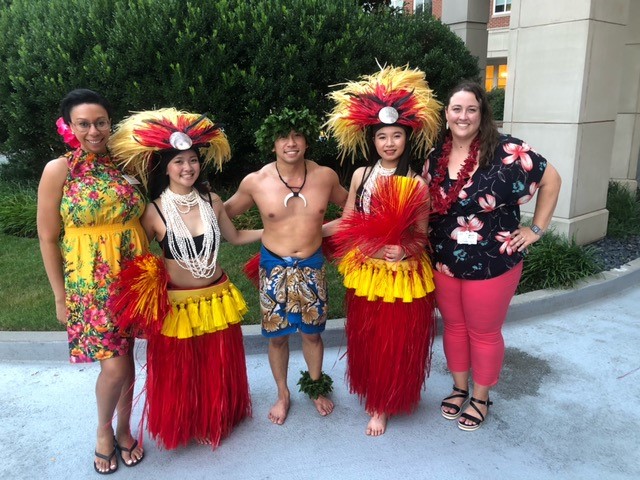 Life Enrichment Director Tiffany Proctor (far left) and Cultural Arts and Events Manager Elizabeth Whitehouse (far right) with Ohana of Polynesia.
—————————————
As Corporate Director of Marketing & Communications, Kathie Miller provides strategic guidance and tactical support for all areas of Goodwin Living. She writes, edits and manages The Good Life blog and newsletter. Kathie joined GHI in 2014 after nearly 15 years at NPR, where she honed her skills in brand and reputation management, content marketing and internal communications. Originally from Pennsylvania, Kathie has slowly come to realize she's lived in Arlington for more than half her life and should call herself a Virginian. She enjoys the outdoors and brings her rescue dog, Remi, to work every day.