Live Vibrantly - October 7, 2022
Be Strong To Be Useful – The Parkour Way
by Christie Thomas
French physical educator Georges Hébert (1875-1957) coined the phrase "be strong to be useful" and applied this concept to his method of physical education. His methods would eventually become key to French military training and decades later would inspire David Belle to launch the Parkour movement.
David himself learned the approach from his father, Raymond, who had trained in Hébert's methods as a military firefighter. Raymond could scale buildings without a ladder and would leap between rooftops, and he trained his son in this discipline of practical physical fitness and ability.
Today, we find "be strong to be useful" cited as inspiration for Parkour as well as MovNat and other natural training systems. At the core of Hébert's system is a belief that basic exercises are fundamental to our physical fitness. These basic exercises include walking, climbing (both on two feet and on all fours), throwing, lifting, jumping, and balancing.
Parkour for Everyone
Many might think of Parkour as an approach that would require us to scale walls and jump between rooftops the way Raymond Belle once did. Of course, this level of Parkour practice is not realistic for most of us. We can apply the same principles to developing and practicing specific movements to efficiently maneuver through a varied environment, which is essential in daily living activities.
Parkour focuses on both physical and mental strength. It is a discipline based on movement and functionality in any terrain. You want to be able to move efficiently and safely. To do that, you need a strong body. Bring the functionality not just in movement but in your everyday life.
Another central Parkour motto is "to be and to last". You also want to be useful for yourself and for others. A strong capable body allows you to do that. The mental strength of Parkour askes us to overcoming fear, get out of our comfort zone and go beyond what we think our limitations might be.
Return to Childhood & Be Present in the Movement
Look back on the days when you were a kid in the playground, where you can jump, swing on a pole, run and climb. Parkour helps you bring back those days. It brings the sense of play to your training. It helps you tap into your creative and problem-solving thinking, your adaptation to task-oriented training and focus, helps you move efficiently around obstacles, helps with balance and fall prevention.
As George Bernard Shaw once wrote, "We don't stop playing because we grow old; We grow old because we stop playing."
Parkour combines mind and body developments. It provides you with benefits on a physical and mental level through the complexity of movements you perform in combination with the attention and intention you put into the tasks. A deliberate practice, Parkour immerses you in the moment by the nature of the challenging movements you execute. You must be present in the moment and focused on your movements, which differs from other forms of exercise. For example, when you go for a run or long walk, your mind has more space to wander if you don't make the extra effort to stay in the moment.
Parkour is a mindful movement practice. It requires you to stay mentally focused on your physical movements.
Parkour at Goodwin Living
We draw upon the Parkour discipline to create fitness classes at Goodwin Living. At Goodwin House Alexandria, we have an "Active Mover Parkour" class that meets every Friday at 10:00 a.m.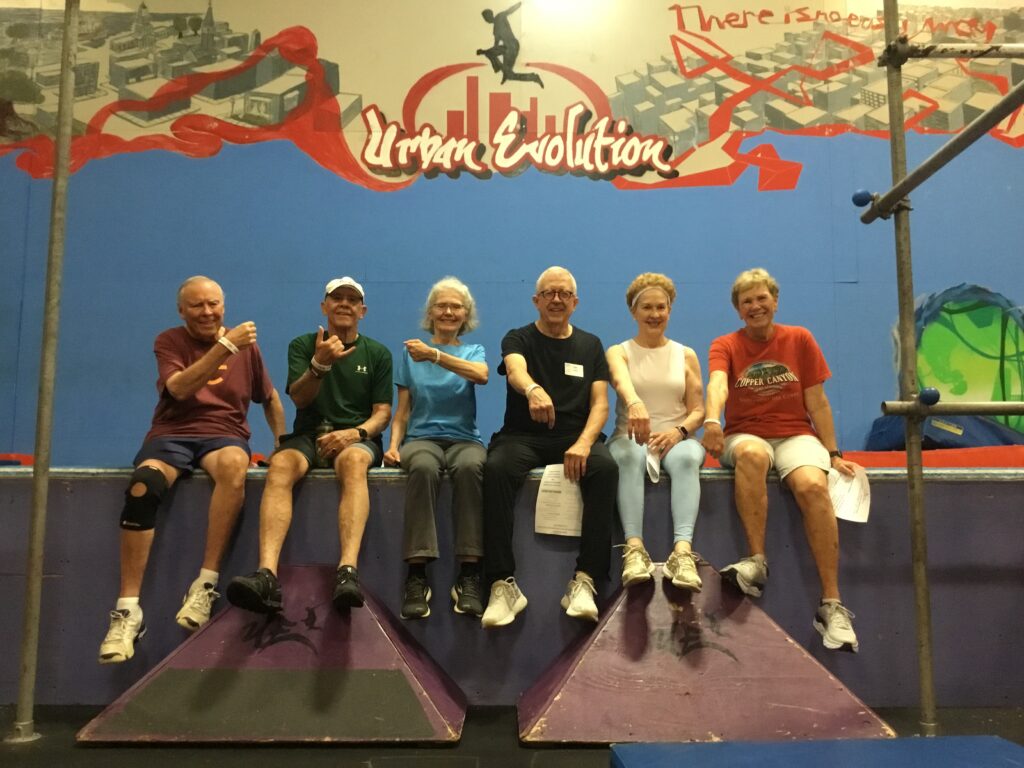 Watch as the residents practice basic principles of balance and focus and use movements that can apply to everyday life. The first two videos show classes on our Alexandria campus, and the third one features a trip to Urban Evolution, a nearby Parkour gym.
Before engaging in any new fitness or exercise class, we recommend that you consult your medical care provider.
---
Christie Thomas is Fitness & Aquatics Coordinator at Goodwin House Alexandria. She is a 200RYT Certified Yoga Instructor, AFAA Group Fitness Certified, ADAPT Parkour Level 1 Coach and American Parkour Ambassador. Christie has many years in training different styles of movement and has taught different ages and skill levels in a group class and private setting, thought she finds it most gratifying to help the older population. Christie is passionate about helping older adults become confident with their functional movements and gain a better range of motion and balance.