Event Description
You're an independent, age 55+ adult who has built a life you love in the home of your dreams. Like many of your contemporaries, you plan to stay in that home for as long as you can. But making that goal a reality comes with unique challenges.
Goodwin Living At Home offers an innovative age-in-place program that helps you build a team that will be by your side, ready to support you when you need it. To start with, we'll help you customize a future care plan that's just for you. Should you require assistance in the future, you can count on us to coordinate in-home care. In the meantime, you will enjoy regular, practical benefits such as annual health reviews and home safety assessments designed to keep you at home.
Interested in getting to know us? Sign up for our upcoming lunch-and-learn session, which features a panel of our members and guest host Steve Gurney, founder of Positive Aging Sourcebook.
Included: Lunch and convenient parking will be provided.
Space Is Limited – Reserve Your Seat Today!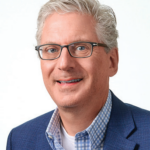 Founder of Positive Aging Sourcebook, Steve Gurney has worked for decades to help senior adults, their families and their caregivers get access to the information and resources they need. He has advised both private and public organizations on aging, and is a regular contributor to regional and national events, publications and broadcast media. Steve has served with the Alzheimer's Association, Beacon Institute, Virginia Intergenerational Task Force and Grass Roots Organization for the Well-Being of Seniors (GROWS). His achievements have been recognized by the Seabury Resources for Aging, the Maryland Assisted Living Association and the Senior Marketing Institute.