Our Resources & Guides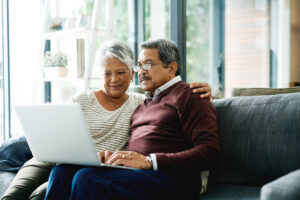 Through these times, we can benefit from simple guides we can keep on hand. From what you need to know to stay safe during a pandemic to tips for staying calm through peaceful and creative activities, we have prepared resources with you in mind.
COVID-19: What You Need to Know to Stay Safe, Now and Into Flu Season.
As the world was first hearing about the novel coronavirus we now refer to as COVID-19, we were also hearing a lot about how it was affecting older adults. And the news wasn't good. It seemed older adults were more likely to have severe cases and more likely to die from the disease. Here's what you need to know to stay safe.
As experts expect a surge of COVID-19 cases to coincide with the fall flu season this year, we asked one of our medical directors to provide a physician's perspective on the pandemic. Dr. Margaret Gloria offered helpful suggestions for staying safe both now and throughout flu season.
Staying Healthy and Active as You Live Your Lives with COVID-19 Precautions
We have all been washing our hands since we were children. In today's world, that simple task takes on new importance. What other hygiene tips are good to keep top of mind at any time, and especially to keep us safe from infections? Download our Stay Healthy Guide and keep it handy!
Staying Nourished, Fit and Engaged During the Pandemic
This guide offers a ton of resources: grocery delivery options, an at-home exercise routine, sites where you can find music, television, books to enjoy at home, and so much more. Discover sources to help you stay nourished, fit and engaged during the pandemic.
StrongerMemory: Fighting Cognitive Decline
Goodwin Living President & CEO Rob Liebreich designed the StrongerMemory program to help people with mild cognitive impairment or early signs of dementia, but anyone can use these resources to keep their brain sharp! StrongerMemory involves the three practices: simple math done quickly, reading out loud and writing longhand. Learn about the program and try out some of the packets we've posted in our blog!
Webinars You Can Watch Now
Over the past several months, Goodwin Living At Home and the Goodwin Living Life Plan Communities have hosted a number of informative and engaging webinars. Here are some of our favorites.
Additional Resources
We recommend the following resources for the latest, trustworthy information regarding COVID-19:
---