Goodwin Hospice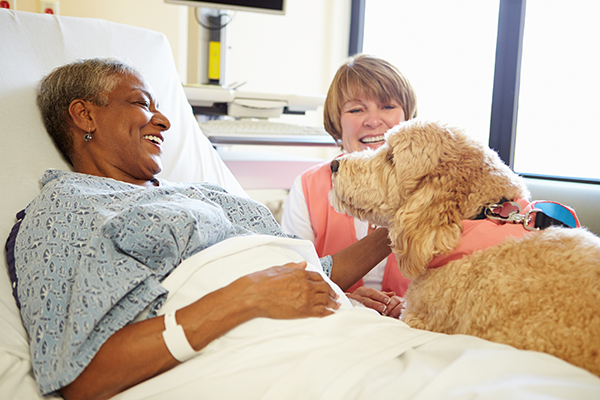 Compassionate Care from Goodwin Hospice is Made Possible by the Power of Generosity
Goodwin Hospice provides compassionate care and comfort when it is needed most. Goodwin Hospice is a not-for-profit, Medicare-certified service that provides end-of-life care to individuals with life-limiting illnesses. Goodwin Hospice has offered this specialized care to residents on our campuses since 1998. Today, we deliver Goodwin Hospice care to those ages 18 and older in their private homes, in other senior living communities and in healthcare facilities throughout the Northern Virginia area.
The Goodwin Living Foundation is proud to work alongside Goodwin Hospice by sustaining and growing our Hospice Fund. The Hospice Fund provides essential support for our hospice program.
Through your support of our Hospice Fund, we can continue saying "yes" when patients and their loved ones need care or services. Financial obstacles often prevent someone from seeking and receiving care when they need it most. The Goodwin Living Foundation is able to remove these obstacles so that our hospice team can provide care and comfort to anyone who needs it.
Donations to our Hospice Fund may be used for alternative therapies that go above and beyond traditional hospice care. Goodwin Hospice aims to approach each person we serve holistically, providing benefits such as music therapy, art therapy, massage therapy, end-of-life doulas and visits from Threshold Choir singers.
Supporting the Hospice Fund
Our hospice program is rooted in the belief that every person has the right to die pain-free and with dignity. Your support of our Hospice Fund helps ensure we continue to have funds that will assist hospice patients and their families.
$50 covers a birthday visit complete with balloons, cake, cards and a small gift for a patient who has no family nearby
$130 gives one hour of medically-based massage therapy that offers pain relief and vital touch to someone on hospice
$250 provides two hours of end-of-life doula care to a dying patient and their family
$500 buys an airplane ticket to meet a patient's wish to see her grandson graduate from college
$1,000 provides two days of respite care for a patient
$2,000 pays for 10 days of hospice care for someone with no insurance
---