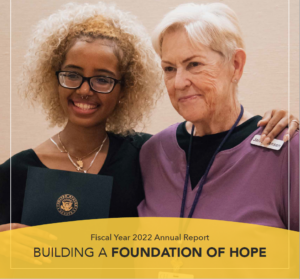 Together, We Change Lives!
This past year, through the collective generosity of so many individuals, corporations and foundations, we were able to build a solid foundation to empower, uplift, engage and strengthen the Goodwin Living community.
All gifts received in Fiscal Year 2022
(October 1, 2021 – September 30, 2022)
totaled $5,468,055.
The Foundation's Annual Fund is critical to support the residents and staff in need each year. The FY22 Annual Fund goal of $1,500,000 was met and exceeded as the total raised for the Annual Fund was $1,580,539.
Click here to read the abridged FY 2022 Annual Report.
What's provided here is an abridged version of the Annual Report; donor listings have been removed to protect the privacy of our donors. If you are a donor and wish to access to the full report, enter the password below.