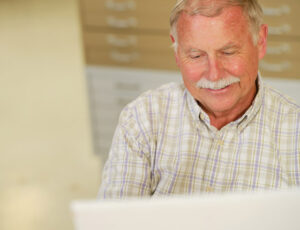 Memory Care at Bailey's Crossroads
Opened in 2008, The Terrace is the memory care residence at Goodwin House Bailey's Crossroads. It's a beautiful household where residents feel welcome, confident and secure. Family members have the peace of mind that comes from knowing their loved one is in an environment fully supportive of their needs.
Memory care is a specialized type of residential care for older adults living with Alzheimer's or dementia. We foster an environment and support structure that slows the progress of these conditions and reduces risks associated with them.
Above all, The Terrace is designed to feel like home. Often filled with the sound of laughter and music, it's a place where residents enjoy companionship and activities. Familiar routines reduce stress while maximizing residents' sense of independence and fulfillment. Our devoted, highly skilled team members treat each individual according to their strengths and abilities, challenging them to reach new goals.
Open living areas, private rooms, a communal dining room and kitchen provide a homelike setting. Residents enjoy the outdoor terrace shaded by a pergola and their families are comforted by the knowledge The Terrace offers a secure environment for their loved ones.
As well as specialized memory care, residents of The Terrace have access to exceptional amenities and services at Goodwin House Bailey's Crossroads. From three healthy, delicious meals daily to an abundance of programs guided by a full-time recreational therapist, residents' days are filled with activities. Most important of all, they are cared for by a team dedicated to the highest standards of care. Each team member has Dementia Friends training and participates in yearly in-house training in order to provide the best possible service.
---